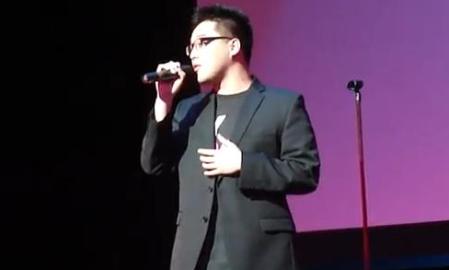 Check this out! Heejun Han was a judge at a K-Pop talent competition at New York University's Skirball Center for the Performing Arts on Friday.
Approximately 600 K-Pop fans appeared on site to watch the finalists of the competition that were chosen from nearly a hundred performance videos. The 9 finalists appeared on stage to compete at the final showdown.
The judges of the competition included ESPN's Senior Editor Donnie Kwak, Billboard's Music Editor Benjamin Meadows-Ingram, Jung Bong Choi, a Cinema and Drama professor at NYU, and Heejun Han, a finalist on American Idol. Also, Kim Young Mok, the Consulate General of Korea in New York, was present for the award ceremony.
Heejun Han delivered a special performance after all the contestants finished their performances.
Read more about the competition, including deets on the 9 competitors and the winner,
Nicole Mastrodomenico, 
at
Kpopstarz.com.
In the meantime, watch Heejun perform "When a Man Loves a Woman".  After, he speaks to the crowd and is interviewed by the host. Funny!