Kellie Pickler Hosts "Christmas: A Second Look Preview Special" on Hallmark Channel – World-renowned country artist and "Christmas in Graceland" star Kellie Pickler hosts Hallmark Channel's "Christmas: A Second Look Preview Special," a half hour special airing on Saturday, September 29 (11:00 p.m. ET/PT). During the special, Kellie treats viewers to a sneak peek at the network's crowning 2018 programming event "Countdown to Christmas." The programming event, which kicks-off Friday, October 26, features its most robust slate yet with 22 original holiday premieres. – Read more at Futon Critic
Katharine McPhee Hits the Road in November
The American Idol 5 alum announces a new tour.
David Archuleta Headed to the Philippines for Charity Christmas Concert
The concert is on November 16 at the Kia Theater, done in celebration of Mabuhay Deseret Foundation's 30th anniversary.
"Your tickets will help provide for operations for patients with cataracts, with cleft palate and lip, cross-eyes, and club feet," the American Idol season 7 alum said.
Dancing With the Stars Champ Mark Ballas Extends Run in Broadway's Kinky Boots – Ballas, who had been scheduled to play the role of Charlie Price through November 4, will now continue through November 18. "I am so ready to come back to Broadway and can't wait to step into those iconic boots and be part of the Kinky Boots legacy," Ballas, who made his Broadway debut in Jersey Boys, said in an earlier statement. "Kinky Boots is a heartfelt, positive, and joyous show with an even more beautiful message that we all need right now more than ever. It will be an honor to perform alongside this amazing company and get to tell this story eight times a week!" – Read more at Playbill.com
First Look at North Shore Jekyll & Hyde Starring Constantine Maroulis and Diana DeGarmo – American Idol finalists and Broadway alums Constantine Maroulis and Diana DeGarmo head the cast of North Shore Music Theatre's production of the Frank Wildhorn musical Jekyll & Hyde, which began September 25. – See more photos at Playbill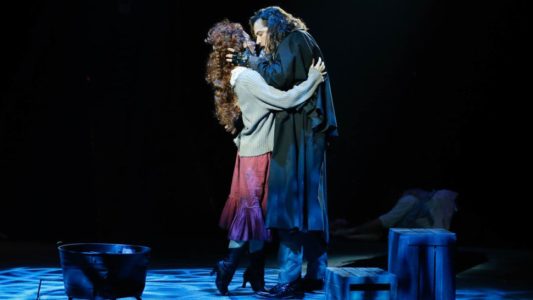 'I wanted this more than I realized': An 'American Idol' audition play-by-play – I hadn't told a single person I was auditioning that day. I wanted to do it for the right reason. My family knew something was up, though – I was jittery and especially upbeat. I told them I was running errands. They knew, anyway. I arrived at Canalside a little after 4 p.m. The line was significantly shorter than it was in my friend's Facebook photos. "Around 1,200 to 1,500 people" staff at Canalside said. "Some waited since 5:30 in the morning!" I picked up a release form, got in line and waited with the last of the group. We were the last four. Security made it a point to tell us, "Turn around." There was no one behind us. – Read more at Buffalo News
Laith Al-Saadi is ready for his latest birthday bash – "I've got a lot of original material that I'm looking forward to getting into a studio and recording," Al-Saadi says. "I really don't write for a particular thing most of the time. I let things pour out as they exist in my head, and after the fact I organize them into groups that would complement each other." – Read more at The Oakland Press
Chloe Kohanski's Blind Audition, Featuring Blake Shelton – Blake Shelton and Chloe Kohanski reflect on her Season 13 blind audition with Fleetwood Mac's "The Chain," why she picked Miley Cyrus to be her coach, and why she and Blake were ultimately the perfect match.
Ryan Seacrest Brings Viral 7-Year-Old Singer Malea to "American Idol" – After impressing the world by performing a perfect rendition of the National Anthem at an LA Galaxy game last weekend, 7-year-old songstress Malea Emma Tjandrawidjaja is headed to American Idol!v"I will tell you this," Ryan shared on-air on Friday, September 28, "We are bring Malea to Idol. She's going be on American Idol. … I cannot reveal [in what capacity] … [but], the judges might be surprised." "She deserves to audition for American Idol for 2026," Ryan continued. "I was thinking we could do like the future class. You could do like really talented kids now and then give them a pass for when they're old enough." – Read more at OnAirwithRyan
Willis Clan rebuilding their career after father's crimes – The Willis Clan, a musical family that starred in their own reality TV show and competed on "America's Got Talent," are now ready to sing again and tell their stories through a new album called "Speak My Mind" a year after their father was sent to prison for child abuse. But that all came to an end in 2016 when their father Toby Willis was investigated by the Tennessee Bureau of Investigation for years of abuse against underage family members. He pleaded guilty to four counts of child rape last year and was sentenced to 40 years in prison. – Read more at Chicago Tribune
Simon Cowell donates £25,000 to battle dog meat farming in South Korea… months after slamming the killing of 'kind, helpless' animals – Simon Cowell has donated £25,000 in a bid to help a British charity rescue dogs from a brutal dog meat farm in South Korea.
The X Factor judge, 58, handed over the princely sum to Humane Society International, whose goal is to rescue more than 200 dogs from being eaten, with some of the pooches finding new families in Britain. – Read more at Daily Mail