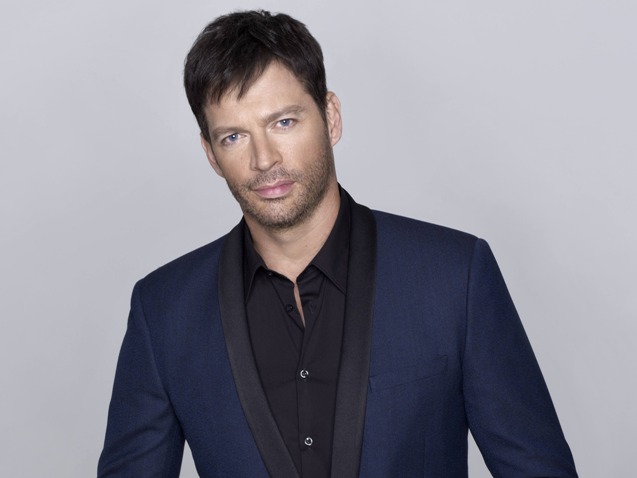 Harry Connick Jr. won't be off of television for long when American Idol leaves the air in 2016, and his judges gig comes to an end. The singer/musician/actor has been tapped to head a new daytime TV show, produced by Late Show with David Letterman head writers, the Stangel Brothers. Details below.
Good luck to him. Ask Queen Latifah, Katie Couric, Ryan Seacrest and Meredith Viera. Daytime is competitive. Most new shows fail.
NEW DAYTIME SHOW HOSTED BY HARRY CONNICK, JR. SOLD TO FOX TELEVISION STATIONS
NBCUniversal Domestic Television Distribution has sold the new first-run entertainment show Harry to the FOX Television Stations. The new show, hosted by Harry Connick, Jr., will debut in September 2016 in national syndication; it was announced today by Ed Swindler, President, NBCUniversal Domestic Television Distribution and NBC Broadcast Operations.
"Harry" will be hosted by multi-award winning musician, singer, composer, actor and legendary live performer Harry Connick, Jr. and will air on the Fox owned TV stations in 17 markets. It also is currently being sold to other leading station groups across the country for its debut in national syndication next fall. Justin and Eric Stangel, both former Head Writers and Executive Producers of the Late Show with David Letterman, will serve as Executive Producers for Harry.
"I'm a lucky guy. I get to be a husband to a wonderful wife, a father to three incredible daughters, and an entertainer to the most amazing fans. And now, I'm honored to be able to put smiles on people's faces on a daily basis," said Harry Connick, Jr. "Working with the amazingly talented and hysterical Stangel Brothers is a dream come true. Harry will be an hour filled with fun, music and laughter. Fasten your seat belts – it's gonna be one heck of a good time!"
Drawing inspiration from the family-friendly variety shows of the past, "Harry" will reflect the unparalleled hosting and entertainment skills of Harry Connick, Jr.'s varied career in music, film, television, and Broadway. His goal is to bring the party back to daytime by delivering entertainment and laughter through a variety of segments–from comedic man-on-the-street interviews, live musical performances and parodies, to hilarious stunts and audience participation and surprises. "Harry" is a unique variety program for the new millennium aimed at entertaining the modern daytime audience. The Stangel Brothers are Executive Producers along with Harry Connick, Jr. and Ann Marie Wilkins. "Harry" is produced and distributed by NBCUniversal Domestic Television Distribution.