@chriscolfer: Brass knuckle hooves, searchlight eyes, nostril mask…but rural espionage is no laughing matter. #TheLlamanator
Matt Morrison's Halloween party has become a yearly tradition for the Glee gang. A few of these photos are from that party, but this year's photos are scattered across several spooky soirees.
Chris Colfer and his bestie, Ashley Fink attended the Morrison party last night at Lure night club in Hollywood. Chris's elaborate costume (and check out the make-up, especially on his arms!) has him taking on rural espionage–as the Llama assassin, Llamanator! Ashley, who tweeted earlier that her costume was super last minute, is a colorful, squeezable bunch of grapes.
At first glance, Darren Criss seems to be dressed as a Boy Scout. But he's not just any scout. He and and his girlfriend, Mia are the romantic couple from the Wes Anderson movie, Moonrise Kingdom.
Naya Rivera is an adorable Looney Tunes Roadrunner. Can you figure out Chord Overstreet's costume? He's perfume huckster, Brade Pitt. And the lovely Diana Agron is a cute kitty.

@chriscolfer: Happy Halloween! Hooves crossed I'm the only one dressed as a llama assassin. #TheLlamanator

@ashleyfink: You know its a good Halloween party when even the farm animals are grabbing yo' grapes! ;)

Darren Criss Leaves Matt Morrison's Party

@Danger08: Michele, Darren, Mia and Me…Poison Ivy, the kids from Moonrise Kingdom and Two-Face.

@chordoverstreet: Halloween diegoboneta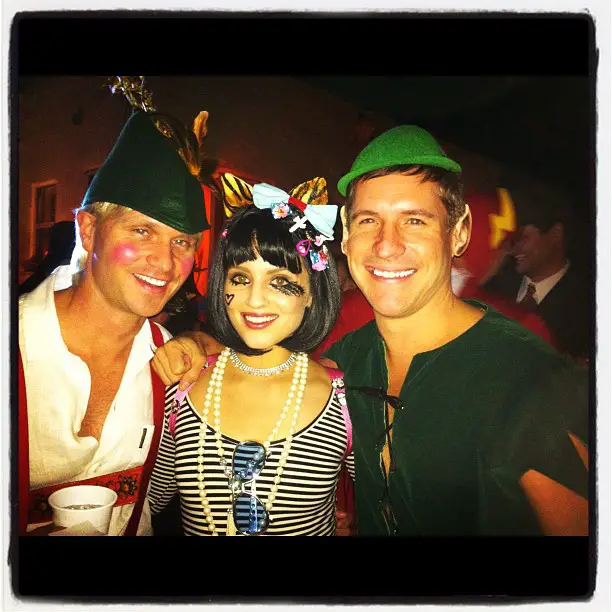 @allenstigator: Dianna Agron in da house! #Glee #Halloween