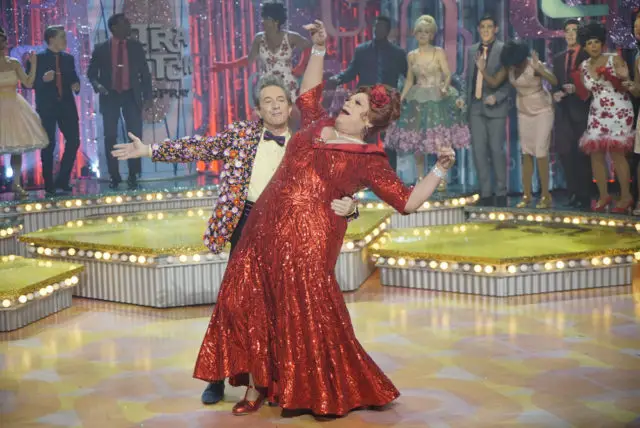 OUCH. Maybe it's live musical fatigue, but Hairspray Live! garnered the lowest ratings of all four live NBC musicals thus far. FOX's Grease Live! aired earlier this year. Also, Empire earned the highest ratings of the night, although Hairspray Live managed to drive the FOX show's numbers to a series low.
NBC led Wednesday's primetime ratings with "Hairspray Live," but the network's fourth annual live musical presentation is shaping up as the lowest-rated of the bunch.

Pending updates, "Hairspray Live" averaged a 2.3 rating in adults 18-49 and 8.92 million viewers, slightly behind the 2.4 and 9.21 million for "Peter Pan Live" in 2014. Last year's "The Wiz Live" posted a 3.4 and 11.5 million viewers. "The Sound of Music Live" scored a 4.6 and 18.6 million viewers in 2013.

"Hairspray" did, however, seem to poach viewers from other networks, as ratings for ABC, CBS and FOX were down. "The Goldbergs" (1.5), "Speechless" (1.3), "Black-ish" (1.2) and "Designated Survivor" (1.1) all hit season lows for ABC, as did "Lethal Weapon" (1.4) and "Empire" (series low 2.5) on FOX.
Via TVByTheNumbers
8 p.m.
Hairspray Live (NBC) (8-11 p.m.) – S 2.3/8 8.92
Survivor (CBS) 1.7/6 8.39
The Goldbergs (ABC) 1.5/5 5.40
Lethal Weapon (FOX) 1.4/5 6.25
Arrow (The CW) 0.7/3 1.94
8:30 p.m.
Speechless (ABC) 1.3/5 4.55
9 p.m.
Empire (FOX) 2.5/8 7.00
Criminal Minds (CBS) 1.3/5 7.73
Modern Family (ABC) – R 1.1/4 4.23
Frequency (The CW) 0.2/1 0.87
9:30 p.m.
Black-ish (ABC) 1.2/4 4.19
10 p.m.
Code Black (CBS) 1.1/4 6.72
Designated Survivor (ABC) 1.1/4 5.18