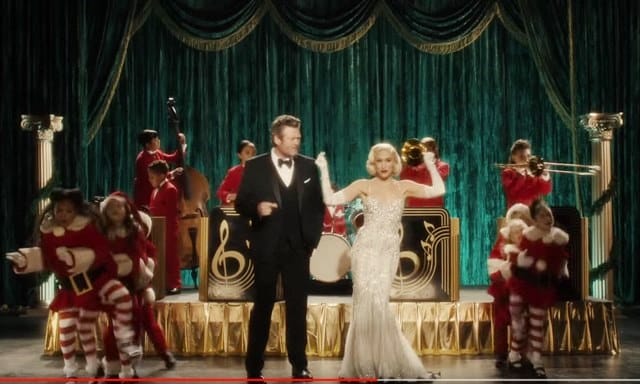 Gwen Stefani and Blake Shelton team up for "You Make it Feel Like Christmas" the title song from Gwen's new Christmas album.
The real-life couple do a take on Lucy and Ricky in a retro clip featuring a band and dancing elves played by little kiddos. The two sing, prepare for a big Christmas dinner and drive through the snow in a convertible. It's wacky!  But the really silly stuff happens in the last minute or so. Wait until the end!
Of course, Blake is currently and always a The Voice coach, while Gwen sat on the panel for 3 seasons. 
Gwen is set to appear on a couple of Disney specials including Disney Parks Presents a 25 Days of Christmas Holiday Party on Friday, Nov. 23, The Wonderful World of Disney: Magical Holiday Celebration on Thursday, Nov. 29, and Disney Parks Magical Christmas Day Parade on Tuesday, Dec. 25.
Check out Gwen Stefani and Blake Shelton in the "You Make it Feel Like Christmas" music video.