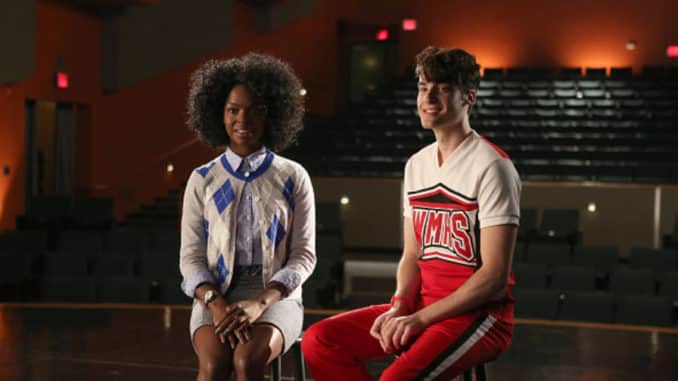 FOX's musical comedy Glee wrapped up its 6 season run in 2015, but drama continues. After Lea Michele, who played Rachel Berry on the show, posted a tweet in solidarity with Black Lives Matter, an old castmate wasn't buying the star's message of support for the black community. The wildly popular show, which aired from 2009-2015, depicted the lives of a group of misfit glee clubbers.
Samantha Ware, who played Jane Hayward, one of the new students on the shortened season 6, clapped back at her former co-star with a Tweet. "Remember when you made my first television gig a living hell?!?!" Samantha wrote. "Cause I'll never forget. I believe you told everyone that if you had the opportunity you would 's**t in my wig!' amongst other traumatic microaggressions that made me question a career in Hollywood." Dang girl, do not hold back!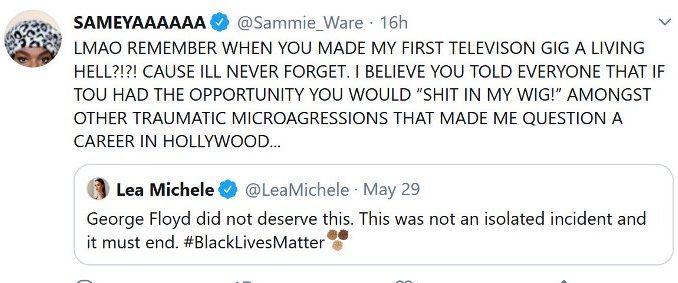 During Glee's run, I had a source that used to feed me behind the scenes gossip. From what I had been told, Leah had very few friends on set other than Darren Criss, Chord Overstreet and Becca Tobin. For instance, when Naya Rivera was cut out of the last few episodes of season 5 over some behind the scenes drama, I heard that the tiff started with Lea being so rude to a production staffer's kid, that she cried. Naya apparently marched into producer Brad Falchuk's office and let him have it. Lea stomped off set, while Naya was told to pack up her things and go. Naya's name was ripped off her trailer door that same night, I heard. In the end, Naya returned to Glee for the 6th and final season.
Here's a new bit of gossip I didn't share at the time: I heard that, the day after the big dustup between Naya and Lea and Brad, Alex Newell (who played Wade "Unique" Adams), Chris Colfer, Amber Riley and Kevin McHale arranged a meeting with producers to complain about Lea's attitude and diva behavior.
And to illustrate my point, after Samantha posted, Alex and Amber reacted on twitter.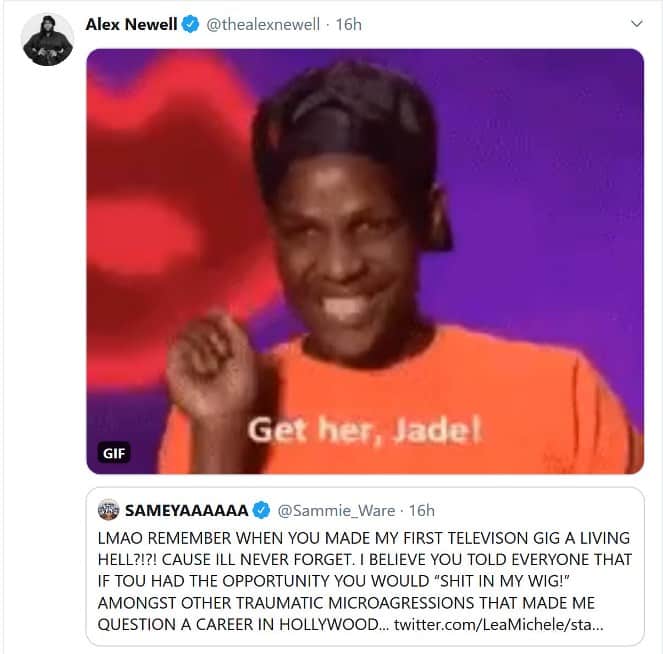 — Amber Patrice Riley (@MsAmberPRiley) June 2, 2020
Dabier, who appeared in a 2014 Glee episode episode weighed in with his own experience. "Girl you wouldn't let me sit at the table with the other cast members cause 'I didn't belong there' f**k you Lea."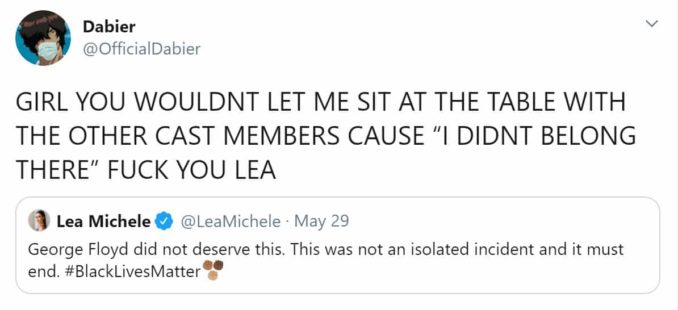 AND THAT'S WHAT YOU MISSED ON GLEE!