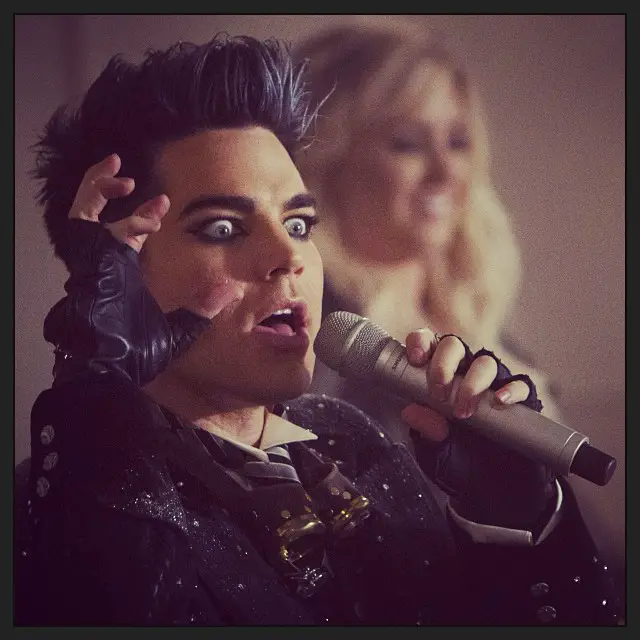 UPDATE:  Entire song list spoiled!  The kids are singing another Kelly Clarkson song.
After the December 5 Glee Christmas episode, titled "Previously Unaired Christmas" airs, the musical comedy will go on a long hiatus. The next episode, 5×09, titled "Frenemies" won't air until the show returns, probably sometime in the late winter/early spring.
Of course, the cast and crew will remain on the job, filming episodes in the meantime! Although it will be months before we finally see it, "Frenemies " is about to go into production.
And good news! We have some song spoilers. Better news. Adam Lambert is returning. EVEN BETTER NEWS. He's duetting with Chris Colfer on one of the greatest modern glam rock songs of our time, "I Believe in a Thing Called Love" by The Darkness. I AM GIDDY PEOPLE GIDDY.
Check out the list so far. And of course, I'll be updating!
OK. WHY is Santana (Naya Rivera)  singing a song from Funny Girl? Hm.  As most of you know, Rachel (Lea Michele) nabbed the lead in a Broadway revival of the iconic musical. Of course, we've already heard Rachel sing "Don't Rain on My Parade" back in Season 1…
FULL List – "Frenemies" Song Spoilers via Glee Out Brasil
Don't Rain On My Parade from Funny Girl, sung by Santana
I Believe In A Thing Called Love by The Darkness sung by Kurt and Elliott (Adam Lambert)
Whenever I Call You Friend by Kenny Loggins and Stevie Nicks sung by Artie and Tina
Brave by Sara Bareilles sung by Rachel and Santana
My Lovin' (You're Never Gonna Get It) by En Vogue sung by Artie & Tina
Every Breath You Take by The Police sung by Rachel & Santana
Breakaway by Kelly Clarkson sung by Artie, Tina & Blaine