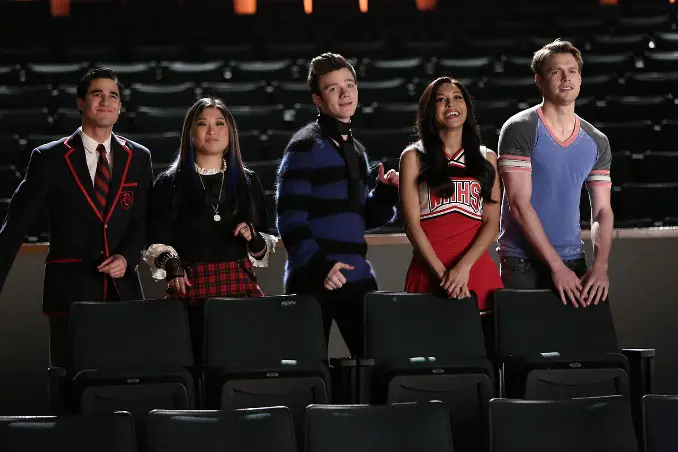 Glee Season 5 is winding down! The rest of the season will take place in New York City, but that doesn't mean your favorite stars can't drop in once in awhile!
After missing 3 episodes, the newly un-engaged Naya Rivera (Santana) will return to Glee in Episode 17 (airing April 22), titled "Opening Night," which is about exactly what you think it is–Rachel (Lea Michele) will debut on Broadway as Fanny Brice!  Naya will appear in the rest of the season's episodes. But I'm still hearing she does not plan to return as a regular cast member for Season 6.  But who knows! Maybe that ugly breakup with Big Sean has her rethinking her life choices.
As Rachel makes her big debut, other friends (and enemies) will arrive in NYC for the opening of Funny Girl, including Tina  (Jenna Ushkowitz). The character was essentially written off the show when she was accepted to Brown after graduation.  Two more characters we haven't seen since the two part 100th episode celebration put an end to the 2013 school year, and the Lima storyline, are Sue Sylvester (Jane Lynch) and Glee director, Will Schuester (Matthew Morrison). Both will be in the audience cheering Rachel on–or not in the case of Sue.  Lauren Potter (Becky Jackson) will also return.
In a strange plot twist, Max Adler, as the tormented school bully, Dave Karofsky and John Sussman playing the annoying gossip monger, Jacob Ben Israel will make an appearance–in a dream sequence featuring Rachel having that horrible nightmare we all have. You the one–you're back in high school and you can't remember the answers to any of the questions on the test? It's gonna be something like that. (See photo above.)
Brittana fans will be thrilled to learn that Heather Morris (Brittany) will guest star in the Glee finale (airing May 13) . Maybe fans of the pairing will get that happy ending they've been craving for Britt and Santana ever since they got together in Season 3. According to E Online, Heather has no plans to return to the show next season.
Also, look out for special guest stars between now and the final episode! We know that Shirley Maclaine will guest star  beginning in Episode 18 (airing April 29) titled "The Backup Plan." The veteran actress will play a socialite  who takes an interest in Blaine's career (after fiance, Kurt, auditions for her! OOPS).
More guest stars for the season include SNL alum, Chris Parnell, who will appear in "Opening Night" and Star Wars' Billy Dee Williams who has  a role in the Chris Colfer penned episode, titled, "Old Dogs, New Tricks." (airing May 6)  We don't have any major plot details yet, except that it involves "animals and the elderly" (Really!).  Reportedly, there will be more special guest stars in the episode, so stay tuned.
As we reported earlier, two shows were cut from the Glee season 5 episode order, COULD end up being part of a  supersized final season 6.