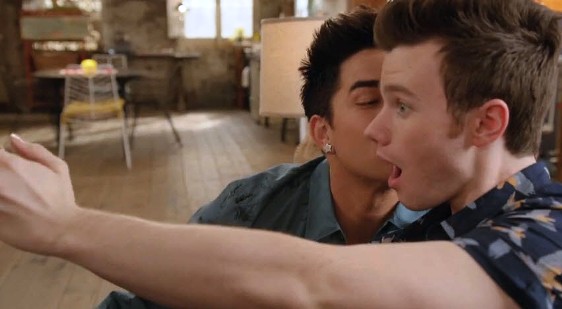 Glee returns to FOX on a new night, Tuesday, February 25, with the all-new "Frenemies" episode. In this behind the scenes sneak peek, Adam Lambert and Chris Colfer dish on what to expect when their respective characters, Elliott and Kurt, join forces to sing The Darkness tune, "I Believe In A Thing Called Love."
Glee Season 5 Spoilers: "Frenemies" – Details!
"Frenemies is about the relationship between two competitive friends," says Chris. "Elliott is insanely talented and Kurt becomes very self-conscious about it…he's afraid that Elliott is gonna be taking away some of the spotlight." And, with the vocally gifted, Adam, playing the role of Elliott? Yep. That's a distinct possibility!
So, in order to protect himself, Kurt takes his fiance, Blaine's practical advice: "Keep your friends close and your enemies closer." A suggestion Blaine may come to regret, considering how cosy the two bandmates look in these behind the scenes shots…
Glee Season 5: "Frenemies" New Photo Stills!
As part of the bonding process, Elliott takes Kurt guitar shopping, and the two are eventually rocking out with a band. And what's a music shop without a….stripper pole! Which, of course, Kurt can't resist incorporating into the performance.
"Chris is… kind of inclined, for the stripper pole," observes Adam. I'm impressed. He's got some moves!" As far as the performance goes, Adam gushes, "The song turned out amazing! I'm really happy with it." Sadly, there's no song preview yet. Fingers crossed we get one soon!
Glee Frenemies Preview! Featuring Adam Lambert, Chris Colfer, Lea Michele
"These two guys are amazing," says director, Brad Buecker, "They play so well off of each other, they're hilarious!"
Check it out below: