Brad Falchuk directed 4.01 The New Rachel Alfonso Gomez-Rejon directed 4.02 – Britney 2.0 and  Eric Stoltz directed 4.03 – Makeover
Songs for "The New Rachel": "Call Me Maybe", "It's Time" by Imagine Dragons (Blaine sings to Kurt in the couryard) , Americano/Dance Again (Cassandra), "Never Say Never" by The Fray  (Jake), New York State of Mind by Billy Joel (Rachel and Marley), "Chasing Pavements" by Adele (Marly)
Songs for "Britney 2.0": "Oops I Did It Again" Rachel and Brody, "Boys/Boyfriend" (Blaine  and Artie), "Gimme More" (Deets)  (Brittany), "Everytime" (Marley sings – Montage: Brittany in her bedroom, missing Santana), "Hold It Against Me" (Brittany). "Crazy/You Drive Me Crazy" (Jacob and Marley), "3" (Sam, Joe, Tina)  Womanizer (Unique, Tina, and Marley) Listen to FULL SONGS.
NEW:  FOX Synopsis for "The Makeover" Episode 4.03 – IT'S ELECTION TIME AT MCKINLEY ON AN ALL-NEW "GLEE" THURSDAY, SEPTEMBER 27 ON FOX Sarah Jessica Parker ("Sex and the City") Guest-Stars The campaign showdown begins when Brittany and Blaine go head-to-head for Student Council President. Meanwhile, Kurt gets the internship of his dreams on an all-new "Makeover" episode of GLEE airing Thursday, Sept. 27 (9:00-10:00 PM ET/PT) on FOX. (GLE-403) (TV-14 L)  Guest Cast: Sarah Jessica Parker as Isabelle Klempt; Vanessa Lengies as Sugar Motta; Samuel Larsen as Joe Hart; Jacob Artist as Jake Puckerman; Melissa Benoist as Marley Rose; Dean Geyer as Brody Weston; Becca Tobin as Kitty; Iqbal Theba as Principal (Will and Sue will perform an old Judy Garland song! Plus Kurt and Isabelle perform together!)
NEW: Dianna Agron begins shooting for Glee next week (9/17) Source
NEW: VERY Spoilery Recap of THE NEW RACHEL HERE.
NEW: Tina will start out the season adjusting to her split from Mike, a break-up Ushkowitz says was of her character's doing. "People are really going to hate me," the actress predicts. "But it's hard with long distance [relationships]." The ex-couple reconnect in Episode 5 for the first time since calling it quits. "It's definitely going to be hard," she teases of the reunion. "It'll be a truthful and honest [depiction of] what people go through in a break-up." Bonus Spoiler: Ushkowitz says Tina will perform two numbers in next week's Britney Spears tribute, one of which is an acoustic-leaning cover of "3." – TV Line
NEW
:
Chord Overstreet
says Sam and Blaine will have a bromance this season as "two single dudes"  @
kecksexclusives
NEW: Mike Chang  and Mercedes will make their way back to Ohio in Episode 5 to help Artie with a "mysterious situation." they will appear in both eps 5 & 6.  Mike and Tina have broken up, but he wants to see her.  Via The Hollywood Reporter
NEW: Check out Ryan Murphy's latest twitter spoilers HERE.  They include: Santana will serenade Brittany with "Mine" by Taylor Swift in "The Break Up" Sam and Blaine will become "best buds", Mercedes will return to mentor the New Directions newbies.  Kurt's 1st number will be a song with his mentor, Isabele (Sarah Jessica Parker), Brittany will sing "Gimme More" and "Hold It Against Me" in Brittany 2.0.
NEW: On Wednesday, 9/5, Glee was filming at the Piano Bar in Los Angeles with Chris Colfer, Lea Michele, Cory Monteith and Darren Criss. They were looking for extras and warned the inside would be smokey. It might be the interiors for the "double date" in New York city that takes place in "The Break Up"  Source.Photo.
NEW: Darren on duetting with Kevin McHale on Boys/Boyfriend for "Britney 2.0": We just jumped around, we just wanted to be silly and cheesy and stupid, so that's exactly what we did. There's like, cliches. I hope this one made it into it — the hands in front of your face like "where did I go? There I am, I'm behind my hands." You can't see that on a recorder…  Billboard
NEW: Screeners have gone out for "The New Rachel" premiere. You can read Spoilers at TV Line, EOnline, GMMR, Examiner, TV Guide, Hollywood Life and  THR.  Plus Darren Criss Billboard Interview. Highlights:
Darren Criss on Blaine:  Blaine's like a meanie now. I don't know what really happened! I read the first script and I was like, "why's Blaine so feisty?" I think the writers were getting bored with Blaine being nice. We joke about Season 4 Tina too, she's really sassy. We're all vicious, maybe it's Senioritis, who knows. When we read the script I was like, "since when is Blaine really competitive?" But who knows, maybe Kurt's gone and the gloves are off.
Finn, Emma, Quinn, Santana, Mike, Puck, Mercedes, and Rory are not in the episode.
Mike and Tina have broken up. ""I still love him and we're still friends," she says.
Marley and Sam strike up a bond by the end of the episode, but she's really attracted to Jake Puckerman.
Jake's audition song for New Directions is "Never Say Never" by The Fray.
Kitty grills Kurt about why he's not already away at college, then snarks: "I thought gay people were all successful overachievers."
Poor Kurt is working at the Lima Bean and helping out New Directions. Blaine encourages him to make the big move to New York City.  No Kiss. But Blaine sends him off with a song "It's Time". "After the sweetest talk ever, Blaine surprises his man with an over-the-top (but also awesome) performance to give Kurt his blessing to leave for New York."
Kurt and Burt have one of their epic heartfelt scenes at the airport as father sends off son to NYC.  When he arrives, Kurt has a sweet, emotional  reunion with Rachel.
Brittany connects with Santana via Skype. Laments the inability to have sex through the screen.
Cassandra appears to be slipping booze into her smoothies.
Marly has a really heart tugging backstory. (It's about her mom, the lunch lady, who is being bullied by students)  Marly sings "Chasing Pavements" and "New York State of Mind"–which is a duet with Rachel.
While the kids sit at the popular table, they sit silently as the cool kids bully Marley's mom–the lunch lady. Kurt has a little chat with Blaine, reminding of the importance of being a humble leader.
Brody (Dean Geyer) is introduced all Finn like–he's singing in the shower to classic 80s tunes.
The remaining members of New Directions are interviewed by Jacob Ben Israel at the top of the show. He asks the burning question. "Who is the New Rachel"
The new kids: Marley = Rachel. Jake = Puck, Kittie = Quinn and Unique = Mercedes.
Artie will judge a performance of "Call Me Maybe" that features Blaine, Brittany, Tina, Sam and Unique. He's tasked with deciding who will be the "New Rachel."
In "The Break Up" Episode 4, we'll be meeting a new teacher at McKinley High. She's in her 50s and may turn into a recurring character E News
Britney 2.0 Song Spoilers: Mashups with non-Britney songs–Justin Bieber's "Boyfriend" mashed up with Britney's "Boys," and Aereosmith's "Crazy" mashed up with Brit's "(You Drive Me) Crazy." Via BreatheHeavy
Sam Evans as New Directions Male Lead? "Trouty Mouth is going to be quite the big fish in Season 4. In addition to getting a mysterious new love interest (guesses!?), Chord Overstreet's senior will play a much more vital role in New Directions. "Toward the end of last season we got how to write for [Chord] and [who] the Sam character was," notes exec producer Brad Falchuk. "And he really stepped up. It's nice having him be, in terms of the guys there in the choir room, the male lead right now. He's definitely carrying the weight that he needs to carry there, in a way that was very different than Cory [Monteith] or Mark [Salling]. He has a very specific innocence to him." – TV Line
Jake Puckerman (Jacob Aritst) will sing  Fray's "Never Say Never" in the premiere, "The New Rachel". He'll have most of his initial scenes with new girls Marley (Melissa Benoist) and Kitty (Becca Tobin) TV Line
Ryan Murphy had a twitter party on 8/31. Click this link for a rundown of his tweets. Highlights: Blaine and Brittany will face off for Senior class president. Rachel and Brody will sing "Give Your Heart a Break",  Rory will be back for the Thanksgiving reunion show.
Photo gallery featuring Kurt and Rachel's new grown up looks by the new costume designer.  The photos are tagged by episode and somewhat spoilery. Click to see the photos. I'm going to post the gallery at the bottom of the page as well.
Production on the Glee set was shut down Thursday (8/30)  because of a health issue with Cory Monteith,  "It happens from time to time — what we try to do is rearrange the work so we can shoot around the talent. But in this case, Cory was in all of the scenes." RumorFix  (Pretty sure Glee is shooting Episode 4 "The Break Up)
Naya Rivera on Brittany: ""At the start of the season, they're definitely still together — she's at the high school dealing with all the new people and Santana is at Louisville dealing with her new schedule there," Rivera tells The Hollywood Reporter. "It's a completely new thing for her and she's really focusing on cheerleading and trying not to think about the fact that she does miss everyone." "It's definitely a struggle, as is any long distance relationship and they will be dealing with that new challenge," Rivera says. "I know she misses her and she definitely makes time to visit Brittany. I do hope that they're in it for the long-run, but as with any long-distance relationship, it has its challenges — especially when you're still in high school." Hollywood Reporter
Episode Description for Britney 2.o: When Brittany is kicked off the Cheerios squad, it sets her on a rapid downward emotional spiral. The repeat-senior's sullen temperament causes concern for her fellow gleeks, prompting Will to try and reinvigorate New Directions through the music of Britney Spears. As new roommates Kurt and Rachel move in to their New York apartment, Kurt reveals information about Cassie that could turn the tide in Rachel's rocky relationship with the highly critical dance instructor. After Will fails to make a lasting positive impression on new student Jake Puckerman, he enlists the help of a former McKinley delinquent to intervene before Jake's self-destructive behavior gets the best of him. Meanwhile, as Rachel grows increasingly frustrated by fiancé Finn's lack of communication, Brody offers to help her with a "sexy" dance assignment. Glee Zone
Brittany S. Pierce is in a funk and turns to her icon Britney Spears' music for inspiration! Meanwhile, Rachel struggles to adjust to life in New York, but is helped by her newfound NYADA friend, Brody Weston, in the all-new "Britney 2.0" episode airing on Thursday, Sept. 20 (9:00-10:00 PM ET/PT) on FOX. (GLE-402) (TV-14 L)
Cast: Matthew Morrison as Will Schuester; Jane Lynch as Sue Sylvester; Lea Michele as Rachel Berry; Chris Colfer as Kurt; Kevin McHale as Artie; Amber Riley as Mercedes; Mark Salling as Puck; Jenna Ushkowitz as Tina; Naya Rivera as Santana Lopez; Heather Morris as Brittany; Darren Criss as Blaine Anderson; Chord Overstreet as Sam Evans; Mike O'Malley as Burt Hummel. (Still no Dianna Agron. WTF?)
Guest Cast: Kate Hudson as Cassandra July; Vanessa Lengies as Sugar Motta; Samuel Larsen as Joe Hart; Jacob Artist as Jake Puckerman; Melissa Benoist as Marley Rose; Dean Geyer as Brody Weston; Becca Tobin as Kitty; Iqbal Theba as Principal Figgins; and Alex Newell as Wade Adams.
NEW:  Glee has been in contact with the University of Louiseville where Santana is a freshman cheerleader.  The person who runs the school's Facebook posted, "we weren't sure what she was going to do either but the folks at Glee have been working with us for set design items, clothing and the like. They have read at least two episodes to me containing scenes with Santana at "UofL" (one in her dorm and one at the library). One scene they already shot, the other they are shooting yesterday and today." (posted on 8/28) UOL Facebook
Love Kate Hudson and Lea Michele going head to head on Glee. Anything else you can share about season four? Since you've seen a little bit of Kate Hudson "out-dancing" everybody in the new Glee promo, we can reveal that she'll be dancing to a Jennifer Lopez and Lady Gaga mash-up. You can hear a little bit of the Lopez song it in the promo, and we bet our bottom dollar that the Gaga number is "Just Dance." But Glee always surprises us. And what's the best way to deal with someone all up in your grill? Why, get a makeover and show 'em up, of course! Which is exactly what Rachel will be doing in episode three. – Via E News
How about a Glee scooplet on Brittany for a change? And notice I said Brittany, not Brittana. —Yep, I can read. I don't particularly enjoy it, but I'm able to do it in a pinch. It probably comes as no surprise that the show's second Britney Spears tribute will be a big episode for Heather Morris' IQ-challenged chanteuse. "It's one of the funniest episodes we have done," declares exec producer Brad Falchuk. "Brittany is having some troubles and Will and Emma come up with a plan to [cheer her up]." But whereas the last Spears-athon "inspired her and brought her out of her shell, this time it backfires in a very bizarre way," teases Falchuk. Bonus spoiler: It all works out in the end!
What the heck is up with Finn on Glee? Lea Michele keeps teasing that his storyline is shocking and unexpected, and the wait for the reveal is maddening! — Here's what I know: In Episode 4, which just so happens to be the big "Break-Up" episode, he will encounter a drill sergeant. In Episode 5, he helps McKinley newbie Ryder (played by Glee Project champ Blake Jenner) get into New Directions. And at some point after that, per Falchuk, he will get a new love interest. Does that help at all? VIA TVLine
 New photos from the Glee Premiere, The New Rachel! See them at the bottom of the page.  Artie (Kevin McHale) is asked to pick either Blaine (Darren Criss), Unique (Alex Newell), Tina (Jenna Ushkowitz) or Brittany (Heather Morris) to take Rachel's place in the Glee club! Looks like Artie is a ND captain.
Cory Monteith: tweets "good to be back at McKinley :)"  And Lea Michele: In the studio again with the great @alxanders :) Just wish I wasn't singing such a sad song!!!  Naya Rivera: Headed to the studio to record my first song for Glee season 4. It's another one of my favorites. (probably for Episode 4 "The Breakup" (8/27)
That photo Ryan Murphy tweeted of Blaine (Darren Criss) dressed as Robin? According to E News, Blaine will try to join every extracurricular club imaginable to cope with Kurt (Chris Colfer) leaving Lima for New York City. So, it's some sort of "superhero" club he joins…. Likely for Episode 3 called "Makeover" (Rachel gets a Makeover from Isabelle (Sarah Jessica Parker)
Via @KecksExclusives
Glee is casting a Drill Sergeant for Finn in episode four so we'll be seeing his life in boot camp
Lea Michele says something regarding Finn that will "shock"
Sue and Will will sing sing a Judy Garland number
Official New Rachel Description from FOX
In the season premiere episode, the members of New Directions compete amongst themselves to become the next star of the glee club. During open auditions, a fresh crop of students is introduced, including Marley (Melissa Benoist) and Jake Puckerman (Jacob Artist), Puck's half-brother. Meanwhile, Rachel (Lea Michele) has a rocky start at NYADA and struggles to please her demanding dance teacher, Cassandra July (guest star Kate Hudson). She also meets Brody (Dean Geyer), a handsome upperclassman in the Season Four premiere episode, "The New Rachel," airing on a new night and time Thursday, Sept. 13 (9:00-10:00 PM ET/PT) following THE X FACTOR on FOX. (GLE-401) (TV-14)
Cast: Matthew Morrison as Will Schuester; Jane Lynch as Sue Sylvester; Lea Michele as Rachel Berry; Chris Colfer as Kurt; Kevin McHale as Artie; Amber Riley as Mercedes; Mark Salling as Puck; Jenna Ushkowitz as Tina; Naya Rivera as Santana Lopez; Heather Morris as Brittany; Darren Criss as Blaine Anderson; Chord Overstreet as Sam Evans; Mike O'Malley as Burt Hummel (NO DIANNA AGRON!)
Guest Cast: Kate Hudson as Cassandra July; Vanessa Lengies as Sugar Motta; Samuel Larsen as Joe Hart; Whoopi Goldberg as Carmen Tibideaux; Jacob Artist as Jake Puckerman; Melissa Benoist as Marley Rose; Dean Geyer as Brody Weston; Becca Tobin as Kitty; and Alex Newell as Wade Adams.
On August 23, Lea Michele tweeted some cool photos of dresses she wore on set HERE and HERE and HERE. The dresses are probably for the makeover Isabelle (Sara Jessica Parker) is set to do on Rachel in Episode 3, called "Makeover"  Ryan Murphy also tweeted a cool pic of Chris Colfer. I've added them to the photo gallery below.
RUMOR: Coldplay's The Scientist will be performed on Glee. Also rumored, "A Change Will Do You Good" by Sheryl Crow.
Here's a descripition of the new Glee cast members from FOX press materials: Four newcomers also join the musical comedy when it returns this fall. In the season premiere, Rachel lands in New York City to attend NYADA and meets BRODY WESTON (Dean Geyer), a handsome upperclassman who shows an interest in her. Meanwhile, back at McKinley, squeaky clean sophomore MARLEY ROSE (Melissa Benoist) and Puck's bad-boy younger half-brother, JAKE PUCKERMAN (Jacob Artist), both try out for the glee club and Sue Sylvester has a new sidekick with Cheerio! KITTY (Becca Tobin).
Description of "The New RacheL" – Rachel Berry lands in New York City to attend NYADA and meets Brody Weston, a handsome upperclassman who shows an interest in her. Meanwhile, back at McKinley, Puck's bad boy younger half-brother, Jake Puckerman, tries out for the glee club, but his attitude could derail his audition.
As an incoming freshman at NYADA, Rachel struggles to adjust to the rigors of her new life in the Big Apple. She bumps heads with an influential instructor, and makes a new friend in handsome upperclassman Brody Weston. At McKinley, the returning members of New Directions bask in their celebrity status, but find that maintaining their newfound popularity comes at a cost. As the remaining members of New Directions compete to replace Rachel as the team's headliner, Will holds auditions for new members, with interesting results. As Kurt struggles to adjust to his post-graduation life in Lima, Blaine offers some much needed advice.
Lea Michele tweeted, "Just finished such a fun dance rehearsal with @chriscolfer & Sarah Jessica Parker!!!! #SJPonGLEE and "At work shooting with @chriscolfer and the amazing Sarah Jessica Parker!!! This is such a dream come true!!!"  Sarah Jessica began shooting Glee in episode 3.
Details on how Kurt winds up in New York and What Causes the Rift with Blaine:  I can't [confirm that Klaine break up]. But I can confirm that they will hit a major rough patch in the Sept. 13 opener. "The real first obstacle for them is that Kurt is still in Lima and it's kind of depressing," explains Glee co-creator Brad Falchuk. "Kurt is a little bit stuck in his old life and Blaine really pushes him to go to New York." Of course, Kurt's move to the Big Apple paves the way for Speed Bump No. 2. "The distance [causes strain]," concedes the EP. "Kurt finds new things that excite him. The minutia of high school life is not quite as compelling to him, and that's hard for Blaine. He can't lean on Kurt the way he would have the year before. And I think it's also strange for Blaine to be in this school that he came to really only for Kurt. He didn't come because he wanted to go into public high school. So now he has to find his place [at McKinley] not as Kurt's boyfriend." TV Line
It looks like Grant Gustin WON'T be returning to Glee:: As of now, Grant Gustin is not going to be part of the show's fourth season, although a rep for the actor says he remains "open to returning." TV Line
According to some new spoilers, Rachel will sing "Oops I Did It Again" in a sexy dance number with Brody and Cassandra July and Brittany will sing "Everytime" in her bedroom as she misses Santana. Both numbers are for Britney 2.0. Blaine will sing "Everybody Rules the World" as he tries to keep busy without Kurt
Kurt and Rachel will move into a Brooklyn loft together as they chase their dreams of stardom. She at NYADA and Kurt at Vogue .com.  Click to read more.
Sarah Jessica Parker shot her first scene with Chris Colfer. Her character, Isabelle, will mentor Kurt at Vogue.com. Check out the photo HERE.  Sarah Jessica joins Glee in episode 3.
Ryan Murphy tweeted a photo of Darren Criss dressed at Robin with a little bow tie. But there is also THIS. Some folks are assuming it's for a Halloween show. Take a look at THIS. It's a batman poster on the wall of McKinley High. Maybe a class president story line? Chord Overstreet had tweeted that he was off to shoot some fun stuff with director Eric Stolz and Darren…
On Sarah Jessica Parker'soutfits: ""It's Carrie Bradshaw on her day off – more kooky than the SATC look," a source told UK magazine Grazia. "We're talking colour pops with garishly coloured tights, threadbare jeans, glitter glasses, puffy skirts." Fashion queen Anna is said to have picked garments from her designer favourites to make sure Sarah Jessica looks the part."  Belfast Telegraph
Some Spoilers: Brody, Rachel's new potential love interest, is from Montana. Kate Hudson's character has a bit of a drinking problem. (Gleekly Spoilers)
The winner of the Glee project, Blake Jenner, will join New Directions in the choir room beginning with episode 5, according to a tweet from Ryan Murphy.
Lea Michele tweets on 8/17 that she's off to the recording studio to record a song for with Chris Colfer and Sarah Jessica Parker.
According to EW, Sarah Jessica Parker will begin her arc as Kurt's Vogue.com mentor in Episode 3. ETA: Sarah Jessica Parker was on the Glee Call Sheet on 8/16 according to Jacob Artist.
TV Line is reporting that Rachel Berry (Lea Michele) in New York and Marley (Melissa Benoist) in Ohio will join forces on a duet on the classic Billy Joel ballad, "New York State of Mind." The duet will happen in one of the first few episodes of the season.
Also, more detail on the Carly Rae Jepsen cover "Call Me Maybe" set to be performed by New Directions in the premiere. The vocals will be split amongst Brittany (Heather Morris), Tina (Jenna Ushkowitz), and Blaine (Darren Criss).
Also, Glee Project winner, Blake Jenner, will also be joining the choir room beginning with episode 5, according to a tweet from Ryan Murphy.
Glee shot a big Britney number for "Britney 2.0"  featuring Lea Michele, Kate Hudson and  Dean Geyer on 8/15. E News was there: "Here's something you don't see every day: Lea Michele gyrating. On top of a table. In a tiny little skirt. And a bustier. Oh yeah, and climbing her new potential love interest—and some wooden tables—like a tree." Lea tells E, "We're on at 9 p.m. now [Thursdays] so they are giving us some more sexiness."  Also, about her chemistry with Dean: "We haven't really been doing too much together. Rachel asks him to help her with this number and that's kind of it for now."  Lea tweeted a couple of photos from the number here and here. and teased: "It's Britney b#*ch…oh baby baby."  Dean Geyer tweeted a list of dancers, and they include SYTYCD alums, Marko Germar, Kent Boyd, Melanie Moore and Ashley Galvan.
From the reliable IWishYouWould
In the first episode they are doing a storyline with a cafeteria lunch lady who is bullied by school kids— it was described to me as somewhat of a take off on the recent news item with the bus monitor who was bullied by kids. I believe this is the new character Marley's mother.
They filmed a color guard number— not sure for which episode— that is very elaborate and yet at the end of the routine Sue tells them they are all horrible.
All I found out about the Blaine court yard number is that the Cheerios use cups for percussion in the background. Also, my source did not think Blaine was singing Call Me Maybe. They thought it was more "90s" than that, but did not recognize the song… thought maybe "you can't change me" was one of the lyrics, but other than that— ??? This is just what I'm told, sorry it's on the vague side!
Glee Shooting in NYC Weekend of 8/11 –  Chris Colfer was spotted at LAX on August 10, heading out of town.  Lea Michele tweeted "SO excited for this weekend! It's been my dream to shoot #glee in NYC and now this season we'll be shooting half of Rachel's story here!" and on Aug 11 "Early morning shooting #glee in NYC!!! So exciting!!!" Dean Geyer who plays Rachel's possible new love interest is there too. They will be filming a musical number today, "NYC is amazing!! And filming my first musical number for glee with@msleamichele.. Rock and roll baby. Or I guess more like POP and roll :)" On Sunday 8/12, Lea, Chris, Cory Monteith and Darren Criss shot scenes. Click the link below for more
FOR THE REST OF THE NYC COVERAGE, INCL DEETS ON THE BREAK UP – CLICK THIS LINK
Lea Michele shot scenes with Whoopi Goldberg on 8/13
Call Me Maybe Will Be Performed on the Premiere: RUMOR CONFIRMED:
ETA: This number is likely "Time" from the new Glee promo! The McKinley kids shot a group number in the courtyard on 8/6.  A violinist tweeted that she had a "great time on set, everyone in the band was nice and Darren Criss is hilarious."  The number is for the premiere–according to cast tweets, Brad Falchuk, who is directing "The New Rachel", was on set (he tweeted photos of Heather Morris braiding his hair outside). Here's a photo of Darren getting his hair done on set. The extra who posted the photo said, "Blaine was singing to Kurt on the courtyard." Reportedly, it was a happy scene.
Casting Spoiler: Fwiw, I saw an audition video yesterday (the video was since made private) with a guy in Kurt's storyline. Somebody at the vogue offices. There were a couple of short scene bits, one of them seemed to be an editorial or pitch meeting, the other seemed to be a very quick exchange with Kurt (nothing of particular note, except it seems Kurt's an intern/PA). (ONTD_Glee)
More on casting Kurt's Vogue.com office mates: "Sounds like #glee is assembling Kurt's NYC co-workers. Casting hunky business man, spooky bitch, receptionist & supermodel." via @kecksexclusives
***
Production for Glee Season 4 is well underway. As we speak, the cast is finished or nearly finished with the premiere episode aptly titled "The New Rachel" and are currently shooting Episode 2,  the big Britney Spears tribute.  There is a photo Kate Hudson, whose character is introduced in the premiere,  on set.   New cast members, Jacob Artist, Dean Geyer and Melissa Benoist have been spotted on set as well. It also appears, via tweets from the cast, that vocal recording for Episode 3 has begun.
At this point it's time for a major GLEE SEASON 4 SPOILER UPDATE! And I've got a ton of new info.   We found out at Comic Con that the season will begin with Rachel in New York City at NYADA having a difficult time adjusting to her new life. She's introduced to her roommate via the sex noises she's making. The roomate, by the way, seems rather bo ho.   Rachel will have a particularly tough time in dance class where her hard-assed instructor, Cassandra July (Kate Hudson) is a firm believer in negative reinforcement. Jane Lynch describes Cassandra as "mean and petty and yet there's a heart there too." Rachel's first big number will be a Barbra Streisand tune.
Rachel is by no means over Finn (Cory Monteith) and has no idea where he is.  Nobody has heard from him! Which has lead to speculation that maybe Finn isn't in the army after all. But I digress.  But in the meantime, a new hottie (Dean Geyer) is interested in Rachel, but she's hesitant because she has no idea where she stands with Finn. The two meet in the dorm unisex bathroom! Dean has already recorded vocals for a song.
Kurt (Chris Colfer) is stuck in Lima after his stunning NYADA rejection. In the meanwhile, he'll be helping Will (Matthew Morrison)  re-populate New Directions at McKinley. But not for long!  He's in constant contact with Rachel in New York City, and it looks like, by the end of Episode 2, he will have moved to the Big Apple. We know this, because there were set photos taken on August 2 that have Chris as Kurt striding purposely through an airport with some very handsome luggage.  Also, Ryan Murphy and Lea were tweeting hints that Kurt and Rachel were together at last. No word yet on how the separation will affect Klaine, however. (UPDATE: Klaine break up in Episode 4)
Once he moves to NYC, Kurt will eventually work for Vogue.com, where he'll be mentored by a character played by Sarah Jessica Parker. "That's where we encounter this character, says executive producer Ian Brennan, "who's sort of frazzled, eccentric and hilarious."  Ryan Murphy promises that although Kurt's senior year in Lima was marked by losses, he will "triumph at Vogue.Com."  Real life Vogue editor, Anna Wintour, will be helping with Sarah Jessica's costumes.
Santana (Naya Rivera) has decided to take that cheerleading scholarship in Kentucky after all. We'll see her in action at her new school.
Meanwhile, back at McKinley, New Directions undergoes the difficult process of rebuilding after the graduation of 8 of their most talented singers.  The seniors will step up as decisions are made about who will take leadership positions in the group. Most likely to become captains:  Artie (Kevin McHale), Tina (Jenna Ushkowitz) and Blaine (Darren Criss). (Look at Blaine all "Blainified"!) The group's first big number will be Adele's "Chasing Pavements." Jenna Ushkowitz tweeted a photo of herself recording vocals in the booth, so expect a solo from Tina in the premiere.
Sadly, Sam (Chord Overstreet) and Mercedes (Amber Riley) will break up after she leaves for Los Angeles. Ryan promises Sam will have a NEW girlfriend, but does not reveal who it is. Brittany (Heather Morris) struggles as she returns to McKinley as a "super senior" after flunking out last year.  Matthew Morrison says the Glee club will struggle to stay on top. Now that New Directions is the "cool club" everyone wants to join, but Will has a hard time finding kids who are actually passionate about performing.
Joe (Samuel Larsen) and Sugar (Vanessa Lengies) will return to McKinley. Exchange student Rory (Damian McGinty), won't be returning. Presumably he's shipped back to Ireland.  New students will arrive to audition for New Directions, including Jake Puckerman (Jacob Artist), who is Noah Puckerman's long lost half-brother. Mark Salling (Puck) tweeted that he was on set for filming. Melissa Benoist who plays new student, Marley, has also been spotted on set.
NEW: Jane Lynch reveals that Sue Sylvester is "nice for now." She has just given birth to "a beautiful baby girl who has Down syndrome and her name is Robin. Which to say hearkens thoughts of spring and new beginnings and her favorite Bee Gee."
Chris Colfer, Darren Chris and Heather Morris were spotted shooting a scene with producer, Brian Falchuk at the Lima Bean.
Britney episode spoilers from a VERY reliable source:
Song spoiler: "Gimme More" – Brittany on lead

New Directions performs in the gym (I assume at some kind of assembly but not positive?). They are supposed to be kicking ass and showing off their new-found popularity, singing to an eager audience. Except Brittany has gone the Britney route: sloppy, eating Cheetos, etc. She sings Gimme More and they end up getting booed by the school.

Alfonso Gomez-Rejon was directing. I didn't find out who the episode writer is, but it may be Michael Hitchcock since he tweeted about being on set that day.
Brittany will be the focus of the Britney Spears tribute, as she was for Britney Season 2. Tina will get a solo. Lea tweets that she'll sing a Britney "classic."  Michael Hitchcock, a writer tweets, "Looking forward to seeing one of the most bizarre numbers the show has ever done."
Ryan Murphy, dropped a bomb during a recent twitter party, "The writers are working on an episode called "The Breakup" which I'm really excited about." Well. you all can speculate on WHICH Glee couples will break apart. Soon.  Ryan also revealed that there will be a BIG 2 part Thanksgiving special built around sectionals that will bring the entire gang back together again.
"The third episode back will revolve heavily around some serious ballerinas in New York City. We're not sure if they'll be rivals of Rachel's or friends, but it's possible that the new ballet gals could be sticking around for longer than an episode. And plié!" E News
PHOTOS GALORE
Mr. Kurt Hummel is ready for his close up (Kurt at the Airport) (More Photos Here)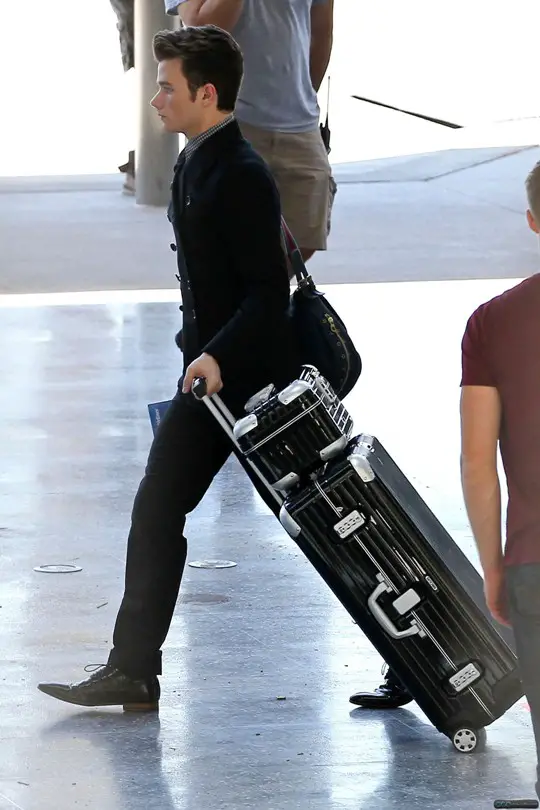 Rachel Berry's Dorm Room (Source)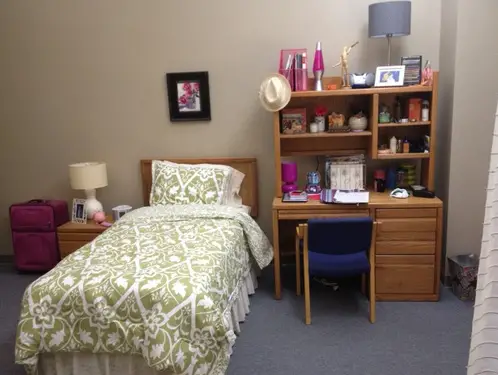 Rachel's Roomate's Side of the Room (She Looks Rather Bo Ho) (Source)
Darren Criss On Set for "The New Rachel" w Brad Falchuk 8/6
A gallery of photos tweeted by cast and crew members!
A Gallery of Photos from Britney 2.0
A Gallery of Photos from "The New Rachel"
A Gallery of New Looks for Kurt and Rachel
Call Me Maybe Promo
PROMO
PROMO featuring Kate Hudson
FALL Preview featuring a Scene from The New Rachel
First Look Season 4
Tweets: The Real Rachel (4×01)
Lea Michele: Rise and shine! Off to work in a bit for my first costume fitting for Rachel for season 4!!! (7/17)
Lea Michele: Read the first two scripts last night and they're SO GOOD!#gleeisback :) (7/17)
Jenna Ushkowitz: Back in the recording studio for S4 episode 1!!!!!! Can't wait to get back to work!!! :) (7/19)
Jenna Ushkowitz: DAY 1! So much fun! Back in the studio with @alxanders :) you're gonna like this one! http://instagr.am/p/NSB3PsSR7O/   (7/19)
Lea Michele: Getting such a great workout today at #glee dance rehearsal with our choreographers Zach and Brooke!(7/19)
Alex Anders: Back in Gleeville! Hemo's just finishing up her first session of the season. (7/19)
Samuel Larsen: Got my first script for season 4… Getting excited (7/19)
Jenna Ushkowitz: Another day in the studio! (7/20)
Lea Michele: Back in the studio recording my first song for season 4! Having the best time with @alxanders!! (7/23)
Kevin McHale: 1st day of senior year tomorrow..for the 2nd time in my life! So excited! (7/23)
Matthew Hodgson: And so it begins… #schoolisinsession (7/24)
Vanessa Lengies: first day of school is today! (7/24)
Matthew Morrison: Day 1 back on the Glee set after the summer break. (7/24)
Brad Falchuk: Weren't we just here? http://pic.twitter.com/PxIq4Qsy (7/24)
Jenna Ushkowitz: First Day of School! Senior year! @kevinmchale @lengies http://instagr.am/p/NeR9F1SRzh/ (7/24)
Matthew Morrison: First day of school! Back in the choir room!!http://pic.twitter.com/tQhPRWBn (7/24)
Samuel Larsen: yos!!!! First day back… So excited and honored (7/24)
Chord Overstreet: On set hanging w @druidDUDE We need to make ur twitter name ur actual name (7/24)
Kevin McHale: Never loved going 2 school so much. First day almost complete (7/24)
Lea Michele: Getting ready now for my first day of shooting season 4! It's been the most amazing hiatus but now I'm soooo excited to get back to work! (7/25)
Jenna Ushkowitz: It's coloring time on set. http://instagr.am/p/Ngt9ZgSR1R/ (7/25)
Jenna Ushkowitz: This is how Gleeks sleep on the Glee set…. @michael_trevino http://instagr.am/p/Ng8S9wyR-z/ (7/25)
Kevin McHale: First musical # of season 4, done! (7/25)
Lea Michele: Having the BEST first day back at work! Got to see Hemo, @JennaUshkowitz  @druidDUDE and  @DarrenCriss shooting a great number! (7/25)
Lea Michele: Getting ready now to work with the AMAZING Kate Hudson! First scene in the dance studio at NYADA!
Lea Michele: So much dancing! I love it! (7/25)
Dean Geyer: so big day of dancing, hair and make-up, wardrobe.. getting ready for my first day on set tomorrow!!!!! (7/25)
Lea Michele: Getting ready for another day of glee! Time for some dance rehearsal with Zach Woodley! (7/26)
Dante DiLoreto: here we go, Season 4! Kate Hudson is stunning, and funny and sings like an angel, and did I say stunning? (7/26)
Lea Michele: Early morning on the #glee set! About to shoot a really awesome scene with Kate! Can't wait for you guys to see it! (7/27)
Lea Michele: Do you guys like Rachel's necklace for season 4?? Totally stole the "Carrie" necklace idea from SATC:) http://pic.twitter.com/1POi3j7S (7/27)
Dean Geyer: FIRST day on set!! Gleeeeeeeeeeeee!!!! (7/27)
Lea Michele: Now THAT is the coolest thing ever. http://pic.twitter.com/mEl5PTVK (7/27)
Mark Salling: first day back at work at good ol Glee. y'all ready to holler at some exciting new stories and characters? (7/27)
Jacob Artist: Day 1 of Glee! Hoping I don't get slushied.. #FingersCrossed (7/27)
Dean Geyer: tour around the recording studio for glee just made my month. So many spit particles from some of the world biggest singers on those mics. (7/27)
Alex Anders: @druidDUDE Look who's back behind the glass! Great to see you today bro. Here we go again! http://pic.twitter.com/qkeIotbD (7/27)
Lea Michele: Rise and shine everyone! Super early Monday morning on the set of #glee today! (7/30)
Lea Michele: Getting ready to watch Kate Hudson sing and dance in a little bit! #whyigetupat5am :) (7/30)
Dean Geyer: Day two on set of glee.. I may or may not be singing :)  #butterflies!!!
Kalana Falana: Guess where I am today… http://t.co/Yf4wUemI (7/30)
Kalana Falana: Just interviewed @geyerdean and he's really great. I think #glee fans are going to love him.  Oh, and he does martial arts. #whoknew (7/30)
Kalana Falana: There is a not a cooler, more perfect actress for #glee than #KateHudson. I love her!  And her 1st performance will blow u away. #HugeFan (7/30)
Ryan Murphy: GLEE exclusive: @msleamichele and Kate Hudson on the NYADA set. Kate had chandelier approval. ;) http://t.co/NCjHnkWC (7/30)
Lea Michele: Shooting an awesome scene now with our newest cast member @geyerdean! (7/30)
Alex Anders: I've got a newbie coming in to the studio next! Always fun to bring in new people. (7/31)
Jacob Artist: Another evening on set roaming the halls of Mckinley High. Oh boy, whats this Puckerman up to.. #Hmmm (7/31)
Ryan Murphy: GLEE exclusive: Where in the heck  (7/31) are @chriscolfer and@msleamichele? http://pic.twitter.com/9J4WXz9c (7/31)
Ryan Murphy: The first group number is "Chasing Pavements" by the fabulous Miss @OfficialAdele. (7/31)
Lea Michele: Another early morning here at Glee:) But soooo excited for what we're shooting today! (8/1)
Ryan Murphy: GLEE's amazingly adorable new choir room additions, Jacob Artist and Melissa Benoist…soon to be known as JARLEY. http://pic.twitter.com/2y2pUnz5 (8/1)
Lea Michele: @chriscolfer giving me serious drama face… :) http://pic.twitter.com/nJlMuz50 (8/1)
Lea Michele: And today Rachel's wearing pants! She never wears pants! lol  http://pic.twitter.com/kxLbV6A2 (8/1)
Dante DiLoreto: Knockouts http://pic.twitter.com/NFdqaPdE (8/1)
Naya Rivera: Back at glee! Goooo cards! http://pic.twitter.com/jtXdal3h (8/1)
Lea Michele: Look who's here!!! Hemo and @NayaRivera :) http://pic.twitter.com/YzYP57F7 (8/1)
Matthew Morrison: First Glee injury. Darren stubbed his toe! http://pic.twitter.com/F7O6atXW (8/2)
Chord Overstreet: Monday morning shooting w @BFalchuk (8/6)
Brad Falchuk: Hemo is braiding on the set (8/6)
Brad Falchuk: Half way done… http://pic.twitter.com/oourPo8L (8/6)
Chord Overstreet: Look who got some cornrows!! @BFalchuk http://pic.twitter.com/mEbGbIXQ (8/6)
Chord Overstreet: I think I've eaten like 30 strawberry's in this scene! (8/6)
Lea Michele: Early morning shooting #glee in NYC!!! So exciting!! (8/11)
Dean Geyer: NYC is amazing!! And filming my first musical number for glee with @msleamichele.. Rock and roll baby. Or I guess more like POP and roll :) (8/11)
Britney 2.0 (4×02)
Lea Michele: At the recording studio now recording a Britney Spears classic for our second Britney tribute episode! #GleeDoesBritneyAgain :) (7/31)
Alex Anders: Ms. Heather Morris just ripped it up in here! (7/31)
Jenna Ushkowitz: Dance rehearsal for two Britney numbers today!… (8/1)
Samuel Larsen: Sweatiest, dance rehearsal, ever. (8/1)
Jenna Ushkowitz: It's Britney week! So excited I get to do Britney this time ;) (8/2)
Kevin McHale: Starting last scene of the day. I don't think i've laughed this much in ages… working hard on that britney spears! (8/2)
Jenna Ushkowitz: Had a blast doin Britney today! More tomorrow! Thanks for all the Brit support guys love u all and can't wait for u to see what's to come :) (8/2)
Michael Hitchcock: Looking forward to seeing one of the most bizarre numbers the show has ever done today. :) (8/3)
Iqbal Theba: Reporting for duty …. Thank u @MrRPMurphy and everyone at #gleehttp://pic.twitter.com/0mcJxmmf (8/3)
Jenna Ushkowitz: Goodnight ! Had a busy day with Britney week ;) (8/7)
Jacob Artist: … ;) http://instagr.am/p/OFkTt4KOX-/ (8/8)
Jenna Ushkowitz: Goodnight tweeps! It's been a 16 hour day at McKinley filled with songs and slushies :) off to dreamland I go! More Britney tomorrow!!! (8/8)
Samuel Larsen: Been on set for 15 and a half hours. (8/8)
Jenna Ushkowitz: Workin late w newbie cast member @jacobartist ! Whose excited to see him S4?? http://instagr.am/p/OI1Ed7yR7k/ (8/10)
Kalen G: Loving this Jake & Marley (aka Jarley) mash up. Can't wait for u guys to meet @jacobartist & @itsmmbenoist. They r super cute #glee (8/14)
Lea Michele: At dance rehearsal now learning my number for our Britney episode! It's veeeery sexy.. :) (8/14)
Dean Geyer: Having my first choreography session today for a dance number we are filming tomorrow.. Wish me luck! ???? Haha (8/14)
Dean Geyer: Amazing dance session with the dance crew! Sexxxyyyyy time!!! (8/14)
Chord Overstreet: Behind the scenes http://instagr.am/p/OXJDPQOX6z/ (8/15)
Lea Michele: Back at work! Last day shooting our Britney episode today! Can't wait to do this dance number! It's so fun! (8/15)
Lea Michele: It's Britney b#*ch http://instagr.am/p/OXzXg1iD1j/ (8/15)
Lea Michele: Oh baby baby.. http://instagr.am/p/OXz2DPiD1y/ (8/15)
Lea Michele: Can you guys guess the song…? ;) (8/15)
Dean Geyer: 11 hours later.. We have a winner! An amazing dance for our Britney  episode!! #sweaty #tired #hungry #epic!! (8/15)
Dean Geyer:  had the pleasure of watching and dancing with some of the most talented peeps yesterday if you don't already know who they are follow them http://t.co/6Fnryd2T (8/16)
MakeOver (4×03)
Tweets: 4×04 (The Breakup)  and Beyond 
Ryan Murphy: "The writers are working on an episode called "The Break-Up" that I'm really excited about." (7/31)
Lea Michele: At the recording studio w/ @alxanders recording a really great song by one of my favorite females artists I've never sung on #glee before! (8/2)
Dean Geyer: In the studio recording my first track for glee!!!! http://pic.twitter.com/wTxjvSoi (8/2)
Lea Michele: Another amazing session in the studio with @alxanders today, recording a Finchel/Klaine duet! You guys are gonna LOVE it! (8/3)
Alex Anders: "Great morning with @janemarielynch in the studio. Always fun!" (8/10)
Lea Michele: "SO excited for this weekend! It's been my dream to shoot #glee in NYC and now this season we'll be shooting half of Rachel's story here!"  (8/10)
Chord Overstreet: Any more shirtless scenes for Sam?!;)" yes coming soon! (8/10)
Lea Michele: So happy my partner in crime is here now shooting with me!@chriscolfer I love you!!! (8/11)
Lea Michele: It's been such a long day! Haven't been this sweaty in my whole life! May just take my costume off and jump in the fountain right now! (8/11)
Dean Geyer: "@msleamichele: @geyerdean hilarious http://pic.twitter.com/wyGopwIH" iv decided that pose, is MY blue steel :) (8/11)
Lea Michele: Such an incredible weekend shooting #Glee in NYC! So happy that @CoryMonteith @>DarrenCriss @geyerdean & @chriscolfer were there too! (8/12)
Lea Michele: Touched down back in LA and drove straight to set! Shooting with the amazing @whoopigoldberg today! (8/13)
Lea Michele: Check out this beautiful pic our director of photography took of what we're shooting today! That's me! http://pic.twitter.com/z1rlfYS6 (8/13)
Alex Anders: @CoryMonteith Hey bro! Great to have you in the studio today. Awesome job! (8/14)
Ryan Murphy: @Blake_Jenner's character name is…Ryder. Working on lots of great scenes for Blake and @CoryMonteith! (8/22)
Lea Michele: In the studio with @alxanders recording great duet! (8/24)
Dean Geyer: I think I just ripped my vocal chords out of my throat in that recording session.. High notes #understatement (8/24)
Michael Hitchcock: Busy week at McKinley and New York. (8/27)
Cory Monteith: good to be back at McKinley :) (8/27)
Alex Anders: Wall to wall cast vocals today. @chriscolfer and Jayma are up first. : ) at McKinley :)
Jenna Ushkowitz: A morning at McKinley! If I was really in school, I'd probably be napping in class right now. ;) zZZZ (8/27)
Lea Michele: In the studio again with the great @alxanders :) Just wish I wasn't singing such a sad song!!!  (8/27)
Naya Rivera: Headed to the studio to record my first song for Glee season 4. It's another one of my favorites. (8/27)
Lea Michele: Morning! Back at work getting ready to shoot with @chriscolfer @CoryMonteith and @DarrenCriss today! Super excited! (8/28)
Becca Tobin: Great day of shooting with @itsmmbenoist and @jacobartist. We even made it thru the giggles!!  (8/29)
Naya Rivera: Brittana choir room scene complete! Good to be back. (8/29)
Naya Rivera: And back to the recording studio. #backonmygleegrind (8/29)
NOTHING ON 8/30. Production was CANCELLED due to Cory Monteith ILLNESS
Alex Anders: @CoryMonteith Good having you in the studio today bro. Great job! (8/31)
Naya Rivera: Early morning back at McKinley for some sweet serenade time with Brittany. (9/4)
Cory Monteith: monday and back to work! excited for these scenes, intense day ahead…
Zach Woodlee: Welcome to the Powerhouse. Our dance studio at Paramount. About to start rehearsal! More to come! http://pic.twitter.com/Fm3MMedz (9/4)
Lea Michele: Rise and shine! So happy to be back at work!! Finchel scene up first today!! :) (9/4)
Naya Rivera: Downtime fun with heather! http://pic.twitter.com/YUzabNgR (9/4)
Lea Michele: :) http://instagr.am/p/PLW5WfiDxO/ (9/4)
Lea Michele: Gotta push through though! Shooting  with @CoryMonteith,@chriscolfer, @DarrenCriss & @geyerdean yay!! (9/5)
Lea Michele: Gettin gritty in "NYC" http://instagr.am/p/PNJcMwCD3s/ (9/5)
Lea Michele: This is what happens when you put a piano near me and Darren Criss:) http://instagr.am/p/PNiNNmCD6g/ (9/5)
Lea Michele: It's gonna be a late night tonight! Still on set shooting!!! (9/5)
Naya Rivera: Back at work for a scene in the Louisville library (9/7)
Naya Rivera: Hello 2am at breadstix… (9/7)
Chord Overstreet: Hello 2am at breadsnix… @NayaRivera (9/7)
Ryan Murphy: Just locked the Glee Britney 2.0 episode. You know who's amazing in it? Ms. Heather Morris. #2HugeDanceNumbers #NAILSeveryjoke (9/8)