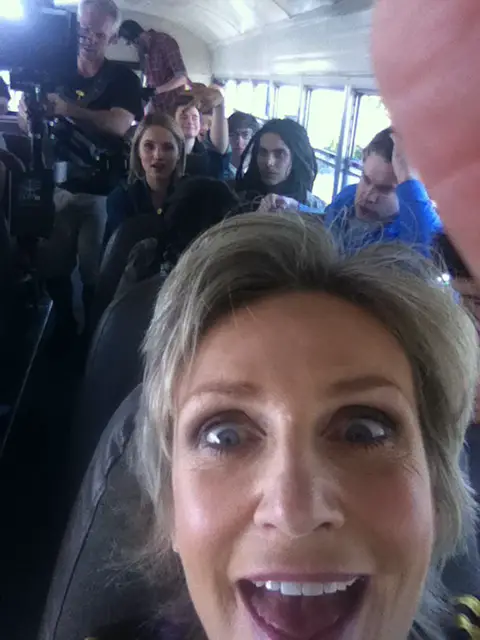 New Directions WINS Nationals! (Glee Spoiler)
New Promo with Spoilers.  Mercedes comes down with food poisoning, forcing Tina and a still recovering Quinn to step in for her in the Troubletones. Unique and Vocal Adrenaline sing "Starships"

Watch the Videos Here
NEW: Nationals filming Spoilers (WishYouWould)

ND perform three numbers – The Edge of Glory, It's All Coming Back To Me Now, and Paradise By The Dashboard Light, in that order.
The Edge Of Glory – This is all Troubletones plus Quinn & Tina. Santana, Tina, and one of the Cheerios are on a platform that rises up in the front of the stage. It's a pretty dance heavy song with the Cheerios.
It's All Coming Back To Me Now – Rachel solo with backing "Aaaahs" and "Ooohs" from Blaine, Mike, and Rory (on the left) and Quinn, Sugar, and Tina. There's no choreography. Just lots of fake lightning. Whoopi's character Carmen arrives in the middle of Rachel's solo, and Rachel notices her from the stage.
Paradise By The Dashboard Light – This is of course the big number when everyone finally gets to be on the stage. Finn starts the song off to the right dancing with Blaine and Mike as his backing. Then all the ND girls come out while Rachel sings for a bit. Kurt and Blaine come on stage in the middle of the risers and then move down the center of the stage, singing together the "And we're glowing like the metal on the edge of a knife, glowing like the metal on the edge of a knife" bit, then they're still dancing together center stage while Blaine alone sings "C'mon, hold tight. C'mon, hold tight" and he's "kind of making grabby hands/reaching at Kurt". (Toward the end of the song, Kurt and Blaine run up onto this box that's on the left side of the stage and dance together – it's all male/female pairs otherwise – so there might be a little focus on them there, too.) Then Kurt and Blaine move back a bit for the next part, and they do some choreography with Brittana as they sing the "Oh it's cold and  lonely in the deep dark night…" bit. After that there is a lot of everyone going on and off the stage and dancing. During this number, Carmen is impressed by Rachel's performance. Whoopi's direction was "So this is the song where she really wins you over". The source really thought it seemed like this was direction that Rachel definitely gets into NYADA now, though of course it's hard to say for sure. There's obviously a lot of Finchel. Lots of playing around with him getting down on one knee and such.
Vocal Adrenaline's performance
– They perform two songs, both with Unique as lead.
– First up was Starship by Nicki Minaj which was great. Alex is actually lifted up in the air doing splits at one point. It was impressive.
– Second was Pinball Wizard which while it had great choreography was just not very good at all (in the source's opinion!).
Nationals Awards ceremony
– On stage it's ND stage Left, The Portland Scale Blazers (who did a truly terrible roller-skate version of Starlight Express that was *supposed* to be terrible) in the center, and VA on the right.
– The Trophies are all off to the right, and only Perez & Rex Lee (who is either a Councilman or Congressman, not sure which) are there for the awards – Lindsay was definitely not at the awards ceremony.
– Unique wins MVP – they announce her as Wade "Unique" Adams
– They filmed two winners, VA first, then ND for first place – but ND got confetti and VA didn't.- During the awards Kurt and Blaine are off to the far left of ND (Blaine and then Kurt slightly behind him) and Kurt has his right hand on Blaine's left shoulder, and Blaine has his right hand over Kurt's hand.
– Rory is standing right next to them – and during one take of ND winning Damian gestured for Chris to get on his back, and Chris did it. No idea if that'll make the final cut or not.
– Most of the rest of ND are holding hands. The source thought it was Artie holding hands with Rachel who was then holding hands with Finn, but Santana may have been between Artie and Rachel at one point… not certain, but something like that!
Judges
– Sit in the audience. At one point Lindsay stands up to wave, and Perez takes a picture of her that he is meant to be tweeting. He looked to be tweeting during the other performances too.
Teachers & ND in the audience:
– Jesse is sitting in the audience in a strategic spot where there is evil glaring going on between him and Will
– Will & Emma sit right in front of Beiste & Sue. There is some teacher dialogue. No idea what was said.
– ND sit in three rows next to and behind them
– ND's seating arrangements are completely different from the wide shots to what they were in the close ups – this is all for them watching VA's performance.
– In the close ups (from left to right) Mercedes, Kurt and Blaine sit next to each other because they needed close ups of them while Unique was performing. They seemed to share some brief dialogue there as well.
Nationals Episode awards ceremony at McKinley –
– Ms. Hagberg (the old lady teacher who was forced to retire earlier this season) starts by giving an incredibly boring speech about how she's retiring, something about recovering from a drug addiction, and then giving the dates that her Hoarders and Intervention episodes will air.
– Figgins then awards the Janitor with "Best Heimlich of the year"
– He then presents Finchel to give out the Teacher of the Year award.
– Unsurprisingly, Schue wins
– Finn stops him coming up on stage by saying they wanted to sing for him
– Curtain goes up, ND are dressed in their Nationals outfits to perform "We Are The Champions"
– ND are on risers on the stage, two rows, then come down into one row. That's the extent of the choreography basically.
– Puck comes in from the left for his line, Santana from the right. Quinn and Kurt are far right, and Kurt walks up for his line, then Quinn follows and sings hers – they put their arms around each other.
– This is also when Finchel move forward to collect Schue. Finn is the one who actually goes into the crowd to grab him. Rachel takes his hand when he comes up on stage and brings him to the left of the line, and then Schue walks down the line to hug every single ND member.
– The source was told this is the finale of the ep after ND has "returned triumphant from Chicago"
Annnd that's it for season three, folks! :)
Spoilers from someone who saw the episodes (BeamOfLight)
The body switching is hilarious, everyone is so good at being each other, they just capture the characters so well. – this lands well for the funny before all the emotional stuff to come.
Jenna Uzhkowitz performance is outstanding, i'm glad shes finally getting some screentime despite how strange the set up for this is. Her as Rachel is genius, Chris Colfer as Finn too is hilarious.
Honestly laughed through everyone's body switching.
Beiste and Puck singing mean. I just can't. Awesome. The whole storyline with this is fantastic.
National's prep is spot on and has been something i believe most of us have been wanting, focusing on the performance itself as the singing is perfect as it is. It's pretty silly and lots of fun.
People's individual scenes are really great this week and land very well, some haven't in previous weeks.
I actually like Will this week, he's back to his normal teaching self. He wants them to win and his passion for these kids makes my heart bleed.
I love how all the WMHS staff are going to support them, i have so much love for Sue, Emma and Beiste this week.
VA performance…meh…not that great…Boogie Shoes was far better imho.
Jesse is back and is back with style, i love his fierceness and his scenes are on top.
Christ i cried, ND performances are so well done, the singing, the dancing, all of it is just spot on and perfect.
Lindsay Lohan and Perez Hilton are pretty hilarious, despite me actually not liking either of them usually, I really like their performance in this episode.
We already know the winner and its deserved.
Great to see Whoppi back too, this scene is fantastic, i'm glad that this bit was put it after how much rage i had from the last one. Opportunity time!
The episode's are really long and there is a lot going on which is great, they have planned this very well. I'm pleased.
There's a lot of nostalgia in these episodes and how they land well to the glee club bonding.
I have to say these two are the better of the last few episodes.
I don't want next week, i can already feel the tears.
Episode 21 will air on May21 at 9 pm after the "Props" episode.  The New Directions heads off to Chicago for Nationals.  The big news? Quinn is on her feet, dancing again!  There are a ton of photos below from the competition shoot, that was filmed in Los Angeles.  Lindsay Lohan was cast in a cameo as a Nationals judge, and rumor has it she was late for the second day of shooting. There are also song spoilers for both New Directions (headed by Jesse St. James (Jonathan Groff) and Vocal Adrenaline. Glee Project runner up, Alex Newell is back in drag for VA!
Sue drives the bus to Chicago for Nationals!
The judges at nationals are Perez Hilton, Rex Lee and Lindsay Lohan. Perez and Rex were filmed during the awards ceremony, but Lindsay was noticeably absent. As of publishing time, they're only halfway through their shooting day, so Lindsay may be shooting her scenes later.  Too Fab (Actually, there was a big bruhaha about Lindsay missing her call time and holding up production)
NEW: Nationals gives Rachel her a final boost to sort out her failed NYADA audition and she will not stop at anything to get her dreams. A chance will crop up and Rachel is going to take it. (BeamofLight)
Will and Emma may finally consummate their loooove… "The actor, 33, has confirmed there will be no Emma Pillsbury (Jayma Mays) and Schuester wedding, but lit up when asked if the couple will finally consummate their relationship. "You're the first person to ask that. I think you might be on to something there," he said with a smile. "I cannot confirm or deny that but that is a wise thing to ask."  Parade
Song Spoilers:
New Directions Set list
Edge of Glory by Lady Gaga – sung by Santana, Quinn, Brittany, Sugar, Tina
It's All Coming Back to Me Now by Celine Dion – sung by Rachel
Paradise by the Dashboard Light  by Meatloaf – New Directions
Vocal Adrenaline
Starships by Nicki Minaj
Pinball Wizard by The Who
We Are the Champions sung  by Rachel, Finn, Quinn, Santana, Kurt, Puck (Sung at McKinley awards ceremony at the end of the episode
Tongue Tied – New Directions
Listen to a snippet of "Paradise by the Dashboard Light" at FYeahGleeClub
FOX Official Photos
Glee casting creepy looking janitor named Mr Kidney for second to last episode who "looks like he has tasted human flesh" whom will he eat? (@KecksExclusives)
First hand account:
So today was Glee's last day filming at school, and I decided to stop by after class to check things out again! They were filming outside the Luckman Theater (which dubbed as the theater in Chicago for Nationals) – Cory, Lea, and Jonathan were the only ones filming outside. The scene involved a bunch of extras/other choir groups walking and milling around outside the theater, then you see Rachel walking and Jesse approach her, they start talking, Rachel kind of walks away a bit into the conversation and Jesse goes and grabs her hand and pulls/turns her back to him to keep talking to her. Later on they filmed scene where Jesse and Rachel are talking and Finn comes up to them and puts his arms around Rachel and kind of pulls her to his side – then after a couple of lines, Rachel leaves and it's just Jesse and Finn talking, then they cut. There were a couple of other scenes shot, but they were hard to see because of all the extras in the way, but at least we now know there will be some form of Jesse/Finn/Rachel interactions at Nationals…  (Dapper Dreams)
Behind The Scenes Photos from Nationals
New Promo – Mercedes Falls Ill
[hana-flv-player video="http://mjsbigblog.com/video/gleetrouble.flv" width="550″ height="310″ description="" player="4″ autoload="true" autoplay="false" loop="false" autorewind="false" /]
Tweets
Lea Michele tweets, "Off to the recording studio now! Got 2 songs to record for episode 21 our competition episode! See you soon @alxanders!" (4/9)
Lea Michele tweets, "Back at work! Feeling so much better! Today's going to be such and exciting day here on set.. Wish I could say what we're up to!!!" (4/13)
Harry Shum Jr. tweets, "@msleamichele it's going to be a circus!!!" (4/13)
Kevin McHale tweets, "The MESSIEST day at McKinley EVER." (4/13)
Naya Rivera tweets, "By far the Best. Day. Ever. On Glee" (4/13)
Kevin McHale tweets, "Road trip!" (4/16)
Jenna Ushkowtiz tweets, "Alll byyy myseelllfffff RT @iharryshum: The early bird…gets to sit alone in a sea of empty chairs @jennaushkowitz http://instagr.am/p/JhwMgOnEg2/ (4/16)
Jane Lynch tweets, "I'm driving' dah bus to Nationals. Go McKinley High!! http://pic.twitter.com/lsEfVHjz (4/16)
Lea Michele tweets, "Morning:) Back at work for another long day! It's Nationals and we gotta do a lot of singing and dancing!" (4/24)
Vanessa Lengies tweets, "they keep staring at me like 'I'm gonna hurt you today' and I'm all 'let's make a deal' and they're like 'no deal!' http://pic.twitter.com/b0I6Q2uB" (4/25)
Dianna Agron tweets, "Let's Dance" (4/25)
Lea Michele tweets, "It's Nationals everyone! We've been singing and dancing all day! Can't believe it's our last competition episode together before graduation!" (4/25)
Damian McGinty tweets, "This week has been so much fun! Crazy at work. #nationals" (4/25)
Lea Michele tweets, "I'm so so happy because Mr Jonathan Groff is here on set shooting with us today! :)" (4/25)

Chord Overstreet tweets

, " Such a good day at work! This is gonna be an awesome nationals!!" (4/25)

Naya Rivera tweets, "Exhausted from day one of nationals but had a lot of fun! Day two coming up Tomorrow!" (4/25)
Lea Michele tweets, "Back at work for Nationals day 2!!" (4/26)
Samuel Larsen tweets, "Day 2 of shooting nationals, having a blast, lots of d-d-d-dancing, How are all of you lovers out there???" (4/26)

Samuel Larsen tweets

, "Patience" (4/26)

Lea Michele tweets

, "Today celebrates 400 musical numbers on

#

Glee! Can't you believe that?!" (4/26)

Damian McGinty tweets

, "Still filming nationals. A lot of fun, although looking forward to my bed tonight. Long day, but worth it. This is What it's all about. :)" (4/26)

Chord Overstreet tweets

, "Filming nationals!!!! And I have to say

@

msleamichele will make ur jaw drop w her vocal performance!!" (4/26)

Dianna Agron tweets

, "Ahhh man. Thanks you all for this sweet TT! Been dancing over here at Glee. Nationals is kicking our butts but so worth it.

#

400thnumber" (4/26)

Chris Colfer tweets

, "Currently suffering from what I call the 15th hour caffeine giggles…" (4/26)

Kevin McHale tweets

, "Such an epic day. Last competition all together, and celebrated the 400th number w/ all the cast & crew!

#

bestjobintheworld" (4/26)

Lea Michele tweets

, "Happy Friday! It's been such a long week! Nationals are finally over! Get to work with Groff and Whoopi today! Can't wait!"