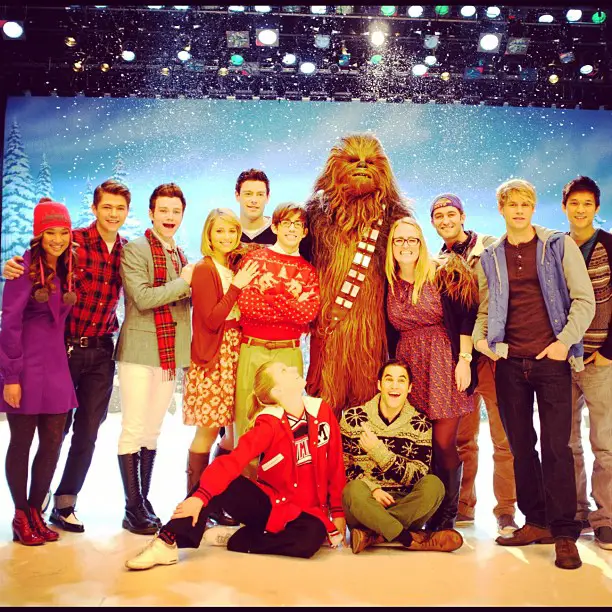 Glee episode 9, "Extraordinary Merry Christmas" began shooting on November 10 and is directed by…Mathew Morrison!  The episode is set to air December 13.
This year's holiday-themed episode finds foreign exchange student, Rory  missing his family back in Ireland.  Also, Mercedes, Santana and Brittany are BACK in New Directions! YAY.  But the club has a difficult decision to make.  They have two different events scheduled for the same day.  One will help others, the other will feed their ambitions. Which will they choose?
Also:  Finn and Santana seem to bury the hatchet as Santana helps Finn pick out a Christmas present for Rachel (Necklace? No. Sends the wrong message. Earrings instead!),  Artie has a fantasy run-in with Star Wars' Chewbacca, The hour will pay homage to the awesome cheesy Christmas specials of the 60's (complete with Rory as Itchy the Christmas Elf).
Sue approaches Artie, Kurt and Blaine to sing at a local homeless shelter. The whole gang, including Will, Sue and Emma sing "Do They Know It's Christmas" at the shelter.  A local station approaches Artie to direct a Christmas special.  Mercedes and New Directions sing the Mariah Carey classic "All I Want for Christmas is You" (See VIDEOS Below)
Via Photos (See gallery below) Sue Sylvester visits a homeless shelter.  Blaine and Finn give Kurt and Rachel their Christmas gifts! Mercedes sings a song in the choir room.  The Troubletones and New Directions are all together in the choir room, like one big happy family!
Matthew Morrison discussed directing the Christmas episode of Glee on Jimmy Kimmel Live Dec 1. He said they do an homage to the Star Wars Christmas special ( George Lucas sent over the real Chewbacca to appear!) and also the Judy Garland 1960's Christmas special, which is shot in black and white!
Glee Season 3 Spoilers – Episode 10 – The Proposal

Official Synopsis:
When New Directions is asked to perform at two different events on the same day, at the same time they have a tough decision to make. Will they choose correctly and spread Christmas cheer, or will their ambition get the best of them? All this and more in the all-new "Extraordinary Merry Christmas" episode of GLEE airing Tuesday, Dec. 13 (8:00-9:00 PM ET/PT) on FOX. (GLE-309) (TV-14 D, L)
Cast Spoilers
Anonymous Spoilers  (Twop)
Damian and Chord have a scene together
There's a sweet Finchel scene
Chris, Harry and possibly Kevin filmed a scene in the McKinley Locker Rooms
Santana, Mercedes and Brittany are all back in New Directions
Artie has a Chewbacca fantasy
Rachel wishes "Happy Hanukkah" in the last scene of the episode.
Song list

Click to Listen to Extraordinary Merry Christmas FULL SONG Previews

"My Favorite Things" – Lea Michele, Amber Riley, Chris Colfer, Darren Criss
"River" sung by Lea Michele (Rachel sings it on stage with Glee club watching. It's for the "Christmas Special", but Artie doesn't like it.)
"All I Want for Christmas is You" sung by Amber Riley
"Extraordinary Merry Christmas" sung by Lea Michele and Darren Chris
"Let It Snow" – Sung by Darren Criss and Chris Colfer
"Blue Christmas"  – Damian McGinty
"Santa Claus Is Coming to Town" – Boys
"Do They Know it's Christmas" – New Directions
Christmas Wrapping – Heather Morris
Performance Previews:
All I Want For Christmas Is You
Mercedes and the New Directions perform the Mariah Carey Classic in the choir room
http://youtu.be/OU8BAPvFrzg
Do They Know It's Christmas?
Sue, Will, Emma and New Directions visit a homeless shelter
http://youtu.be/KXuY9GjOSO4
UPDATE: Short Clips with Artie, Sue, Kurt and Blaine

Sue asks Artie, Kurt and Blaine for Help
Sue Sylvester's first holiday without her sister leads her to do volunteer work at the local homeless shelter. She asks Artie, Kurt and Blaine to perform. The nicknames she makes up for them are hilarious!
Artie will direct a Christmas special for a local TV station
http://youtu.be/Uv9VInWpNJI
FOX Promo
http://youtu.be/7uqZkLLmAIA
New Promo
http://www.youtube.com/watch?v=_dTLEfB1y_c
Photo Gallery
Tweets: