The Glee cast, including Lea Michele, Chris Colfer, Darren Criss, Chord Overstreet, Kevin McHale and Amber Riley spent a long weekend in New York City shooting location scenes for the upcoming NYC-centric episodes of the musical comedy.
Glee will celebrate its 100th episode this Tuesday and next, and then it's goodbye to Lima, OH for the rest of the series, as the story focuses on the graduates making their way in the Big Apple.
On Thursday (March 13) Darren Criss and Chord Overstreet took over Times Square to shoot a performance of American Authors "Best Day of My Life" for Episode 14 "New New York"
Source, Source
Friday (March 14) brought Darren, Chord, Chris Colfer and Kevin McHale to Washington Square to perform, what I have no doubt, is a sassy version of Petula Clark's classic sixties hit, "Downtown"
Lea Michele arrives and the entire group filmed a scene that involved a towncar that Rachel now has at her disposal as the star of Funny Girl. She offers everyone a ride. But, OOP. There's no room for Artie. Rachel, Blaine and Kurt ride off leaving Artie and Sam behind.
Petula Clark made another appearance, as Lea and Kevin shot a performance of another one of her iconic songs, "Don't Sleep in the Subway" at Grand Central Station. Check out a bit of the performance HERE.
Sunday morning (March 16) Lea Michele shot scenes in front of a transformed Broadway theater, as Funny Girl gets ready to open.
Via StaceysThings
Chord, Darren, Kevin and Chris shot a scene a coffee shop interior at Serendipity. Frozen hot chocolates for everyone! Note Chord's short hair. This scene is for Episode 516, titled "Tested"
Via @NatGoodmans
This shot is from "Tested" too, which gives you a clue about the episode's theme:
Here's the gossip portion of this report. Chris Colfer's hot boyfriend, Will Sherrod (in the red cap) was spotted on set both Friday and Sunday (this photo is from Friday's Washington Square Park shoot)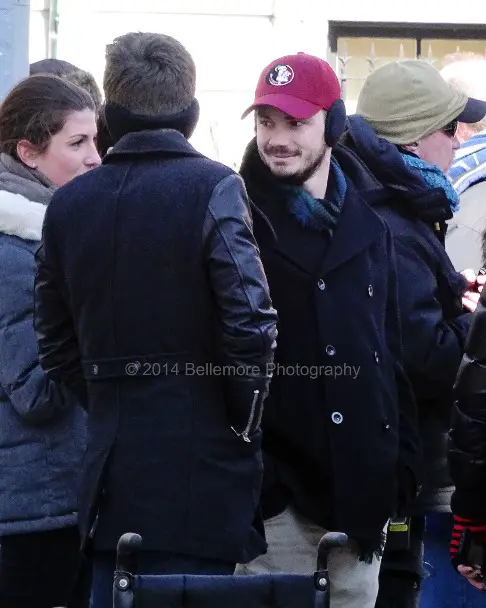 A professional photographer who also happens to be a glee fan took many great photos that day, including the above. You can check out her photos here:
And here's a gallery of photos from the weekend: