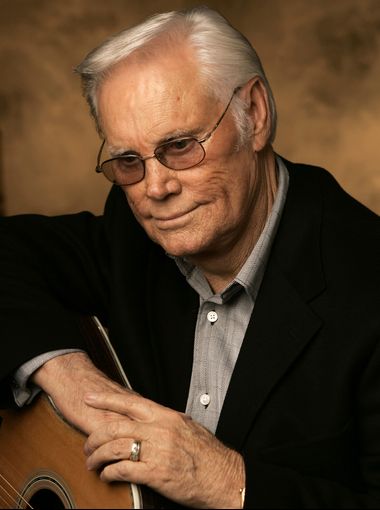 Country music legend, Country Music Hall Of Fame member, Grand Ole Opry member, Kennedy Center honoree, Grammy Lifetime Award recipient, and one of country music's defining voices (if not its defining voice), George Jones passed away this morning at the age of 81. In a recording career that stretched over 50 years, Jones charted more than 168 singles, an output unmatched by any American performer in any genre, including 14 #1 country hits. As his career evolved, he became country music's signature voice for heartache.
Jones's story cannot be told without reference to his long term battles with alcohol and drug abuse, battles that spilled over many times into his professional life and resulted in the nickname "No Show Jones." In his 1996 autobiography I Lived To Tell It All Jones would recount the story of how his second wife Shirley Ann Corley had hidden all the car keys due to Jones's substance abuse issues, and how that failed to deter him because he discovered that she hadn't hidden the keys to the lawn mower. It would be the lawn mower that he would then drive to the liquor store.
Jones spoke to The Tennessean of those battles, saying:
"I messed up my life way back there, drinking and boozing and all that kind of stuff. And you wish you could just erase it all. You can't do that, though. You just have to live it down the best you can."
He was married four times, twice before he was 24. His third marriage, to country music legend Tammy Wynette coincided with many high-profile collaborations between the two. His fourth marriage, to Nancy Sepulvado in 1983, proved to be the one that would last.
Ultimately, Jones's indelible mark on country music was through his voice and his music. Here are some musical snapshots of various stages of his career:
"Why Baby Why" – This was Jones's first top 10 hit, in 1955:
"White Lightning" – This was Jones's 1st #1 hit, in 1959:
http://www.youtube.com/watch?v=Onfce-UNmmE
"She Thinks I Still Care" – This hit #1 in 1962
"The Grand Tour" – This song documents the demise of Jones and Wynette's marriage, and went to #1 in 1974
"Golden Ring" – This George Jones/Tammy Wynette duet hit #1 in 1976
"He Stopped Loving Her Today" – This is George Jones's signature hit, another #1, a Grammy winner for Best Male Country Vocal Performance, and an ACM and CMA winner for Song Of The Year (as well as an ACM winner for Single Of The Year), and on the very short list of what is widely considered to be the best country song of all time:
"Honky Tonk Song" – George Jones poked fun at the aforementioned lawn mower incident in this song, released in 1996.
George Jones's legacy as country music's voice of heartache inspired Gram Parsons to give him another nickname, "The King Of Broken Hearts," which would inspire Jim Lauderdale to write a song of that name. George Strait would record and release the song in 1992, as part of the soundtrack for his film debut, Pure Country.
Lee Ann Womack would later cover the song on her 2008 album Call Me Crazy:
Today, Keith Urban paid beautiful tribute to George Jones by video:
If I'm blessed enough to make it there, I look forward to you giving me the grand tour. Rest in peace George Jones!!!!! -KU

— Keith Urban (@KeithUrban) April 26, 2013
He was joined in tribute by fellow American Idol and Voice-affiliated country acts:
Really REALLY bad news. We've lost a country music legend. And I've lost a hero and a friend.Goodbye George Jones…

— Blake Shelton (@blakeshelton) April 26, 2013
George Jones passed away this morning. We will miss ya Possum.There will never be another!! Make them angels weep up there GJ.

— Bo Bice (@OfficialBoBice) April 26, 2013
Happy memory of me and George. You may have left us, but your music and your legacy never will. #Legend twitter.com/carrieunderwoo…

— Carrie Underwood (@carrieunderwood) April 26, 2013
RIP George Jones. A country music legend who will be truly missed.

— Scotty McCreery (@ScottyMcCreery) April 26, 2013
Although he isn't reality-show affiliated per se, Brad Paisley summed up why George Jones came to be so beloved, and why his passing has hit so many so hard today:
George Jones' life is an example of so many wonderful things; How someone's God-given gifts can make this a richer, better place. How one human being can overcome adversity, addiction, and life threatening obstacles time and time again. That it is not the stumble or fall that counts, but the willingness to stand again. How a keen sense of humor and a twinkle in a person's eye can still prevail even after all of life's hard knocks. How mistakes, missteps, and bad choices are not the end of the world if a person chooses to turn them into something good. And George's life is above all the strongest example of how the love of a great woman can get a man through anything. All of this made its way beautifully into every note of the greatest voice country music will ever know and one of the greatest friends you could ever have.

We miss you already, George.
Rest in peace, George Jones. Thank you for your music.