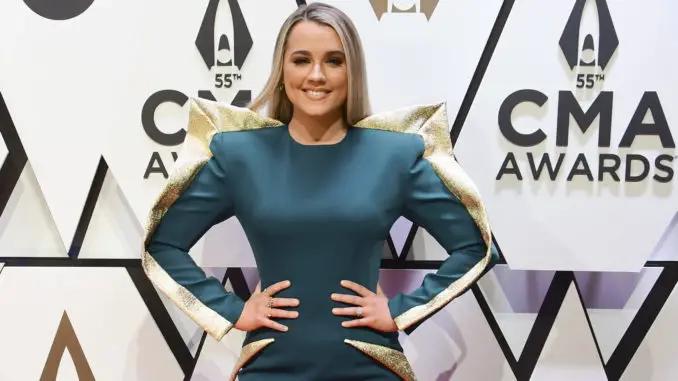 The Jason Aldean Rock n Roll Cowboy tour isn't over yet, but Gabby Barrett is recently left the tour to get ready to have her second child.
Fittingly, Gabby's last show took place Friday (August 26)  in her hometown, Pittsburgh, Pennsylvania. She spoke with the Pittsburgh Post-Gazette shortly before the show, sharing why she's leaving the road now.
Touring while pregnant has been "smooth sailing"
"I don't think it would be smart for me to continue doing shows being this far along," she said. "Nobody wants to hear me being out of breath on stage after this weekend, but up until now, everything's been great. It's been pretty easy for the most part. I'm blessed to be able to say that. I haven't had any complications or anything weird happen. It's just been really smooth sailing."
Gabby manges her career and motherhood by travelling with the entire family. Her husband, Cade Foehner, whom she met when they both competed on American Idol in 2018, is the lead guitarist for her band. They bring their daughter Baylah May with them wherever they go.
"I do have my one-and-a-half-year-old daughter on the road with us constantly," said Gabby "She goes everywhere with me, and my husband and I decided that from the beginning, because we want her to be part of everything, so she'll come out to the sound checks, and she's very involved.
Gabby describes her pre-show mommy ritual
"And I really like being a mom," she added. "It's my favorite thing that I am blessed to be able to do and it's my No. 1 priority, so, really, anytime I'm not on the stage I'm definitely momming."
Gabby described her pre-show routine to the Gazette: "It's so funny, at night time before Jason comes on, I'll go running off the stage after my set and get on the bus, and as soon as I get on the bus, she's normally all dressed and ready for bed. And so I'll just wash my hands really quick and be in makeup and hair and clothes and everything but I'll still put her to bed and put her down for naps and things like that. So, that's something that's very cool to me and I think it's something that I'll remember that's really special with her, so it's been going good for the most part."
Back in Nashville, Gabby will work on the follow-up to Goldmine
In the meantime, she tells the Gazette, Gabby plans to work at home in Nashville on the follow-up to her 2020 debut album, Goldmine.
"It's not on the back burner at all right now," she said. "We've been focusing on it a lot throughout the summer and planning for that before going on maternity leave, so as soon as I'm done touring this weekend, in September, we're going to be doing a lot of recording. We should have a lot of the second album done by the end of next month. That's something to look forward to."
On Mother's Day, Gabby and Cade announced that the two were expecting their second child, a boy, later this year.
In an Instagram post, she wrote, alongside a photo of her crew, "Had such a great time opening up for @jasonaldean this summer! We have an awesome crew that deserves to be bragged on a lot," She continued, "They all are uniquely talented and superb at their craft, they are kind, courteous, and efficient to such a degree that if there was a problem it was fixed by the time we heard about it. Thank y'all so much for making this tour so fun!! Another one for the books!"
 

 

 

View this post on Instagram