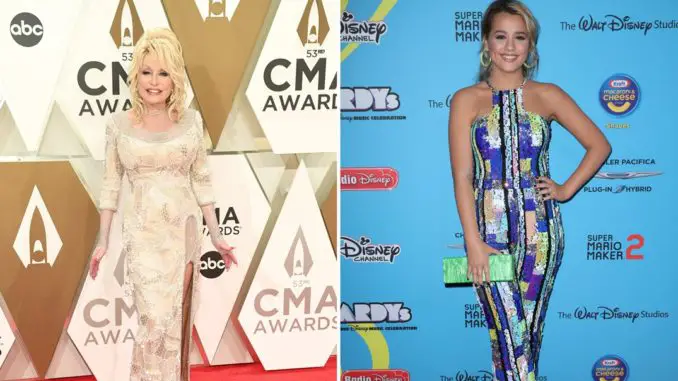 To celebrate the release of Gabby Barrett's Amazon Original "I Will Always Love You," the American Idol season 16 alum sits down with Dolly Parton and asks her questions about how her upbringing informed her songwriting, why she thinks "Jolene" has been covered hundreds of times, making smart business decisions, and how to have a marriage that lasts.
Gabby is coming up on her one year wedding anniversary to fellow American Idol alum Cade Foehner. Dolly, who has been married 50+ years gives the young singer advice on how to make a marriage last. 
Dolly Parton offers Gabby Barrett marriage advice
"My husband and I always had a great friendship," Dolly said. "We're both funny, and we both have a great and warped sense of humor so we've always had a good time. He's pretty much a loner and a homebody, and I'm a gypsy. But when I'm home, I love that. We don't do the same thing so it gives us different stuff to talk about. He doesn't get involved in my business, and I don't in his, so we have our own little world that we create for ourselves."
Gabby and Cade recently announced they are expecting a baby girl early next year.
"I know that Gabby will have a long and prosperous career ahead of her," Dolly told People magazine. "She has what it takes to make it in our industry … talent, she's hard-working, humble and kind."
Gabby Barrett calls Dolly Parton's music "Timeless"
"I feel so much joy today releasing 'I Will Always Love You,' one of my favorite songs of all time and one of the greatest songs ever written, as an Amazon Original," Gabby said in a statement. "The thing about this song and about all of Dolly's catalog is that her music is timeless; it comes straight from her heart. You can tell that she's being honest and sincere in every lyric she writes. Every story is genuine to her life. Something I strive for, that she has set such a perfect example of in Country music. I am honored to have covered this song, and I hope you all love it as much as I do."
The country singer has been nominated for Best New Artist and Best Song ACM Awards. Her debut album, Goldmine, is out now. 
Gabby Barrett and Dolly Parton Have a Chat!
Gabby Barrett Covers I Will Always Love You