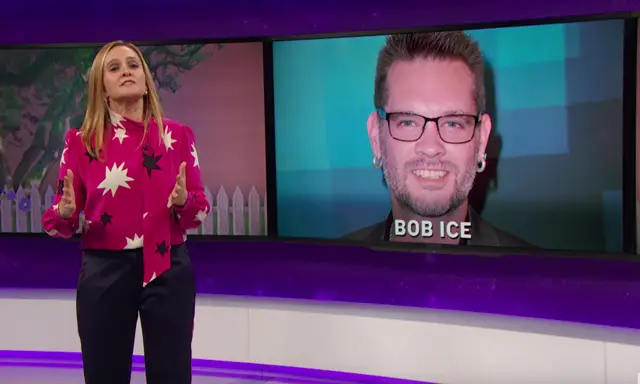 First it was the CBS Late Show host Stephen Colbert, now it's Samantha Bee, host of the TBS satirical news show, Full Frontal poking fun at American Idol 4 alum, Bo Bice.
Stephen Colbert Skewers American Idol's Bo Bice on Late Show (VIDEO)
The self described victim of "reverse discrimination after a server at Popeye's in the Atlanta airport identified him as GASP "White Boy," inspired Samantha to begin a new segment she calls "White Plight." In the bit, Bee expertly takes apart Bo's argument with precision and scathing humor. Good stuff!
After Facebook took down his complaint at Popeye's request (the comments were ugly, apparently) Bo railed more in another Facebook post, calling the platform "communist," and threatening legal action (?!?). He headed to FOX 5 in Atlanta to tearfully share his tale of woe.
Bo Bice Accuses Popeye's of Reverse Racism, Pitches a Fit, Cries on Fox News (VIDEO)
Afterward, corporate apologized, as well as the server who angered him. Much to do do was made…well you know the rest.
Popeye's Employee Apologizes, says Bo Bice Blew Incident Out of Proportion (VIDEO)
Watch Full Frontal's Samantha Bee take on the Bo Bice Incident right here.