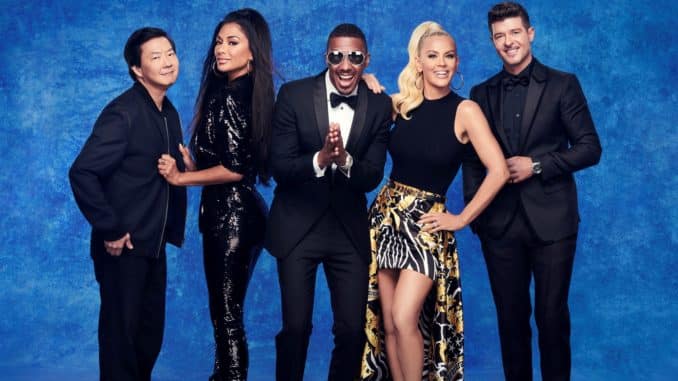 FOX announced the premiere dates for The Masked Singer season 7 (March 9) alongside Domino Masters (March 9), Masterchef Junior (March 17) and Name That Tune (March 29).
Additionally, 9-1-1 returns to the schedule (March 21) and the Sunday night animation slate returns with all new episodes (Feb 27).
The Masked Singer Returns for its 7th season
Featuring all-new secret celebrities, The Masked Singer returns for its seventh season Wednesday, March 9 (8:00-9:00 PM ET/PT).  Host Nick Cannon, and panelists Jenny McCarthy, Nicole Scherzinger, Ken Jeong and Robin Thicke return.
The Masked Singer features celebrities facing off against one another with one major twist: each singer is shrouded from head-to-toe in an elaborate costume, complete with full face mask to conceal his or her identity. The Masked Singer recently finished taping the new season in front of a studio audience in Hollywood.
Celebrities who have performed on the show include Chris Daughtry, Katharine McPhee & David Foster,  Todrick Hall, Tori Kelly, T-Pain, LeAnn Rimes, Nick Lachey, Gladys Knight, Donny Osmond, Seal, Patti LaBelle, Wayne Brady, Dionne Warwick, Kermit The Frog, Wiz Khalifa, Jewel and more.  
Following the return of The Masked Singer , all-new competition series Domino Masters (9:00-10:00 PM ET/PT) debuts. Hosted by actor Eric Stonestreet (Modern Family), the series features teams of domino enthusiasts facing off in an unbelievable domino toppling and chain reaction tournament.
Name That Tune with former Idol Judge Randy Jackson returns
Hosted by Jane Krakowski, with former American Idol judge Randy Jackson serving as band leader, Season 2 of the musical game show Name That Tune  premieres Tuesday, March 29 (9:00-10:00 PM ET/PT). The one-hour game show tests contestants' music knowledge, as they battle it out in an assortment of challenging musical games for cash and prizes.
Hit culinary competition Masterchef Junior returns Thursday, March 17 (8:00-9:00 PM ET/PT). Entering its eighth season, the series gives talented kids between the ages of 8 and 13 the chance to showcase their culinary abilities and passion for food through a series of delicious challenges. The cooking competition series features chef Gordon Ramsay, chef Aarón Sánchez and nutrition expert, author and new judge Daphne Oz.
Drama series 9-1-1, starring Angela Bassett, Peter Krause and Jennifer Love Hewitt, returns for its spring premiere with all-new rescues beginning Monday, March 21 (8:00-9:00 PM ET/PT), followed by all-new episodes of 9-1-1: LONE STAR, for a night of saving lives. 
As previously announced, new single-cam docu-com Welcome to Flatch premieres on Thursday, March 17 (9:30-10:00 PM ET/PT). Inspired by BBC Studios' BAFTA-winning BBC format, This Country, When a documentary crew sets out to explore the lives of residents in a small American town – their dreams, their concerns – they stumble upon the midwestern town of Flatch, which is made up of many eccentric personalities.
FOX 2022 Premiere Dates
Wednesday, March 9:
8:00-9:00 PM THE MASKED SINGER (Season Premiere)
9:00-10:00 PM DOMINO MASTERS (Series Premiere)
Thursday, March 17:
8:00-9:00 PM MASTERCHEF JUNIOR (Season Premiere)
9:00-9:30 PM CALL ME KAT
9:30-10:00 PM WELCOME TO FLATCH (Series Premiere)
Monday, March 21
8:00-9:00 PM 9-1-1 (Spring Premiere)
9:00-10:00 PM 9-1-1: LONE STAR (Time Period Premiere)
Tuesday, March 29:
8:00-9:00 PM THE RESIDENT
9:00-10:00 PM NAME THAT TUNE (Season Premiere)
Additional schedule details to be announced.
Season finale dates for the following programs are: Next Level Chef (March 2); I Can See Your Voice  (March 2, last telecast in time period; March 8, season finale); Joe Millionaire: For Richer or Poorer (March 10); Pivoting (March 10); The Cleaning Lady (March 14).