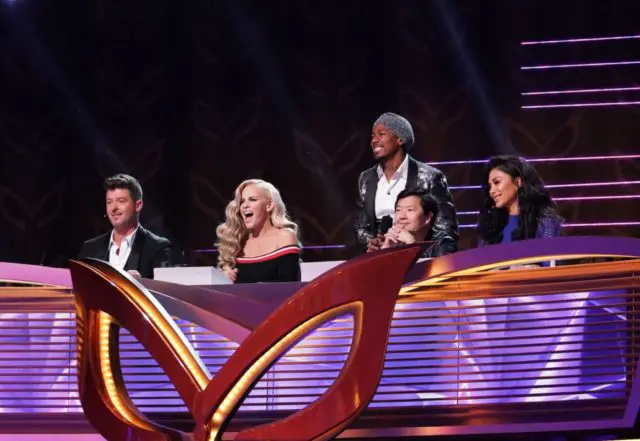 FOX has announced a new celebrity competitive reality show, and it's a doozy. Nick Cannon, late of America's Got Talent, is set to host, while Ken Jeong, Jenny McCarthy, Nicole Scherzinger and Robin Thicke will be featured as studio panelists.
FOX has ordered the new celebrity competition series The Masked Singer, to premiere in January 2019. Based on an international hit, which already is a viral phenomenon with more than half a billion fans worldwide, and the No. 1 top-trending video of 2017 on YouTube, The Masked Singer features celebrities facing off against one another with one major twist: each singer is shrouded from head to toe in an elaborate costume, complete with full face mask to conceal his or her identity.
WHAT? Celebrities wearing goofy masks while they sing? Uhm.
The celebrity competitors have not been revealed yet, but according to a FOX press release.:
Between all of the celebrity competitors on the show, they've amassed 65 Grammy nominations, 16 multi-Platinum albums, 16 Emmy nominations, nine Broadway shows, four stars on the Hollywood Walk of Fame and four Super Bowl titles.
And here is how the competition will work more or less.
With each performance, the host, panelists, audience, viewers and even the other contestants are left guessing who is singing behind the mask. The singers may attempt to throw the crowd off of their scent, while keen observers might pick up on tiny hints buried throughout the show. One singer will be eliminated each week, ultimately revealing his or her true identity. It's not a "whodunit," it's a "whosungit!"
I poked around Youtube and found a clip from the Korean version.
Well then.
"This is truly one of the most unique, genre-defining formats I've ever seen," said Rob Wade, President, Alternative Entertainment and Specials, Fox Broadcasting Company. "It's a massive international hit, and its boldness and originality make it the perfect fit for FOX."
"There are very few hit formats left in the world, and when I saw 'The Masked Singer,' which is a true global and viral phenomenon that has captured the world's attention, I knew it had to be brought to life in America," added executive producer Craig Plestis.
I have to admit. I'll probably tune in at least once out of curiosity. Or maybe we'll cover it. Is there prize money or are charities involved.