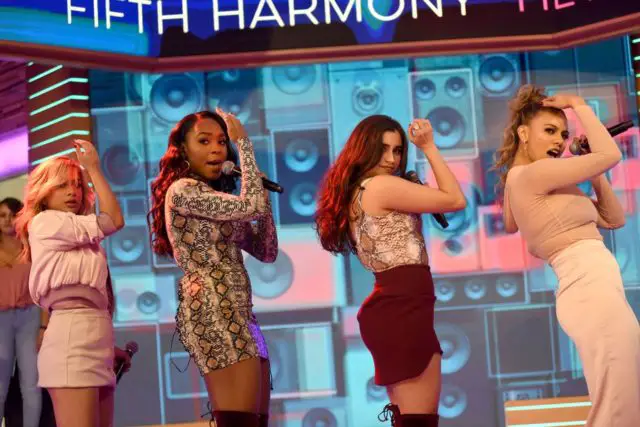 X Factor USA alums, Fifth Harmony dropped by Good Morning America on Tuesday (August 29) to perform their latest song, "He Like That" from the group's newly released self-titled album.
Before their performance the quartet addressed that viral moment during the MTV Music Video Awards on Sunday when the girls appeared to throw a fifth member of the group off stage. Was that meant to throw major shade at Camila Cabello, who departed the group last year under less than friendly circumstances?
The girls insist the moment was more about themselves than it was Camila.
"We get asked all the time if we're getting a fifth member and we wanted to show the world in an artistic way that hey the four of us are Fifth Harmony," member Ally Brooke told host Lara Spencer. "And we're stronger and better than we've ever been."
The group also shared their thoughts on Hurricane Harvey, which has devastated parts of Texas and Louisiana. Both Normani Kordei and Ally hail from Houston. In fact Normani's family moved to the city from New Orleans in the wake of Hurricane Katrina's devastation. "I just want to tell my loved ones and all my friends and family that I love you," Normani shared "I'm supporting you even though I'm not able to be near."
Watch Fifth Harmony perform "He Like That" here.
Bonus Video:
Check out "He Like That" Official Music Video