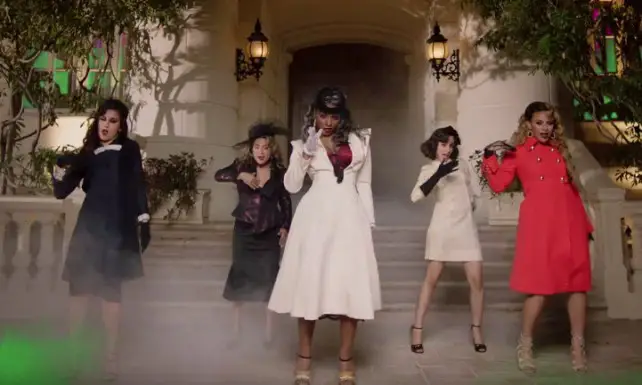 The gals of Fifth Harmony look like they're having a ball in this campy new music video for "I'm in Love with a Monster."
The retro-groovy song is the theme for the upcoming Sony animated feature, Hotel Transylvania 2, featuring voice work from Adam Sandler, Andy Samberg, Selena Gomez and more. The screenplay is by the always hilarious Robert Smigel (SNL's TV Funhouse and Triumph the Insult Comic Dog) and music by Mark Mothersbaugh. The movie is out on September 25.
In the meantime, the group–Dinah Jane Hansen, Lauren Jauregui, Ally Brooke Hernandez, Normani Kordei, and Camila Cabello–are on the road this summer with fellow X Factor finalist, Bea Miller.
Their current single, "Worth It" is a bonafide hit, reaching the Billboard 100 Top 15.
Teen Choice 2015 Winners Fifth Harmony Present to Britney
Fifth Harmony Join Taylor Swift to Sing "Worth It" (VIDEO)
Check out Fifth Harmony's fun new music video "I'm In Love With a Monster" from Hotel Transylvania 2.