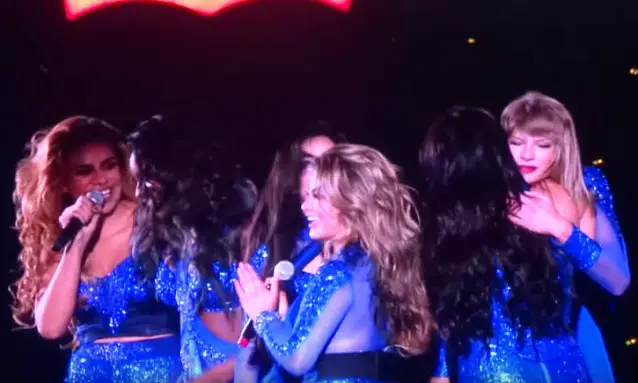 "Scream louder for them than you've screamed for me the entire night," Taylor Swift told the crowd on Friday night's 1989 concert tour stop, before introducing her special guests, Fifth Harmony.
The X Factor alums–Camila Cabello, Ally Brooke, Normani Hamilton, Dinah-Jane Hansen and Lauren Jauregui–dropped by Levi's Stadium in Santa Clara, Calif to take the stage with their pal.
"[She's] in one of the biggest and most successful groups in the world. They have one of the most powerful and loyal fanbases in the world," Taylor Swift said about the "friend" who loaned her the outfit she was wearing. "They also have one of the biggest smash hit singles in the country right now called 'Worth It.'"
The group appeared at the back of the stage to begin their smash hit song, where Taylor joined them, before strutting their way to the front. For a few minutes, we had Sixth Harmony. Taylor even got a solo.
Funny that Taylor reminded the audience that the group was giving up a Friday night out of the goodness of their hearts to please the audience. I guess the massive publicity appearing on the concert stage alongside one of the biggest pop stars in the country is just a side benefit. Heh.
FYI: Taylor's concert videos are taken down as fast as they are put up. So don't be surprised if this one goes poof.
Watch Fifth Harmony perform "Worth It" with Taylor Swift.