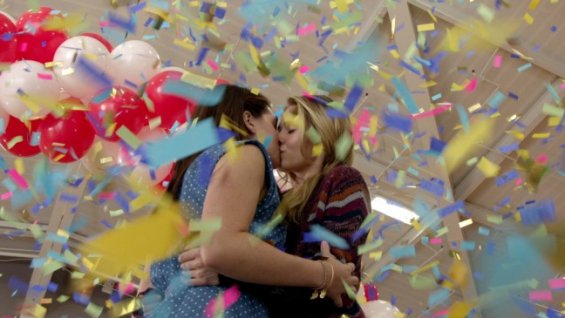 American Idol 9 alum, Katie Stevens stars in the MTV scripted show, Faking It, which is set for a Tuesday April 22 premiere on MTV.
The series revolves around two high school best friends, Karma and Amy, who become instantly popular after being mistakenly outed as lesbians. The girls decide to fake it in order to maintain their new-found social status.
Katie was on hand at the Television Critics Association press tour in Pasadena yesterday to promote the show with producers and fellow cast members.
According to executive producer, Carter Covington, the premise, which has the potential to be titilating shouldn't ruffle too many feathers. "It's going to be an exaggerated version but very much based on the world they live in now," said Covington, "I think we carry this expectation that the world stays the same and it really doesn't."
Covington doesn't plan to waste Katie's singing talents, "I would be a really bad executive producer if I didn't use the talents that she has."
Katie is not only promoting Faking It at the press tour, but also on her twitter feed:
I'm so excited for you all to see @mtvfakingit.. It's such an amazing show and I'm honored to be a part of this story

— Katie Stevens (@thekatiestevens) January 10, 2014
The cherry on top? Katie celebrated her 21st birthday in Las Vegas last night!
It's my Las Vegas 21st birthday celebration!!! Yay! #celebrate #goodtimes #friends http://t.co/fj5TOONhYp

— Katie Stevens (@thekatiestevens) January 11, 2014