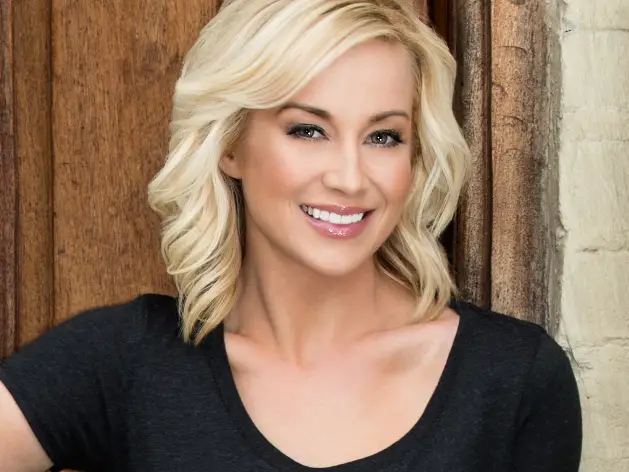 A new talk show being shopped around executive produced by country singer, Faith Hill, will feature American Idol alum, Dancing with the Stars winner, and country singer Kellie Pickler as co-host
"Kellie possesses the ability to reach far beyond the camera and into the hearts of people, allowing you to feel immediately connected to her," said Hill in a statement. "There was no question in my mind that she should be a big part of this show."
The untitled lifestyle show will cover topics such as cooking, home design, gardening and entertaining. Five to 10 experts from those fields will be rotating guests, joining Kellie and one or two yet-to-be-named co-hosts. The show will be shopped to syndicators in the coming weeks, according to The Hollywood Reporter. The producers are shooting for a fall 2016 or 2017 launch.
The show will be filmed in Nashville, allowing Hill to make occasional appearances, along side her production duties. "She has lots of great ideas. She's also an incredible curator, so I think that's why having her behind the scenes is really valuable for us," says co-producer, The Oprah Winfrey Show veteran Lisa Erspamer. "Faith coming on board as an executive producer was definitely a big piece of making this work."
Erspamer believes the new show's star power and location afford unique opportunities, despite the fierce competition in daytime TV. "Nashville is Music City, so there's music, really, everywhere," she says. "How we present that, we'll want to do in a way that is a little unexpected."
Celebrity and musical guests, however, will only be a sometime thing.  "We've talked about Dolly Parton, we've talked about other country artists, but the show is not going to be about country music," says Erspamer. "Nashville is way more than country music or country — it's a very aspirational city that's very hip and cool."
Erspamer hopes Nashville will be a selling point. "We spend so much time programming to New York and Los Angeles, and we forget that there's this whole vast world in between."
The show is in the shopping around stage–it remains to be seen if any syndicators actually pick it up.
Currently, Kellie and her husband, Kyle Jacobs,  are starring in a CMT reality show, I Love Kellie Pickler, premiering in November.
Kellie isn't the only Idol related celebrity involved in daytime TV. A Harry Connick Jr. daytime talker has been sold to FOX TV stations for a fall 2015 debut.