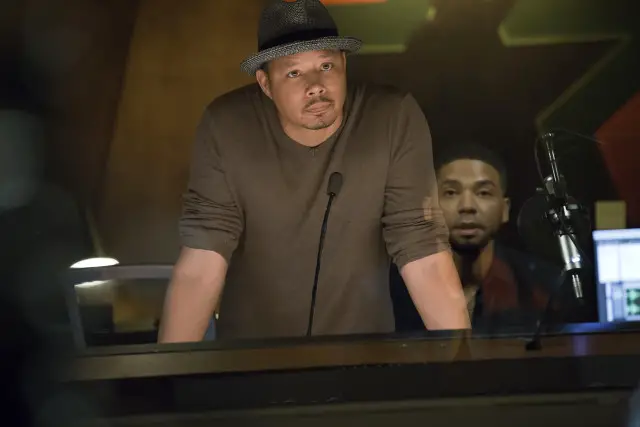 Empire Season 2 Episode 7 Recap – True Love Never
Cookie Lyon sure is leading with her heart instead of her head when it comes to her new promoter, Laz. He is a pretty boy to be sure, but no good. It becomes clear in tonight's episode that he's working with the punks who kidnapped Hakeem.  If Cookie wasn't so head over heels, she'd catch on to the game Laz is running on her and Lyon Dynasty. The goal is to squeeze as much money out of her as possible.
Eventually, Cookie agrees to meet with the trio that kidnapped her son in order to secure the rights to a park in Harlem where she wants to mount a massive concert she's dubbed "Cookie's Cookout." In the middle of the negotiations, Hakeem bursts into the office, and instead of losing his sh*t with the men who terrorized him, he coolly takes charge of the negotiations and brokers a sweet deal. In the meantime, Hakeem smells trouble from Laz and warns his mother to watch her back.
Hakeem continues asserting his independence, when he convinces Cookie to allow him to continue developing Lauren as the lead singer of his girl group, Mirage Troi. Cookie comes to believe one of the more aggressive of the backup singers has more star quality. But like his mama, Hakeem is smitten. He refuses to give up on Lauren, enlisting Tiana to conduct some confidence building lessons in strutting her stuff. Finally, Hakeem takes Lauren out to a city square and urges her to sing until a crowd pays attention, which they eventually do. Afterward, Lauren is so giddy, she finally falls into Hakeem's arms, and a romance is born. Later, it's Lauren who hip checks her pushy bandmate out of the way. Mama finally approves.
Andre continues to struggle to balance his values against pleasing Lucious, who tempts him with his old life at every turn. Lucious tasks Andre with clearing up a gang injunction that will keep Freda from working for the label. The problem is that the last time Andre wanted a favor from City Hall, it meant screwing the deputy mayor up against her office desk. Andre meets with his pastor who urges him not to commit adultery, but hints that other forms of vice may be just fine if it serves a greater good. So Andre shuts down the horny deputy mayor with some incriminating video of the two getting it on. She's married, so extremely blackmailable. It's Christian hypocrisy at it's finest. Andre feels so powerful, that he heads home to get it on with Rhonda who hasn't had it in months. And why is it that her pregnancy is still not showing?
Finally, Jamal and Cookie find their way back to each other. He needs help with a song he's producing. She knows she shouldn't, but Cookie can't resist lending a hand. She dresses to the nines to meet Jamal in a restaurant. Personal assistant Porsha, legit thinks Cookie is stepping out with a secret lover. But the thing is, they are both akin to cheating lovers. Cookie on Hakeem, who has given up his Empire opportunity to be her star artist, and Jamal on Lucious, who has pledged to personally produce him. Artistically, Jamal and Cookie are made for each other. They produce a song together that is so perfect, the legendary producer Huey Jarvis (Clarence Thomas III) invites him to perform it at one of his iconic living room sessions–a place where stars are born.
The trouble is, Lucious had already played Huey his and Freda's "Bang Bang" demo, and was told to come back after they "dig deeper." Lucious can't stand not being the center of the universe. He's going to lose his mind when he discovers that Cookie is responsible for finally propelling Jamal to greater things.
"True Love Never," is really Lucious' episode. We get more backstory on his mentally ill, suicidal mother, played by Kelly Rowlands. We see little Lucious hiding the bullets for her hand gun in the backyard. In the throes of a bi-polar episode, mom tears the house a part looking for those bullets. Unfortunately, Lucious didn't hide them all. She finds one and begins playing Russian Roulette. "Boom. Boom." she says. And now we get it. Boom Boom. Bang Bang.  We don't see her die, but it seems inevitable that she succeeds in killing herself. And in front of Lucious. No wonder the man is sociopathic.
Mimi Whiteman (Marisa Tomei) is back.  At an Empire board meeting, she announces that the company's stock is down. But she's got a solution (much to Andre's chagrin) that will bolster Empire's fortunes.  She sets up a meeting with a young, white entrepreneur that owns a struggling streaming service.  They meet at a boxing ring.  Mimi warns Lucious to allow the dude to win the bout. But when the dude calls Lucious' lyrics "superficial" he knocks out his potential business partner with one punch. Later on at the hospital, Mimi proves herself every bit a schemer as Lucious. As she's pressing down the entrepreneur's morphine drip, she convinces him to call his lawyer and draw up contracts.
Later, she and Lucious meet to celebrate at a boozy party. Mimi supplies him with a harem of beautiful girls. Lucious picks his favorite and they head home for a threesome. Everybody is super drunk. When Mimi tearfully argues with a girlfriend on the phone, Lucious grabs it and tells her off.  The two are forming a strange, dysfunctional bond. It's obvious Mimi has some demons of her own. When Lucious goes in to make out with the girl Mimi brought, he discovers a gun tattoo on her thigh. This sets him off. Drunk off his ass, he heads for the studio. But not before taking a handgun, that looks suspiciously like the one his mother was playing with in the flashback, out of a special box.
He calls Freda and they meet in the studio. The freaky thing: When he pulls out the gun, she doesn't even flinch. "You're about to become a part of my life story," declares Lucious. Freda smiles. She gets it. Lucious rolls the barrel of the gun furiously as he raps. It's as if his mother is in the room with them.  "History in the making!" cries Lucious, working to exorcise those devils. Boom.
Bottoms Up
Carmen goes all Diana Ross on the timid Lauren, and Cookie wants Hakeem to make the switch.
Hakeem negotiates with his tormentors.
DANG. You go, dude.
https://youtu.be/7TiEezKpRpM
Cookie's Cookout
Cookie plans a Lyon Dynasty Cookout. In bed.
https://youtu.be/tpXf7LIVJI4