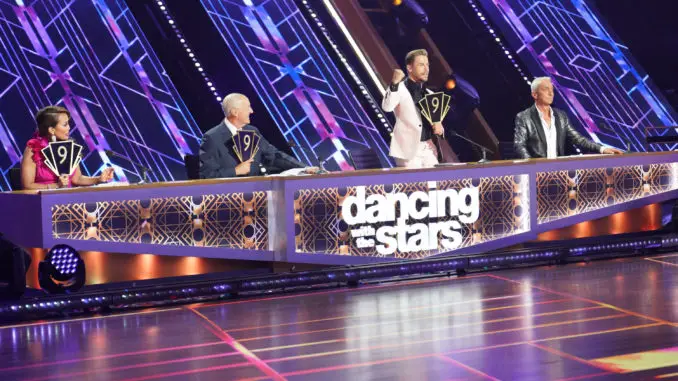 If Dancing with the Stars cast members want to return to the show next season when it moves to streaming only on Disney+, the can expect "massive" pay cuts.
This, according to OK Magazine, not an entirely trustworthy source. Still, considering the audience might actually be smaller vs airing on ABC, it's not an outrageous rumor.
Dancing with the Stars rumored to premiere Monday September 19. 
More reliable is Kristyn Burtt who reports that Dancing with the Stars will premiere on Monday September 19, the same day it would have likely premiered if it had stayed on the network. Krystyn has covered television dance competition for years and is an access journalist who is often invited to work from behind the scenes. She's not gonna leak a thing unless the network has given her express permission to do so.
Disney renewed Dancing with the Stars for seasons 31 and 32 to air exclusively on Disney+
DWTS pro-dancers expected to take a HUGE pay cut
"With the show moving from the network to streaming, the budget has been vastly reduced," said the OK source. "Sure, they would love to see as many familiar professional dancers return as possible but that isn't likely to happen when the cast sees how big the pay cut is going to be. After all these years, the fans of the show know the dancers better than the 'stars,' but the new economics of the show makes it impossible to pay them what they have earned in the past."
OK reports a HUGE pay cut: Reportedly, the new offer is $1,600 per episode, instead of the $5,200 per episode that some of the dancers were receiving when the show aired on ABC. BIG IF TRUE!
Will Tyra Banks and Len Goodman return to DWTS?
So far, Derek Hough, Carrie Ann Inaba and Bruno Tonioli have confirmed their return to the judges panel. Len Goodman is not confirmed yet. Additionally, rumors have swirled and swirled that controversial host, Tyra Banks will get the axe. Disney fired the producer, Andrew Llinares, who hired her. The mouse house is bringing back Conrad Green, who helmed the series for 9 successful seasons between 2005-2014. Former host, Tom Bergeron whom Llinares unceremoniously axed for Tyra, has confirmed on Twitter he won't be returning as host. He also heartily endorses the return of Green.
Expect more news when the summer Television Critics Association tour kicks off on July 27 in Pasadena. That's when Broadcast, cable and streaming services showcase their upcoming programs for reporters.