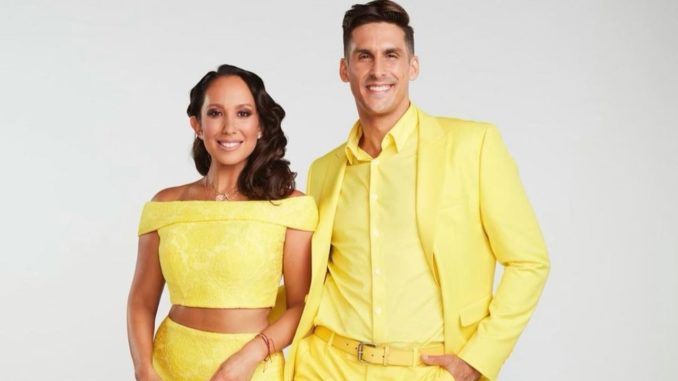 Bad news for Dancing with the Stars pro dancer, Cheryl Burke. She went in for a COVID-19 test on Sunday (Sept 26) after feeling run down, and it came back positive. That means she'll have to quarantine for the next 10 days.
She broke the news in an Instagram video that she filmed while driving to her test, and then afterward when she received results. She was near tears over it. She stresses that she got both doses of the Moderna vaccine, and is experiencing a "breakthrough" case.
The show airs tomorrow night. She and her partner, Peloton instructor, Cody Rigsby have been rehearsing all week. The question now is whether he is also positive. If he's not, he could be partnered up with another pro. Or, the show could air rehearsal footage and call that the performance. Although, it's not clear if the two filmed a dress rehearsal yet.
DWTS hired two additional pro dancers to perform in group numbers. IF Cory tests negative for COVID, he could rehearse the couple's routine today with Sofia Ghavami and dance tonight. Stay tuned for details as they are revealed. 
UPDATE: Once Cody tests negative for Covid he will dance tonight with one of the show's alternate pros, according to Good Morning America.
UPDATE: Cody is dancing tonight. He says he's not sure how. Gotta keep some surprises for the live show! FYI: Reportedly, Cody is vaxxed and already had Covid in the past.
@DWTSGossip Cody says "TBD" on how he will competing in the competition. pic.twitter.com/tEfAGQ9JbF

— Madelaine Kimmie Ho (@iamKimmieHo) September 27, 2021
@DWTSGossip pic.twitter.com/0U5y2FZabu

— Madelaine Kimmie Ho (@iamKimmieHo) September 27, 2021
"I feel so bad for Cody. I feel like I'm letting him down," Cheryl says in the emotional video. "I just feel like s—, to be quite honest. And it's so overwhelming because it's Sunday, and the show's tomorrow."
"I figured I should let you guys know since I've been as open and as real and vulnerable as I could be here," she continued. "I just hope I didn't spread it. For those of you who don't think COVID is a real thing, it's f—— real, dude. So I have to quarantine for 10 days and I've been ordered to stay home … I'll be in bed. I can't believe this happened."
 

 

 

View this post on Instagram

 

 
Cheryl and Cody planned to dance  the Salsa to "Don't Go Yet" by Camila Cabello. "Our friggin salsa was so good!" Cheryl laments in the video. Even as she drove to get her test, she seemed resigned to a positive test. While she mentioned that she felt rundown, she also sounded congested.
Breakthrough Covid cases in the vaccinated are not uncommon, especially with the extremely contagious delta variant dominating infections. But, since Cheryl IS vaccinated, she will likely have a mild case i.e not land in the hospital.
Get well Cheryl. Hope to see you back on the dance floor soon.