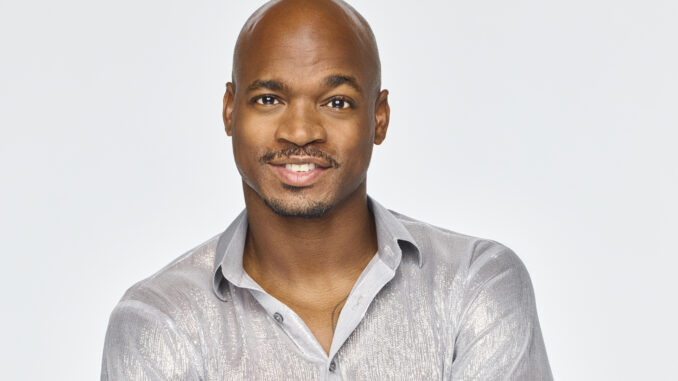 Dancing with the Stars 32 Casts NFL player Adrian Peterson despite history of child and domestic abuse
Dancing with the Stars has a history of casting controversial celebrities. This season's outrage is NFL player Adrian Peterson who has a history of child and domestic abuse.
ABC announced the full cast on Good Morning America this week, revealing Adrian as a cast member, partnered with Britt Stewart.
In 2014, Adrian turned himself into police and was charged with "reckless or negligent injury to a child in Texas." He spent less than 30 minutes in prison and was let go on a $15,000 bond.
"The charged conduct involves using a switch to spank his son," the DWTS contestant's lawyer had said, adding that "Adrian is a loving father who used his judgment as a parent to discipline his son. He used the same kind of discipline with his child that he experienced as a child growing up in east Texas." The attorney added that he "never intended to harm his son and deeply regrets the unintentional injury."
The former football player called beating his son a "whooping." It left cuts and bruises all over the 4 year old's body
However, the spanking with a switch, which is a small branch from a tree, resulted in bruises and cuts all over the boy's body. Adrian told police at the time that the incident, which he referred to as a "whooping" occurred as punishment for his son pushing another one of his children. The boy suffered cuts and bruises to areas including his back, buttocks, ankles and legs.
Adrian eventually pleaded no contest to a reduced charge of misdemeanor reckless assault. In addition to a two-year probation period, he was fined $4,000 and performed 80 hours of community service. The NFL suspended him for one year.
Adrian Peterson was arrested again in 2022
In 2022, Adrian was arrested again after a domestic abuse incident with his wife, Ashley Peterson, according to NBC News. A spokesperson for the football player said that the incident involved his wife's wedding ring and took place on a flight that was leaving LAX and flying to Houston, Texas.
"The plane had left the gate but was forced to return due to an alleged verbal and physical altercation between a male suspect and a female victim, airport police said," according to an NFL news release.
The couple's representative told NBC News that Ashley had a cut on her finger and they had a verbal fight on the plane. Adrian was taken into custody while everyone else remained on the flight. He was released the same day on a $50,000 bond and Ashley did not press charges.
Former pro Sharna Burgess speaks out against Adrian Peterson
Former Dancing with the Stars pro Sharna Burgess spoke out on her new podcast, Oldish, which she co-hosts with her partner Brian Austin Green and Randy Spelling. She said she was "shocked" by Adrian's casting.
"There's one person that I would love to share I'm really shocked is on there, which is Adrian Peterson, a football player," Sharna said. "I had some people reach out to me and say, 'Have you seen this? Do you know his history?' I looked it up. The man has been charged with child abuse of his 4-year-old son, in the way that he punishes him. That is just devastating for me.
"You know how we talk about the things you could have avoided?" she continued. "I'm telling you now if I walked into a room and that was my partner, I would turn around and walk right back out. There is no way–now being a mother–I would be able to stomach that. But him aside, the rest of the cast looks incredible."
Unsurprisingly many DWTS fans are upset the show would cast an abuser. Casting an abuser in a reality show is tantamount to aiding and abetting a public relations white wash, and is pretty damn gross.