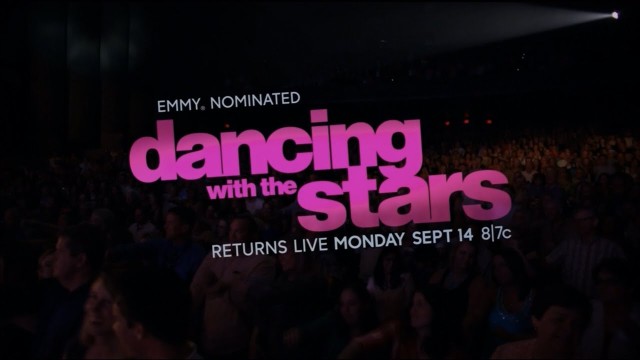 Hi All!
And this is it! Tonight marks the end of season 21 of Dancing with the Stars. It is time for the two-hour grand finale. Two more rounds of dancing from our three finalists and then we will find out who is the new champion.
As usual, the finale is packed with lots of goodies. We will have an opening number at The Grove by all thirteen of this season's couples. Musical performances include Alexander Jean, Andy Grammer, Chaka Kahn, Elle King, and Nick Carter. Kim Zolciak, who had to withdraw earlier this season will perform the dance that she couldn't with partner Tony Dovolani. All eliminated couples will get to perform encore routines.
The cast of the upcoming "Dancing with the Stars Live! Dance All Night Tour" will perform a dance to Avicii's "Broken Arrows" as a sneak peak of the show traveling the country this winter. When all is said and done, a new dancing champion is crowned. Will it be Bindi, Nick, or Alek?
In addition to getting the opportunity to dance a repeat routine from this season, we have the fusion challenge. Each couple is tasked to merge two styles into one dance and they only have 24-hours to prepare it. These scores together with the audience votes will determine who comes in 3rd, 2nd, and of course, who is victorious.
We saw some really great dancing last night, including from the couple eliminated in 4th, Carlos & Witney. I don't think tonight's competition will affect the results all that much. The judges basically put everyone on an even playing field, so I expect this to come down to the voters. And I feel like Bindi has the edge. She has Derek, a winning personality, she has danced wonderfully throughout the season, and her freestyle last night was arguably, the most authentic of them all.
What is actually is more intriguing to me is whether Nick will come in 2nd or 3rd. Alek is the "every dude" if you will with a great story and an out of nowhere dance talent that has impressed many. He could be a surprise spoiler for runner-up. But don't discount Nick. From a very popular boyband who's demographic is right in this show's wheelhouse, Nick has had some great moments this season. Both he and Alek have had a few missteps along the way, which makes my predicting mind even more confused. Sometimes I feel as though Nick has a huge fanbase that will carry him while at other times, I think I might be underestimating Alek's potential for casual voters. We shall see soon enough. For the sake of making a prediction, I'll go with Alek in 3rd and Nick as runner-up to Bindi.
Let's take a quick look at the polls from last night. Keep in mind, these are less than 24 hours old and usually, the results are based on almost a week of voting. Still, I think most who vote more than likely did so I am confident posting percentages.
Favorite Judges' Choice Routine
Bindi & Derek – 63%
Nick & Sharna – 29%
Alek & Lindsay – 8%
Least Favorite Judges' Choice Routine
Alek & Lindsay – 64%
Nick & Sharna – 22%
Bindi & Derek – 13%
Favorite Freestyle
Bindi & Derek – 69%
Nick & Sharna – 16%
Alek & Lindsay – 15%
Least Favorite Freestyle
Nick & Sharna – 49%
Alek & Lindsay – 38%
Bindi & Derek – 13%
Do You Agree With Who Came In 4th?
No – 51%
Yes – 49%
Who SHOULD win DWTS 21?
Bindi & Derek – 75%
Nick & Sharna – 17%
Alek & Lindsay – 8%
Who WILL win DWTS 21?
Bindi & Derek – 84%
Nick & Sharna – 10%
Alek & Lindsay – 7%
On a personal note, I want to thank MJ for inviting me back to blog this season. I also want to thank each and every one of you who have read the recaps, watched the videos, took the polls, and commented. As I always say, this is only made more enjoyable by the company I have had the pleasure of having throughout the season. I hope I was able to do justice in covering the show. I know I had a great time and really looked forward to Monday night's. So, with all that being said…let's do a segment by segment recap of tonight's festivities and enjoy a great night of dancing and celebration of what was an entertaining season.
Segment 1
It is a Christmas spectacular as we open from The Grove with all the pros, their celebrity partners, and troupe members. LOL @ Gary Busey. I will not lie- missed the dude. Wow. Allison Holker really looks pregnant. Everyone looks pretty damn fantastic. Erin welcomes us to the show. Mandy Moore (because for the last time, of course) choreographed that. Tom Bergeron is back in the backroom. Tom welcomes the finalists. A quick look at the leaderboard before we get our first taste of filler- a look at last night's performances.
Click to Watch the Group Number with the Full Cast VIDEO
Segment 2
Chaka Kahn is out to perform her hit "I'm Every Woman." My mom just bolted into my room to watch this as she heard the song. Ah, memories. Chaka is in the zone. Erin brings us back to the first few weeks of competition.
Click to Watch Chaka Kahn sing "I'm Every Woman" VIDEO
And look who is back. Kim & Tony are out to perform the dance she was supposed to do during tv theme night. Well, I stand by original thought. Having her back wouldn't have mattered. Her dancing is still…well, let's just move on. I'm sure she had a blast coming back.
Click to Watch Kim & Tony's "I Dream of Jeannie" Dance VIDEO
Segment 3
You can go DWTSTour.com if you want information and/or tickets to the live show touring the country this winter. The pros/troupe are out now to perform. Can we assume Mandy choreographed this? I kid. Maybe. Good routine though. A mix of everything as I see some argentine tango, some contemporary, and a bit of salsa. That's what you will see if you go see the show on tour.
Click to Watch the Pros Perform a Tour Preview VIDEO
Back now with Erin at The Grove. Comic filler alert now. A rather dumb (sorry, it is) look at Tom throughout the singing as the producers put together some odd video of him talking and turned it into singing. Okay. Back live, Paula & Louis are back to perform. Oh Paula. Suffice it to say, not being judged did not exactly Paula's dancing. But she's having a lot of fun. Time to look at a funny video of Carlos & Alek and their bromance. This is cute though I had no idea until the foursome went on that cruise that the two were even close. The behind the scenes interviews here are too funny.
OH. Carlos is back with the male dancers to do his Magic Mike inspired number. To Carlos' credit, he looks just as good doing this as the pros.
Click to Watch Carlos & The Pros Shirtless Magic Mike Inspired Dance VIDEO
Segment 4
Nick & Sharna are out to do their Downton Abbey inspired dance. Nick and Sharna discuss the finale. Sharna says everyone is excited. Nick wants to win. And here comes Victor & Karina. YES. Sombrero on the crotch once again. I know I complain a lot about bad dancing during the season but I'm not sure where this show would be without these contestants doing crazy dances and making us laugh. Andy Grammer is back to perform his single "Good To Be Alive (Hallelujah)." Damn. The pros and troupe members are earning their paychecks tonight with all these routines. This song is so damn catchy.
Segment 5
Alek & Lindsay are out, doing their hometown glory week routine. You know, the one on the porch of the house. This was a good routine for Alek. And now it is time for outtakes. LOL at the craziness that goes on. Time for THE BUSEY. Here comes Gary & Anna. To give Gary credit, he didn't get worse. But he also didn't get better. Gary walks over to talk to the judges. Thankfully we don't hear any of this because I'm not sure it would make sense. A look back at some of the middle week's of the competition. Elle King out now to perform "Ex's & Oh's."
Click to Watch Elle King perform "Ex's & Oh's" VIDEO
Segment 6
Hayes & Emma at The Grove doing their very good contemporary routine. Aww. Too short. I wanted to see more. It was only after Hayes was eliminated that I realized how much I missed him. Santa is here. Unfortunately, his mic is off. So he repeats. Hayes will be part of the tour in select cities. Good for him. Couldn't they get this Santa a better mic? Geez. And now a look at the final week's of the competition. Tamar couldn't be at the show tonight. Alexa & Mark are back to perform their jazz routine from tv theme week. It seems as though many of these repeat dances are from that particular week. Time for "Twas The Night Before The Finale," a very funny package featuring Gary as Santa, with appearances by Paula and Victor. Paula is cooking and Victor is wrapping gifts. Victor on Gary's lap. LOL. Victor wants a pony for Christmas. But of course.
Segment 7
Remember Bindi & Derek's routine where she was blindfolded at the beginning? Yep, that gorgeous one. They are back to perform it. Alexander Jean (yes, the duo that Mark Ballas is a part of) is on hand to perform the song for that routine. Back over to Erin with a look at what the cast members are thankful for. A Christmas dance by Maks & Emma. Lovely. Andy Grammer and Chaka Kahn are back to sing "Baby, It's Cold Outside." More pros and troupe dancers with holiday cheer. I'll tell you the one thing I am getting out of tonight- I really need to start my Christmas shopping. The judges are now talking about the strengths and weaknesses of the three finalists. When we return, it is time for the fusion dances that will complete the scores.
Click to Watch Andy Grammer and Chaka Kahn sing Baby It's Cold Outside VIDEO
Segment 8
Time for a message from Len Goodman. Aww. I missed this grump. OH. Len is coming back next season. YES. That's great news. We need him to balance out the judges. Okay.
Salsa/Tango fusion from Nick/Sharna
A look back at Nick and Sharna's final rehearsal. The tango didn't go so well before so Nick and Sharna want redemption. They are sad it is all coming to an end and will miss one another. Strong fusion routine. Started with the tango and ended with a very solid salsa. Nice lifts. Good in-sync dancing.
Click to Watch Nick and Sharna's Salsa/Tango Fusion VIDEO
Julianne says they left it all on the floor. They dances beautifully. Bruno calls it red hot. He loves passion. Carrie Ann is sad that this is the last time they will dance. She says they ended on the highest note possible.
Carrie Ann- 10
Julianne- 10
Bruno- 10 for 30/30
Segment 9
Rumba/Tango fusion from Alek/Lindsay
Aww. Lindsay is really proud of Alek and the journey they have had. Alek can't believe how fast time went by. He loved the experience. Nice transition from rumba to tango. The rumba was actually (and surprisingly) better than the tango. A little stiff on the latter and even though the tango requires some stiffness, it does not require being awkward. Perhaps the judges are going to just give 10's and not really judge objectively though since this is it.
Click to Watch Alek and Lindsay's Rumba/Tango Fusion VIDEO
Bruno compliments Alek's hips. OH. He does mention the missteps. But he gives kudos to everything he has achieved. Carrie Ann says the word she gets from Alek is integrity. She also loved the hip action. Julianne says the rumba was better tonight as compared to last night.
Carrie Ann- 9
Julianne- 9
Bruno- 9 for 27/30
And like Hayes, Alek is joining the tour. Such good news for him. I love how much fun Victor is having during this finale. He is like a little kid at a party.
Segment 10
Cha-Cha-Cha/Argentine Tango fusion from Bindi/Derek
Bindi and Derek reminisce about the competition. Derek has never seen anyone quite like Bindi. Bindi is in tears as she thanks Derek and the show for everything. Aww. Love the in and out going between cha-cha-cha and argentine tango. No stopping to obviously go from one style to the other. Just seamless transitions. Yeah, they saved the best for the last in terms of these fusions. What else can be said?
Click to Watch Bindi and Derek's Cha Cha/Argentine Tango Fusion VIDEO
The judges are on their feet. Carrie Ann is all compliments. Julianne loved it and says Bindi has been consistent since day one. Bruno calls her a dancing delight.
Carrie Ann- 10
Julianne- 10
Bruno- 10 for 30/30
So, Nick/Bindi are tied with 90. Alek has 84. 84 compared to 90 isn't a huge hurdle to overcome when you factor in the audience votes but we shall see how this all plays out. It looks to me like the judges left it in the hands of the viewers to really make a final decision.
Segment 11
Back at The Grove, Nick Carter is performing his single "I Will Wait." as a tribute to the three finalists. I always chuckle a bit at this bit they do at each finale. They show clips of the three couples with a super emotional song as if these people will never see one another again. LOL. Sorry. I'm sure all three couples are feeling pretty emotional.
Click to Watch Nick Carter sing "I Will Wait" VIDEO
Time for some RESULTS…
And the couple who ends their journey in 3rd place is…
Aww. Alek apologized to Lindsay. He has nothing to be sorry about. What a run dude! You came out of nowhere and captured so many people's hearts. No one thought you would do as well as you did and you ended up going all the way to the end. And now you get to go on tour. Coming up… the crowning of the champion.
Segment 12
And here we go. Back to the ballroom. You guys ready? Of course.
The WINNERS of DWTS21 are…
Congrats to Bindi and Derek and to Nick and Sharna as well for a great run this season. Bindi is so happy. Nick tells Erin that this experience was a bonding experience and something he will always remember. He says Bindi deserved it. Everyone is out to celebrate. All the finalists will be heading to NYC for press and appearances.
Click to Watch Bindi Irwin and Derek Hough WIN Dancing with the Stars! VIDEO
THANKS so much to ALL OF YOU for joining me on this crazy wide week after week after week. I had an amazing time watching and blogging and you guys are a major reason why. Don't forget- DWTS returns this March with all new season. Until then… have a great night folks and a safe, happy, and healthy Holiday season. XOXO. :D