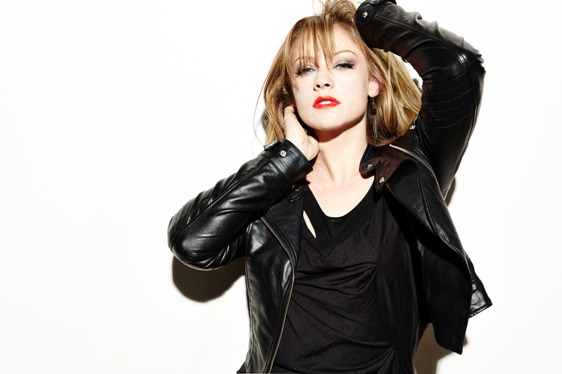 Didi Benami debuted the official music video for her debut single "Trouble" on VEVO this week. The lead track from the American Idol season 9 alum's upcoming debut album Reverie, "Trouble" reveals, according to the a press release, "Benami's gracefulness in blending ethereal alt-rock with pop-perfect melodies."
"Directed by Nicholas Militello," the release goes on, "the gorgeously shot and cinematic video for "Trouble" also showcases the near-lifelong singer's stunning vocal work."
Click this link to download "Trouble" from iTunes
Check out the new video!
It's very noirish, beautifully shot, like an old detective movie.
More about Didi's new album from the press release:
A top-ten finalist on the ninth season of American Idol, Benami has racked up more than 2.1 million total YouTube views for her gripping delivery of "Terrified" (ranked by E! Online as one of the top five Hollywood Week performances in American Idol history). The Tennessee-bred 27-year-old has also earned 700,000 YouTube views for her cover of "Hey Jude," as well as made appearances on The Late Show With David Letterman, The Today Show, and The Ellen DeGeneres Show.
Created in collaboration with Billy Mohler (a Grammy-nominated producer/songwriter/multi-instrumentalist who has previously worked with AWOLNATION, Kelly Clarkson, and Liz Phair), Reverie merges hypnotic guitars, heady beats, Benami's poetic and boldly personal lyrics, and a masterful voice that is at turns sweet and soulfully dusky. "Throughout my life I've always turned to music to help me get from moment to moment, and so I try to write songs that will inspire or empower others that way," Benami says of Reverie.
Reverie was largely financed through a highly successful PledgeMusic campaign, and is set for independent release later this year. Benami co-wrote nearly every track on the album, mining influences that include The Beatles, Motown legends like Jimmy Ruffin and Marvin Gaye, Carole King, Mazzy Star, and modern-day singer/songwriters such as Sara Bareilles and Ingrid Michaelson.
Tracklist for Reverie:
1) Trouble
2) Heartstrings
3) Till I Find You
4) Lost At Sea
5) Watching and Waiting
6) Picture Perfect
7) Shine
8) Out From Under / Recover
9) Release Me
10) Hummingbird
www.officialdidibenami.com
www.facebook.com/didi.benami
www.twitter.com/didibenami