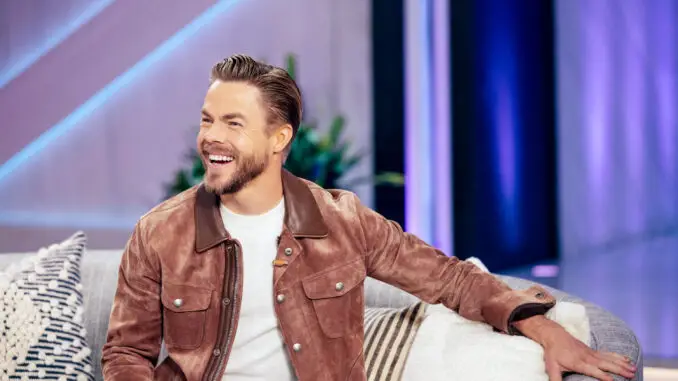 Dancing with the Stars judge and pro ballroom dancer Derek Hough stopped by The Kelly Clarkson Show on Friday to share his plans for 2023–getting married and embarking on a 50 city tour. The last time he visited the show, Derek guest hosted for Kelly Clarkson, who was out with COVID-19.
"It's the first time I've gone on tour in four years," Derek said. "This show is gonna be unlike anything done before." One thing that will be different from the past–he's never toured with his fiance Hayley Erbert since they've been together.
It turns out the two met on a tour. Hayley–who watched from the audience before the performed later in the show–claims that Derek hit on her first. And the two had their first kiss on stage during a Rumba routine. "That's sexy!" Kelly exclaimed. "I'd watch that movie," she added. As far as the new tour is concerned, the couple agree that Derek is the one with the big creative ideas, while Hayley serves as a sounding board, corralling his ideas into something manageable.
Derek wants to create a "dance symphony" with this new tour. A "symphony of dance" he called it. The new show will feature, and bring together, different genres of dance and live music. "We bring the energy for sure," says Derek.
Michael Buble set to perform at Derek and Hayley's wedding
Derek and Hayley talked a little about the car accident the two were in last year. Hayley suffered a head injury, but she bounced back quickly. Derek called her "Wolverine" because she healed so fast.
Kelly explains that planning her own wedding was so overwhelming that she ended up eloping. Derek reveals that his good friend, Michael Buble will be performing at the event. Derek shares that he helped the singer out with a few videos, and when it came time to pay, Derek suggested, "come sing at our wedding!" and Michael agreed. "I might marry him!" Derek joked.
Later in the show, Derek and Hayley performed a fantastic dance number from their 50-city tour. There is all styles of ballroom and tap dancing thrown in for good measure. Watch it below.