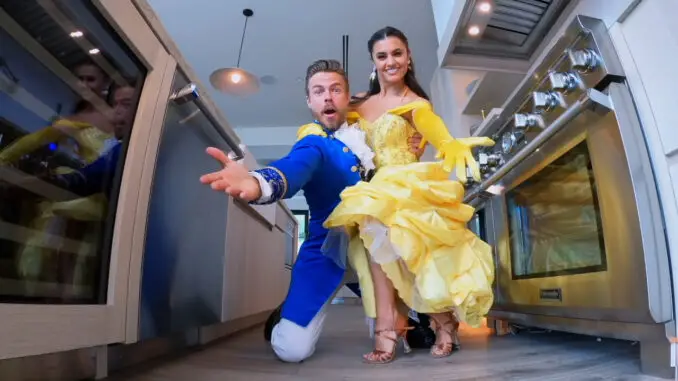 Derek Hough and Hayley Erbert Reveal Scary Car Accident
In a social media post, Dancing with the Stars alums Derek Hough and his fiance Hayley Erbert described the scary car accident the two were involved in on Dec. 12.
"Derek and I got into a pretty scary car accident in the mountains," Haley wrote in a post. "Our accident involved a steep hill, icy roads, a tree, and worst of all, the fear that we would slide off the mountain. Given the circumstances, we have so much to be grateful for."
"First, that there were no other people involved," Haley wrote. "Second, the quick response from paramedics. And lastly, that we are both okay and that I only walked away a little banged up, a swollen face, and four stitches above my eyebrow."
Haley posted photos taken right after the accident, and they look painful! But she says she's OK, but leaned something about how a split second circumstance can change everything. "Now, more than ever," she wrote. "Wwe realize how fragile life is and how important it is to love those around you. We hope that everyone has a safe, healthy, and happy holiday season. XO"
"She was dazed afterwards"
Derek added a comment tat indicated Haley hit her head pretty hard. The aftermath could have been worse. "The scariest part was that Hayley doesn't remember anything. She was dazed afterwards," Derek shared. "being cheerful saying we should keep going to dinner as blood ran down her face. That really scared me. She came to 20 minutes later when the firemen arrived."
The video explicitly depicts Haley heading to the emergency room and medical personal stitching her up.
But afterward, the couple describe going to the grocery to buy snacks. Haley explains said her candies were difficult to eat, because the stitches hurt. "one of the saddest things about tonight," she said. "It's taken me a very long time to chew it 'cause it hurts 'cause of this area," pointing to her stiches. "Bummer."
The couple announced their engagement back in June. "It's only the beginning of forever," Derek posted on his Instagram page. Derek and Hayley have been together after they met on Dancing with the Stars in 2015.