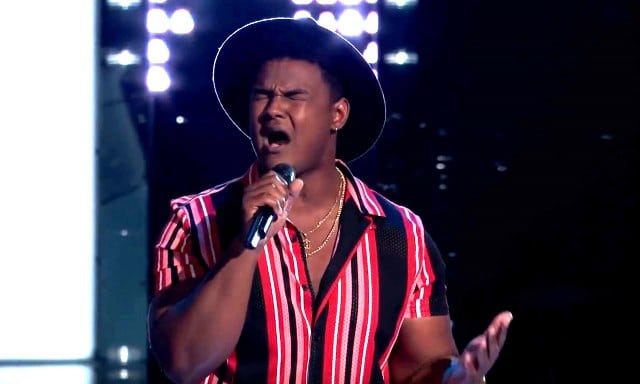 The Voice season 15 Blind Auditions continue tonight (Sept 25).  Check out a preview from the episode, featuring soul crooner DeAndre Nico. The singer puts his own spin on a rendition of Bruno Mars' "If I Were Your Man" and gets all four chairs to turn.
Once DeAndre finishes his performance, the battling between the coaches begins.
Adam Levine says, "I heard the greatness in your voice early," reminding DeAndre that he was the first to turn. "I recognized the greatness in your voice before everybody else."
"I love the big round beautiful notes you were hitting," says Kelly Clarkson. "And that really sweet sincere stuff that makes girls go..M'kay!" She adds "I think you're really rad."
Jennifer Hudson loves the way DeAndre's voice "soars." Plus she notes, "the range, the depth, the soul. And you've got a great look too." Jennifer promises that she'll let him be the artist that he wants to be.
"You have so much skill," says Blake. He admits Jennifer turning was his biggest fear, because the two have so much in common vocally. But, while Kelly is the current champion and Adam did turn first, Blake reminds everybody that he's "the winningest coach in Voice history."
So, which team will DeAndre choose? Tune in tonight at 8 pm when The Voice second night of Blind Auditions airs on NBC at 8 pm ET/PT
Watch Deandre Nico perform Bruno Mars' "If I Were Your Man" below.
https://youtu.be/MuXtS4rOTzM