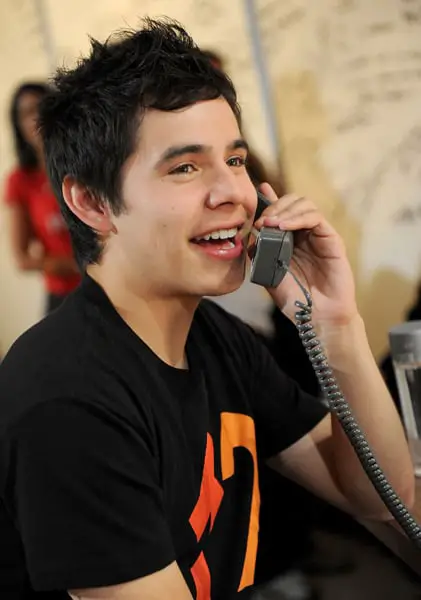 UPDATE:  David Archuleta introduced a representative from the Crush Kids fundraising team. They raised 16K this summer and over 66K since 2008.  Ryan Seacrest joined them offering a flip camera to the highest donor in the next 10 minutes.
David Archuleta tweeted last night: "Well had a nice time at home. Back to California now. Going to be helping out a little at Stand Up 2 Cancer tomorrow!"
Tonight's Stand Up To Cancer telethon will be broadcast across multiple networks and will feature a slew of celebrities performing, soliciting donations and in David's case, manning the phones. Ryan Seacrest and Randy Jackson will also be on hand to help.
The hour long broadcast begins at 8 pm, but there will be an online pre-show hosted by Cat Deeley of  So You Think You Can Dance, beginning at 7:30 and a post-show jam.
Video and Photos after the JUMP…
Plus, this hasn't been confirmed, but the team leader of  Crush Kids says the David Archuleta fan fundraising team, will be announced as co-winners with the Survivor team at some point during the broadcast. Both teams raised close to 30K to benefit the fight against cancer.
Team leader, Pecan Pie says, "All I can say is, if things do go according to plan, your only regret would be missing this show! You've been warned people!" A hint that David may be doing more than just answering phones…
***
***