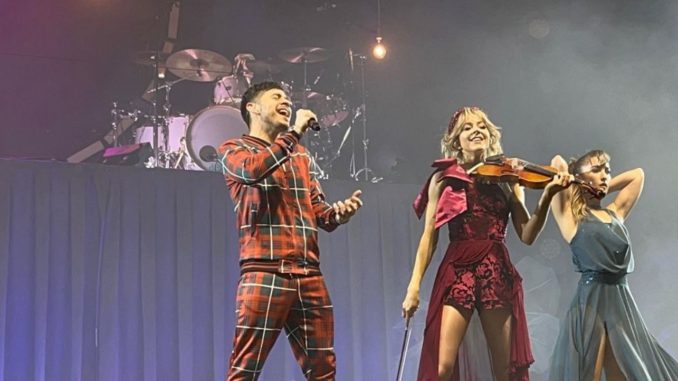 While David Archuleta takes a break from his own Christmas tour, he dropped by to perform with Lindsey Stirling on her tour stop in Hershey, Pennsylvania earlier this week. The American Idol alum joined forces with the violinist on "Magic" from Lindsey's new Christmas album, Snow Waltz.
Lindsey, who has made a career of playing the violin while performing in elaborate production numbers, first surfaced as a contestant on America's Got Talent in 2010, but was eliminated at the Quarterfinals after judges Piers Morgan and Sharon Osbourne told her she wasn't good enough.
Afterward, she took to social media to post her performances and eventually landed a record deal, proving Piers and Sharon very wrong indeed!
In 2017 she competed on Dancing with the Stars, coming in second place with pro-partner Mark Ballas. She also returned to America's Got Talent in 2018 to perform on the finale.
"It was so fun being a surprise special guest tonight in Hershey, PA for @lindseystirling 's Snow Waltz Tour," David wrote on Instagram alongside a couple of photos. "First time performing her song Magic live together from her album! I love this song! Thanks for having me Lindsey you and your crew are incredible!!!"
Lindsey posted a little snippet of the performance on her Instagram
Check an audio stream of "Magic" featuring David Archuleta from Lindsey Stirling's Snow Waltz
David performs the song solo on his own tour, to which he'll be returning on December 14 in Manti Utah. Check out his full schedule HERE.
The singer recently wrote a heartfelt post pushing back on a promoter who complained that David "ruined" the Christmas experience for audiences after sharing his LGBT coming out story on stage. Reportedly, some fans walked out during David's monologue.
"If a few dozen people walk out, but there are others staying who need to know they're not alone in this journey. It's worth it to me," David wrote.