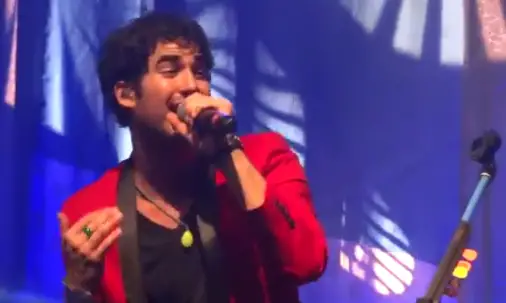 Glee star, Darren Criss, kicked off his summer Listen Up tour at the Fillmore in his hometown of San Francisco last night. The set list was a mixture of covers, Glee songs, and originals, 5 of which were brand new songs that MAY go on the singer's next album, depending on audience reaction.
Check out the new songs right here, all played with a full backing band. Via Billboard Magazine.
Words – Jazzy, sweet and soulful, the song is about being so in love, there are no words to express it.
http://youtu.be/5PQe4V5bK8g
Any of Those Things – Your new boyfriend can't do ANY of the things I did for you! A catchy pop song that just begs for audience participation.
http://youtu.be/dFeUy__D7o0
Pheromones – Another pop song that's pretty self explanatory. One Direction could cover this song. Seriously.
http://youtu.be/axxO5K9LVGI
Picture Perfect Girl – A little slice of soulful pop. Darren sang to a girl, Susan, whom he pulled on stage. He wound things up with a lovely selfie which he later tweeted to his fans.
http://youtu.be/tarpVo7GPYI
Once Upon a Time – Darren sits at the piano for this anthemic ode to a simpler time. "Some of the best moments of my life was before all the crazy sh*t that you might know me from," said Darren as he introduced the song, "This is a song about longing for the beginning, but being OK with the present…"
And as a bonus. Here's Darren's cover of "I Left My Heart in San Francisco"
http://youtu.be/1lQt7w9-h1I
What the Heck. Here's Teenage Dream
I've only heard live acoustic versions of this song. Darren sings the iconic Glee song with a big, full sound.
Check out the Set List!
Circle of Life
Any of Those – New Song
Sami
Picture Perfect Girl – New Song
Words – New Song
Not Alone
Human – Solo Guitar
Two of Us – with Chuck Criss
Don't You – Darren, Tomek and Theo
I Left My Heart in San Francisco – Solo Piano
To Have a Home
Pheromones – New Song
Once Upon a Time
Encore
Teenage Dream
Stutter – Circle of Life Reprise