Welcome to another Monday night of dance, and I personally can't help falling in love with tonight's theme because it's Elvis Night!
It's a wonder DWTS hasn't done an Elvis theme before, but understandable considering the success of this year's Elvis film (anyone else absolutely LOVE it?!)
After last Monday's premiere ended with the season's first elimination, Jason Lewis and Peta were sent to heartbreak hotel. Also left lonesome tonight will be pro Daniella Karagach after being one of several cast and crew at DWTS to test positive for COVID after last week. Daniella's star partner Joseph Baena may be all shook up tonight when he's temporarily paired with new troupe member Alexis Warr, best known for winning this past season of So You Think You Can Dance. 
Vote at DisneyPlus.com or text the contestant's FIRST NAME to 21523. Voting begins at the top of the show.
With that, let's shake, rattle and roll!
Elvis Night begins with a group performance starring Gleb as Elvis!
https://www.youtube.com/watch?v=vG3sWxvsdgw
Jessie and Alan – Foxtrot – Trouble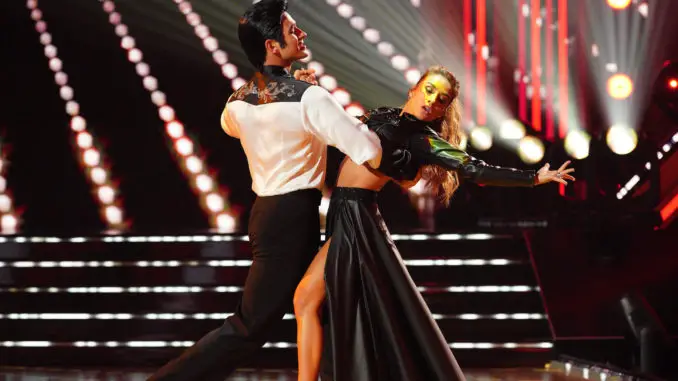 It's going to be a night of awesome costumes, that's for sure. The dancing is to be determined. Jessie's legs were much better than last week, but still has work to do on the footwork. The routine itself felt a little boring but it was definitely a proper Foxtrot.
Len says he felt her legs were stronger and it was an improvement from last week. Derek says this week was controlled and it was a huge improvement. Bruno says Alan Elvis has her on the right track tonight. Carrie Ann says she loves seeing Jessie shine like this.
Carrie Ann- 7, Len- 6, Derek- 6, Bruno- 6 = 25/40
Jordin and Brandon – Quickstep – Hound Dog
This dance started out shaky at best and got a bit better toward the middle, but something that's surprising me about Jordin is that she lacks rhythm. She just wasn't hitting those Quickstep steps the way others do.
Derek says she has amazing performance quality but critiques her frame. Bruno says it was bright and lively, but had a few incidents tonight. Carrie Ann says Jordin is a woman when she dances (??) and doesn't have to be a dancer when you start, you just have to be willing to become one. Len says she showed control but her biggest problem is her frame. 
Carrie Ann- 7, Len- 6, Derek- 7, Bruno- 7 = 27/40
Sam and Cheryl – Viennese Waltz – Heartbreak Hotel
Okay, this slowed-down version of "Heartbreak Hotel" doesn't even sound pretty enough for a Vienesse. Sam did well in hold for this one though, and his suit is gorgeous. Definitely an improvement from last week.
Bruno says Cheryl gets results. Carrie Ann says he brought the sultry to the ballroom and was leading the dance. Len says it was a much more confident performance. Derek says dance mom Cheryl was workin' and gives a minor critique on Sam's frame.
Carrie Ann- 6, Len- 6, Derek- 7, Bruno- 7 = 26/40
Shangela and Gleb – Quickstep – Shake, Rattle and Roll
"Shake, Rattle and Roll" is the perfect song for such a fun and lively dance. Shangela and Gleb are an unexpectedly great pairing who seem to put their all into every dance, and despite a few incidents throughout the performance, she did really well for Week 2.
Carrie Ann says she's sharp and commits to every movement. Len says it has all the energy of an Elvis concert. Derek says she's fantastic to watch all the time. Bruno says it's addictive watching her despite an incident. 
Carrie Ann- 7, Len- 7, Derek- 7, Bruno- 7 = 28/40
Teresa and Pasha – Jive – All Shook Up
Pretty sure she messed up two steps into it. She's someone, who has what I call, "noodle limbs." She majorly lacked control throughout this dance, which is unfortunate for Pasha because he did some great choreo to a fun Jive song.
Len says the problem was too many faults in his leg action. Derek says she had a freshness about her, but there wasn't a lot of balance. Bruno says he feels pleasantly stirred by her performance (k). Carrie Ann says she loved seeing Teresa focused on learning how to dance despite being heavy-footed.
Carrie Ann- 6, Len- 5, Derek- 6, Bruno- 6 = 23/40
Daniel and Britt – Jive – King Creole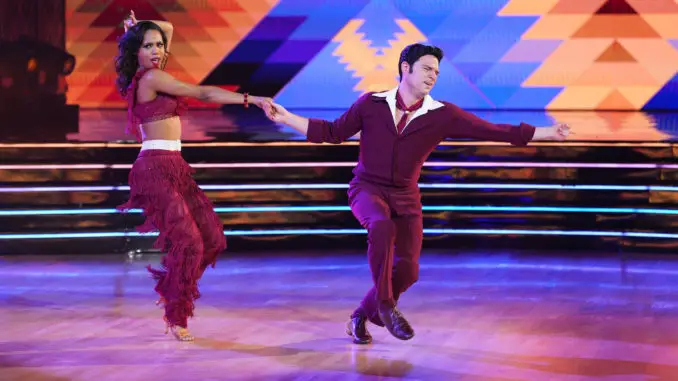 Music really makes a Jive, so the fact Daniel can perform it this well without hearing the song is incredible. He blew me away last week and again this week. I personally wish the routine was better, but that's on Britt, not Daniel.
Derek says it was captivating but to look out for his dangling arm. Bruno says he thought he was going to find something wrong and didn't. Carrie Ann says she was in awe of what he was doing. Len compliments the choreo and says they were tight and together.
Carrie Ann- 7, Len- 7, Derek- 7, Bruno- 8 = 29/40
Gabby and Val – Viennese Waltz – Can't Help Falling In Love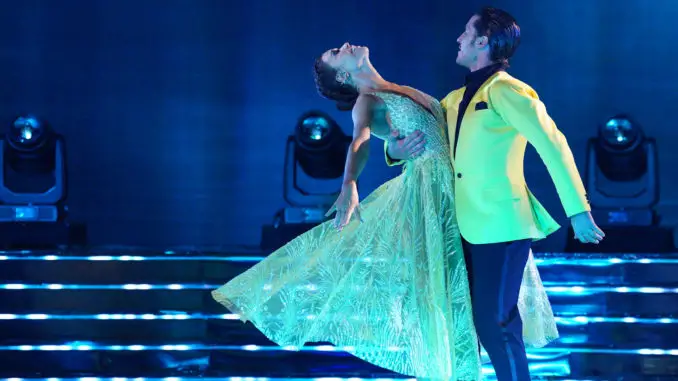 Val is a beautiful choreographer, and Gabby is proving to be a beautiful dancer. She really perfected each step of that.
Bruno says he's swept away and compliments their partnership. Carrie Ann says they have similar chemistry as Val and Rumor Willis. Len says it had lovely rotation and was soft like a whisper. Derek says it was stunning and reminds her to watch her shoulders. 
Carrie Ann- 8, Len- 8, Derek- 8, Bruno- 8 = 32/40
Vinny and Koko – Quickstep – Viva Las Vegas
For a Quickstep, that started out so slow. There was definitely a misstep in the middle, but it ended on a high note and Vinny did surprisingly well.
Carrie Ann says Viva Las Vinny! Len says he went all in and it paid off. Derek says he was in control and owned the performance. Bruno says Vinny is a contender. 
Carrie Ann- 7, Len- 6, Derek- 7, Bruno- 7 = 27/40
Charli and Mark – Quickstep – Bossa Nova Baby
Mark is such a unique choreographer, always adding something surprising to each dance, and Charli keeps right up with it. He's one of those pros who accidentally make their partner look better than they are, but Charli definitely has the skill.
Len says she's a terrific dancer but critiques her frame. Derek says her personality shines through. Bruno basically says it looked effortless. Carrie Ann calls them a quirky match made in heaven.
Carrie Ann- 8, Len- 8, Derek- 8, Bruno- 8 = 32/40
Selma and Sasha – Jive – Jailhouse Rock
I can't believe Selma did a split!! I'm amazed by the way she can move for someone with her illness. No, it wasn't nearly technically correct, but she's a joy to watch and so impressive, in my opinion.
Derek says her performing means a lot to a lot of people. Bruno says she's got tricks up her sleeves. Carrie Ann says she makes it look so much easier than it must be for her. Len says he loved the choreo.
Carrie Ann- 7, Len- 7 Derek- 7, Bruno- 7 = 28/40
Cheryl and Louis – Tango – A Little Less Conversation
Tango completely came out of nowhere during a night full of Quicksteps and Jives! lol Cheryl always looks like she's having a blast, but that performance had a lot of errors. She looked like she was a second behind Louis throughout the whole thing.
Bruno says he praises her attitude but there were a lot of mess-ups. Carrie Ann says she was on the wrong foot a few times but appreciates how many times she kept coming back from mess-ups. Len says it was a proper Tango and she made an old judge happy. Derek says she kept going and loved her fierce intro. 
Carrie Ann- 5, Len- 6, Derek- 5, Bruno- 5 = 21/40
Joseph and Alexis – Viennese Waltz – If I Can Dream 
That beginning going down the stairs was a very Daniella move. Is Joseph one of the ones I called stompy last week? Because he is this week. lol Again, switching partners out of nowhere for a newbie understandably leaves you all shook up though.
Carrie Ann says despite missteps, he is genuinely leading. Len says- hold on, Carrie Ann interrupts to say there was a lift. Len then says he likes to see a great big guy come out and dance with elegance. Derek says it could have been a catastrophe, but it wasn't. Bruno says he has wonderful lyricism in his arms.
Carrie Ann- 6, Len- 6, Derek- 6,Bruno- 6 = 24/40
Heidi and Artem – Foxtrot – Suspicious Minds
Really good choreo and "Suspicious Minds" is a really good Foxtrot song, but Heidi doesn't extend her movements enough.
Len says it had elegance and sophistication but it needed more freedom. Derek says she has the technique but he wants the feeling. Bruno says "smoothly does it." Carrie Ann says she sees trust developing.
Carrie Ann- 7, Len- 7, Derek- 7, Bruno- 7 = 28/40
Trevor and Emma – Rumba – Always on My Mind
Ok, for someone who has no idea what he's doing, Trevor blew me away yet again. He perfected every single step.
Derek starts out by saying, "What in the heck?!" then tells Trevor he thinks he loves dance and it was an exceptional Rumba. Bruno lies halfway across the judges' table and asks Trevor how it was for him, saying he's glowing and melting at the same time, and that they've never seen a man do a Rumba that well on Week 2 before. Carrie Ann says he's going to be on a lot of people's minds tonight. 
Tyra then sends the couple off without getting Len's judgment and calls them back over (and keeps calling Len Papa?! Why?! Help??) Len says last week he was a caterpillar, but this week he's a butterfly. 
Carrie Ann- 7, Len- 7, Derek- 8, Bruno- 8 = 30/40
Wayne and Witney – Jive – Burning Love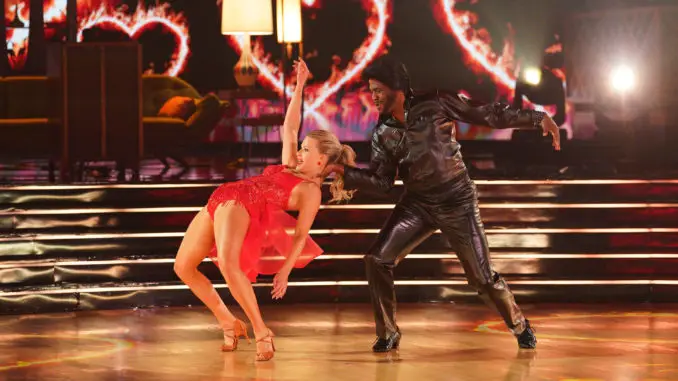 This whole dance had me boppin' on the couch! Could have had better choreo for such a great Jive song ("Burnin' Love"), but Wayne did exceptionally better than last week!
Bruno says Wayne is on fire and he's on it, in it, and gives his all. Carrie Ann says she saw no evidence of any pain and took the note from last week. Len says there was no messin' and no stressin', and he enjoys watching him dance. Derek says it was the best kicks and flicks of all the Jives tonight (I watched it back and he's right!!).
Carrie Ann- 8, Len- 8, Derek- 8, Bruno- 8 = 32/40
The bottom two are… Cheryl and Louis and Teresa and Pasha.
The couple going home is… Teresa and Pasha.
Shocker right at the last second when it was leaning toward Cheryl and Louis' elimination! Cheryl does deserve another chance compared to Teresa, she has more potential for improvement. The remaining contestants are back in the ballroom next Monday when they celebrate James Bond movies!