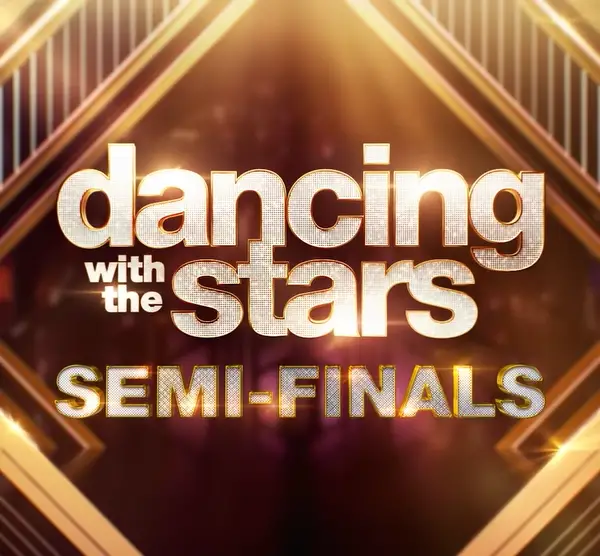 Tonight is the homestretch for the six remaining couples, and after tonight's double elimination, only four couples will make it to next week's Season 30 finale!
But there's a lot of dancing to be done before the season ends! Tonight, the couples battle it out with two dances each; one a redemption dance and one they've never danced before.
In last week's double elimination, we first lost Olivia and Val, then the judges chose between Melora and Artem and Jimmie and Emma for the final spot in the semi-finals. The judges' unanimous decision saved Melora and Artem, sending Jimmie and Emma home.
As we near the end of Season 30, your votes tonight will decide who makes it to the finale! Below is voting information for each contestant if you're voting by text, or you can vote at ABC.com.
Text AMANDA to 21523
Text CODY to 21523
Text IMAN to 21523
Text JOJO to 21523
Text MELORA to 21523
Text SUNI to 21523
The one night Tyra looks decent there's a big mic or camera or something hanging in the way of the shot… LOL
First up is the redemption dances!
Cody Rigsby & Cheryl – Salsa
Hardly any Latin motion, poor choreo, and Cody completely lost Cheryl's hand in the middle. It wasn't bad but that was NOT a demi-finals Salsa…
Bruno requested they redeem their Salsa and says Cody's hips were better and arm-ography has improved, despite losing some sync at times. Carrie Ann says she loves seeing Cody getting into the movements but the energy drains from his feet. Len says he was flat-footed but overall it was a full-on Salsa. Derek says there were a few arm misses but it was a huge improvement.
Scores after the break…!
Carrie Ann- 9, Len- 9, Derek- 8, Bruno- 9 = 35/40
Melora Hardin & Artem – Rumba
Good thing this isn't a fashion show because that dress gets a 1… as for the dance, the way Melora always looks like she's having a great time makes you feel like you're having a great time. As a dancer who prides myself on my arm movements, Melora's lackluster arm work was made clear in a dance like this. Also don't think we didn't notice the little push in the right direction you gave Melora, Artem! (I've been there haha)
Len requested they redeem their Rumba and says, "Tutti, frutti, what a booty" (eww). Derek says it was refreshing to see a pure Rumba. Bruno says she's got the right potion and loved the way she kept changing between sexy and romantic. Carrie Ann says her hip action had improved but feels we lost some expression in her hands and thinks she has to dock a point because of an apparent lift.
Carrie Ann- 8, Len- 10, Derek- 9, Bruno- 9 = 36/40
Suni Lee & Sasha – Foxtrot
Suni's confidence has completely skyrocketed throughout this competition. If I'm going to nitpick, she's still a bit flimsy in parts, but this dance was so much fun and Sasha nails the choreo every time!
Carrie Ann requested they redeem their Foxtrot and comments on the way Suni has grown from Week 1 and says it was full joy, full potential and full confidence. Len says the footwork was a tad suspect but it was a happy-go-lucky dance. Derek says he's loving Suni 2.0 and nitpicks on her frame. Bruno says, "Fox or not, this girl can Trot!" (love that line – using it next time I'm teaching! LOL) 
Carrie Ann- 10, Len- 9, Derek- 9, Bruno- 9 = 37/40
JoJo Siwa & Jenna – Argentine Tango
Love the hats! Love the shared chair! Love that gorgeous lift! Those moments in hold were oh-so sexy and that ending back on the chair! Woo!!
Len requested they redeem their Argentine Tango, calling it "bloody brilliant." (why did Tyra just question whether they can say the word bloody on TV…) Derek says it's common to see two males dance this dance together so it's full circle to see two females dance it together. Bruno says they blew all his fuses again, then calls it outstanding! Carrie Ann says JoJo blew her away both times with her leading and it was "like they were an extension of one being."
Scores after the break…!
Carrie Ann- 10, Len- 10, Derek- 10, Bruno- 10 = 40/40
Iman Shumpert & Daniella – Tango
Okay, dancing aside, look at Daniella's stunning dress! And I love the way Iman's jacket subtly matched it. Anyway… dancing a Foxtrot with that height difference can be disastrous, but these two actually made it work so well. Iman has been a tough one to call with his scores going up and down the bar each week, but one thing that never fails is how fun he is to watch.
Derek requested they redeem their Tango and says they debunked the myth that it's impossible to have a beautiful frame with their height difference (told ya!) and that says there's a reason why he's come the furthest than any other basketball player who has been on DWTS. Bruno says, "he looks the business and delivers the goods…" then critiques Iman's squatting. Carrie Ann compliments Iman's frame and says he has so much magic when he dances. Len says it was a vast improvement from Week 3. 
Carrie Ann- 9, Len- 9, Derek- 10, Bruno- 9 = 37/40
Amanda Kloots & Alan – Tango
There was a lot happening here. Did they really need all the lights and lasers and was that fireworks at one point? This was a typical Tango, in my opinion, nothing striking. Honestly not so sure I would call it a semi-final dance either, but she's been pretty consistent this entire competition and shown she's as much of a ballroom dancer as she is a Broadway dancer.
Len requested they redeem their Tango and compliments their body contact and great movement across the form. Derek says he's in awe of her and has beautiful frame. Bruno says it was the clear-cut brilliance of a diamond. Carrie Ann says she danced this Tango like the boss she is, but then says her leg came off the ground so she has to dock a point.
Carrie Ann- 9, Len- 10, Derek- 10, Bruno- 10 = 39/40
The competition pauses for the pros to perform a routine to a new song from Sing 2!
Time for the second round of the competition!
Melora Hardin & Artem – Contemporary
A little speedy for my liking. I honestly was expecting more from Melora in a dance like this. She's usually so good with fluidity, and her limbs just seemed a little all over the place unfortunately.
Len says it was full of attack and she's always a joy to watch. Derek says you can always see and feel her love of dance. Bruno says she has a light motion and sense of freedom. Carrie Ann says she's a beautiful, lyrical dancer and she left everything out on the dance floor.
Carrie Ann- 9, Len- 9, Derek- 9, Bruno- 9 = 36/40
Cody Rigsby & Cheryl – Argentine Tango
That pose at the beginning lasted way too long and then Cody is far too steppy in a dance that should be full of precision. I truly don't like being negative but it looked like a Week 1 dance…
Derek says the opening was everything (eh) and compliments Cheryl more than Cody (lol). Bruno says they had a wonderful go at it. Carrie Ann says he brought the drama to the dance but she's not sure what happened at the beginning when they started dancing. Len says Cody has come so far since those 6's he got from him at the start of the season.
Carrie Ann- 9, Len- 9, Derek- 9, Bruno- 9 = 36/40
Suni Lee & Sasha – Contemporary
I love the way Sasha has incorporated Suni's gymnast moves in each dance throughout the season; so subtle but intricate to the dance, and this one was no exception. This was more smoother and much more fluid than Melora's contemporary, and it really told a story.
Bruno says gravity doesn't apply to Suni (ha!) and it's good to see her express herself and believe in herself. Carrie Ann no one gets a 10 from her unless there's something magnificent or magical happening, and showed the versatility of the performer she's become. Len says it was dramatic and passionate and she danced it with feeling, but it got a bit "same-y" (?). Derek says she's had an inward realization, and when you discover the inward realization, you stop seeking the outward validation. 
Carrie Ann- 10, Len- 9, Derek- 10, Bruno- 9 = 38/40
JoJo Siwa & Jenna – Contemporary
Second time this season JoJo's had me in tears! I'm so impressed by those lifts, the way JoJo lifts Jenna so effortlessly. Jenna's choreography never fails to impress, but it's JoJo's execution that earns them perfect scores. That was a contemporary I would be honored to perform.
Carrie Ann asks JoJo's grandmother in the audience what she thinks and when her grandmother puts up 10 fingers, Carrie Ann agrees. Len says she mixes artistry with athleticism and dances with so much maturity. Derek says it was the best Contemporary they've ever seen on the show. Bruno says it was exquisite and one moment they sent him to dance Heaven when they looked like two angels and two hearts and souls united. 
Carrie Ann- 10, Len- 10, Derek- 10, Bruno- 40 = 40/40
Iman Shumpert & Daniella – Jazz
These two nail the lifts and poses every single time! That's what happens when you have a strong partner and a great choreographer. Iman didn't really hit each step the way it's expected in a Jazz, looked more like a Contemporary at times, but Iman seems to have come so far from Week 1 and these two have a great partnership.
Len says it had more lifts than Uber (lol) and was lyrical at times despite a "staggering thing." Derek says it was really impressive and caught the "basketball stuff." Bruno says he has body envy, then says the lifts are sometimes heart-stopping despite a tiny stumble. Carrie Ann says he brings something very different and it shouldn't be lessened; it's spectacular, artistic, athletic and everything she wants to see in a dance.
Carrie Ann- 10, Len- 9, Derek- 10, Bruno- 9 = 38/40
Amanda Kloots & Alan – Contemporary 
Ugh, all the feels when the star is in tears before they even start dancing. Dancing to her late husband's song was so brave, and Amanda did it beautifully. There's not much more to say about this one; it was beautiful and memorable and so special.
Derek says there's moments on this show when you do something for you, and he's happy she'll always have this moment. Bruno says she touched his heart and he was mesmerized. Carrie Ann says she saw Amanda disappear into this dance and "there's no words" (same). Len says both of her dances tonight were fantastic. 
Carrie Ann- 10, Len- 10, Derek- 10, Bruno- 10 = 40/40
It's been an emotional night, and now it's time for a double elimination.
The first three couples going into the season finale are… JoJo and Jenna, Iman and Daniella and Cody and Cheryl.
The first couple eliminated is… Melora and Artem.
The bottom two is Suni and Sasha and Amanda and Alan.
Carrie Ann saves Amanda and Alan. Derek saves Amanda and Alan. Bruno saves Amanda and Alan.
Suni and Sasha are eliminated.
Judges' Scores
JoJo- 80
–
Amanda- 79
–
Iman- 75
Suni- 75
–
Melora- 72
–
Cody- 71
Well, this was a bit of a shock. Actually, it was a major shock. What does everyone think of this finale? I personally never saw Cody or Iman getting this far, and I think Suni definitely deserved a spot in the finale after how much she's grown.
It all comes to an end next Monday when the four remaining couples dance it out for the Season 30 mirrorball! Join me then for the two hour season finale!