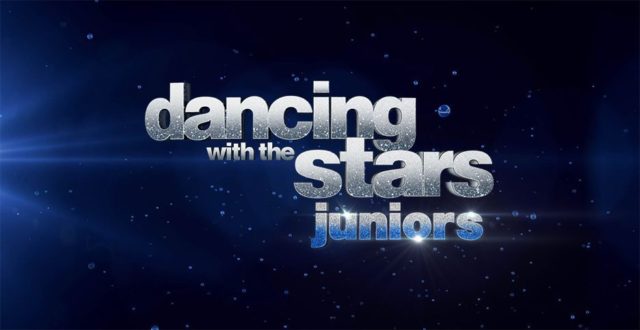 Hey All :)
Welcome to week five of Dancing with the Stars Juniors. Tonight, the remaining seven pairs return to the dance floor to perform in new styles in the hopes of earning high scores from the judges and safety from the audience. At the end of the night, another pair will be eliminated from the competition.
In this fifth week of competition, the contestants are tasked to perform an unlearned routine as part of "Juniors Choice" night. Instead of the mentors (and producers), the juniors get to pick their music, costumes, and production. The kids run the asylum this week!
As a reminder, please keep SPOILERS out of the discussion for those who want to enjoy the program without knowing any results. Let's go…
Miles & Rylee (Mentor- Lindsay) – Jazz
That was a lot of fun. We are really stretching the definition of jazz with that but alright. I was most impressed with how in-sync Miles was throughout that with Rylee and you could tell this was probably the most fun he has had on this show with a dance routine. Good start to the show.
https://www.youtube.com/watch?v=xTajacGOUXE
Mandy enjoyed that it was just about them dancing without a lot of stuff around them. Adam called it a slam dunk. Val loved the whole thing and thought it was incredible.
Val- 9
Mandy- 9
Adam- 9
Mackenzie & Sage (Mentor- Gleb) – Cha-Cha-Cha
That was an extremely technically profound routine. It looked more like something you would see on the adult version of this show, and not that's not a knock to this program at all. It had so much quality cha-cha content and was very impressive.
https://www.youtube.com/watch?v=AlF5_v13P64
Adam says she should be so proud because she took the note to give more of herself. Val feels it was complex choreography and he wants to validate her for that. Mandy calls her a great performer and loves the start quality. Mandy gives Sage props as well and tells them to continue working on the partnering.
Val- 9
Mandy- 9
Adam- 9
Jason & Eliana (Mentor- Emma) – Jazz
Jason is adorable. I love the attempt to really bring the swag. The routine on a whole was a bit messy- a little too much concentration on the troupe which I guess was to conceal some of Jason's limitations but it ended up taking away from the impact on a whole.
https://www.youtube.com/watch?v=4JvDrLrtcuc
Val loves the homage to the hip-hop. He didn't expect it and it was dripping swag. Mandy loved the routine and that he was dancing outside of his body. Adam felt he was the leader of the dance crew.
Val- 9
Mandy- 8
Adam- 8
Akash & Kamri (Mentor- Witney) – Charleston
Oh I get it. They are wearing yellow like bees- for spelling bee. LOL. Akash is clearly the weakest dancer left but probably the one with the most personality. I could have done without the actual spelling break in the middle but the charleston was decent if a little bit of a mess. What Miles had earlier when he was in-sync with his partner, Akash could use some work.
https://www.youtube.com/watch?v=1s0WoOS7E_8
Mandy was impressed by how fast it was. Adam says he has fun every week and Akash has done so well. Val says he makes intelligence look charming. OMG. Akash gives a speech about how little people can do big things and it is beyond precious.
Val- 7
Mandy- 7
Adam- 6
Sky & JT (Mentor- Alan) – Samba
Like Mack & Sage earlier, another routine chock full of content that was totally appropriate to the dance style. The hips were shaking and I was cheering. Sky is such a little star and JT is just an amazing little dancer. They make an incredibly dynamic duo.
https://www.youtube.com/watch?v=SSCOg39bdtg
Adam feels like they have great chemistry. He mentions her biscuit feet again like Mandy said a few weeks ago. Val says it is obvious Sky is committed to learning the proper dance. Mandy loved the content and gives kudos to Alan.
Val- 8
Mandy- 8
Adam- 7
Mandla & Brightyn (Mentor- Cheryl) – Cha-Cha-Cha
Good dance. I see Cheryl is back to using a limited amount of content when it comes to the dance style. Sigh. One issue I notice with Mandla each week is his face. He sometimes zones out of the dance which I guess can be attributed to thinking about the next group of steps. If he can get out of his head, his dancing will be elevated because he is quite decent to begin with.
https://www.youtube.com/watch?v=56MGQkP-dFQ
Val says Mandla is paving his own way without his dad. He loved the cleanliness of it. Mandy feels Cheryl wasn't easy on them this week. She loves when Mandla turns it on. Adam agrees with Val and loves how creative it was.
Val- 8
Mandy- 9
Adam- 8
Ariana & Artyon (Mentor- Brandon) – Jazz
WOW. That was the highlight of the night for sure. A perfect mix there of dance and personality. Out of all the routines that attempted to bring swag tonight, this was the best. Ariana wasn't playing in that at all. Great stuff.
https://www.youtube.com/watch?v=gF40P2SG0xU
Mandy loved that jazz was incorporated in the routine and she found it so good. Adam says they were tough last week but she listened and came back like a champion. Val offers her his rolex (for the song). Too cute. He says she has charisma and presence.
Val- 9
Mandy- 9
Adam- 10
*first ten of the season
ELIMINATION TIME!
The audience is currently voting in the studio. The juniors scream out their numbers.
This week's eliminated pair is…
Jason & Eliana (Mentor- Emma)
Aww. Jason is disappointed he won't continue but he had fun. And he isn't crying. Taking it like a man. I love the juniors rushing over in support. I can't say it was the wrong decision as the only other weak dancer left is really Akash and I think he leads Jason in personality which matters on a show like this. But Jason should be quite proud of himself.
Next week- it is a giving thanks episode in which the juniors honor those in their lives they are thankful for. We are really into the holidays now, huh? Join me next week and thanks so much for watching tonight. :D
Don't forget- for you regular DWTS fans, it is the semi-finals tomorrow night!