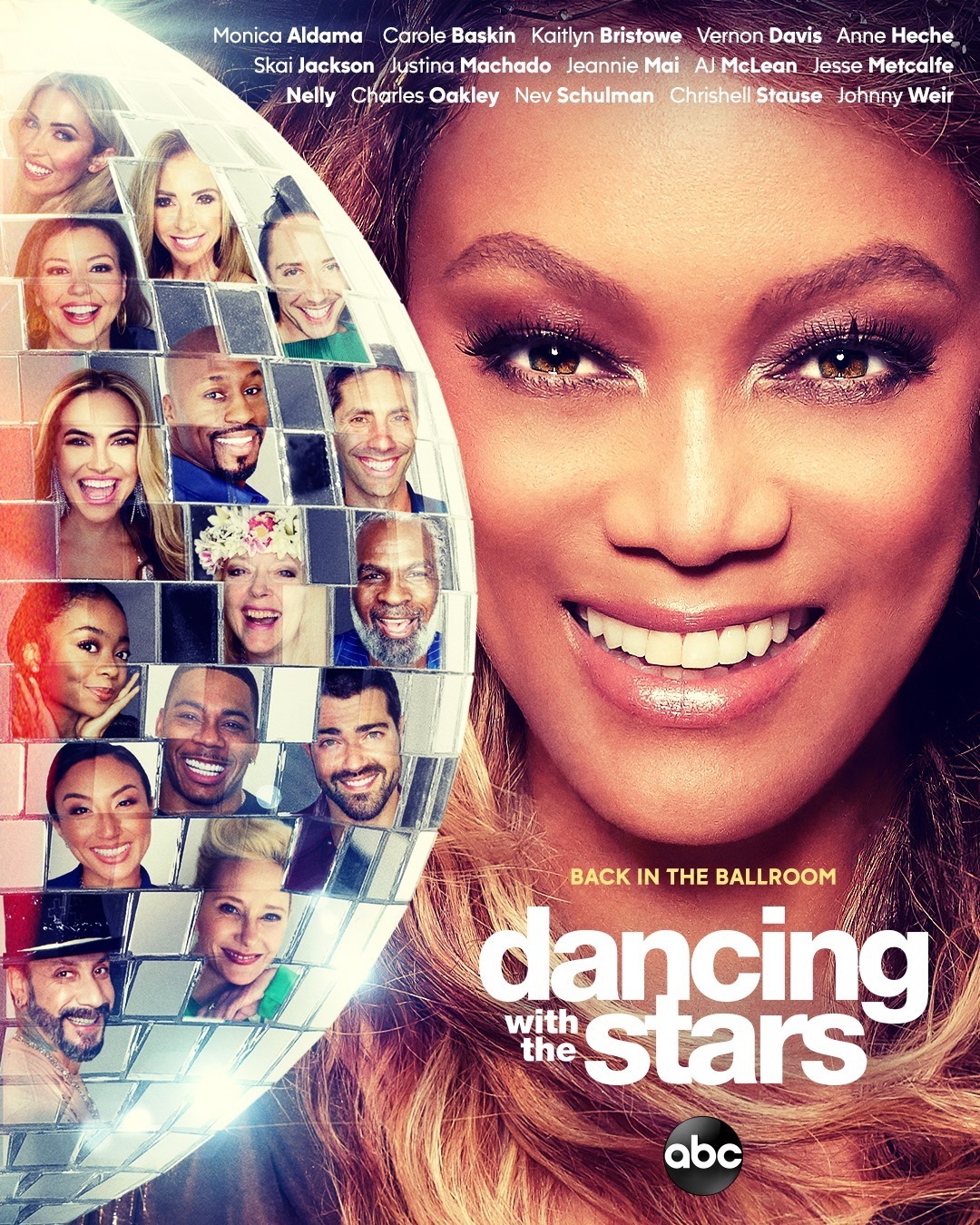 Hey Everyone :)
Welcome to week seven of season twenty-nine of Dancing with the Stars. Tonight is "Villains Night," as we celebrate Halloween week. Everyone will be in costumes as the contestants pay tribute to some of the greatest television and motion picture bad guys and girls of all time. Once again, the judges will determine who, out of the bottom two, must exit the competition after the dancing concludes. Your live votes will help determine just who faces the dreaded judges' verdict.
Last week, Vernon & Peta were given the boot, joined in the bottom by Johnny & Britt. While Vernon's exit was expected, Johnny being in the bottom was a shock. He was high on the leader board which means his live votes from the viewing audience was low. You never know who on this show is connecting with the audience and who is not. Are his fans jolted enough to vote like crazy tonight? Could we be in store for another shock or will the expected lower scoring couples end up in jeopardy?
Lingering over all the proceedings is the fact that next week is a double elimination. Yikes. So all the couples will be doing their best tonight to show that they have the momentum going into next week. In keeping with the theme, it's a scary prognosis for some of these pairings. LOL. Had to…
I will include voting details under each performance review but remember, you can begin voting as soon as the show begins and ends during the final commercial break before elimination. For anyone wanting to vote right at the top of the show- go to ABC.COM to vote online or use the following information to vote via text.
Text AJ to 21523 to vote for AJ McLean
Text CHRISHELL to 21523 to vote for Chrishell Stause
Text JEANNIE to 21523 to vote for Jeannie Mai
Text JOHNNY to 21523 to vote for Johnny Weir
Text JUSTINA to 21523 to vote for Justina Machado
Text KAITLYN to 21523 to vote for Kaitlyn Bristowe
Text MONICA to 21523 to vote for Monica Aldama
Text NELLY to 21523 to vote for Nelly
Text NEV to 21523 to vote for Nev Schulman
Text SKAI to 21523 to vote for Skai Jackson
The show begins with a "found footage" horror movie skit. Out comes Tyra in costume as the Queen of darkness. All the judges are in costume as well. Props to the dressing and makeup departments.
Jeannie Mai & Brandon – Paso Doble
Pretty darn good. Lots of noticeable paso steps and Brandon was very clever in the choreography. Jeannie always commits to a character and this was no exception. I think she made a small error at the end after she "threw" Brandon and proceeded to paso over to him but nothing to really harp on. It was a good dance wonderfully in character and fitting with the theme.
Derek says she ate up the paso. He calls it a great paso and says well done. Bruno says Jeannie made a meal out of it. He loves the intention of the dance. He tells her to extend the lines through her hands. Carrie Ann calls it an explosive way to start the show. She wants some of the energy pressed down so some grace returns to her dancing.
Carrie Ann- 8, Derek- 9, Bruno- 8 = 25/30
Johnny Weir & Britt – Viennese Waltz
I think the smoke monster from Lost got set free. Damn, that's a lot of smoke. I actually loved this dance a whole lot. It was a frenetic Viennese waltz, which you never see. But despite that (and it was like that due to the theme and song), it had lovely flow and elegant arm movements and gliding around the dance floor. It was really pretty to watch and exciting to boot.
Bruno says it was very, very good. He compliments the sweeping motion and the fluidity. Carrie Ann says Johnny floated through it and he became one with the music. She mentions one part where she doesn't know what happened but it doesn't matter. Derek loved redemption- he calls the dance beautiful.
Carrie Ann- 9, Derek- 9, Bruno- 9 = 27/30
Chrishell Stause & Gleb – Paso Doble
Hmm. I don't know what to make of that. First, Gleb gave himself way too much to do. It was almost like a showcase dance for him. Chrishell was given minimum paso activity. And though I understand the theme, it was an oddly choreographed dance. We already saw a paso tonight fit well within the context of Halloween but I think this missed the mark. A couple of balance issues for Chrishell as well.
Carrie Ann loved the storytelling. She calls it simple moves but executed beautifully. Derek calls it cinematic. He appreciated the simplicity too. He does mention the off balance moments. Bruno labels it mesmerizing. He tells her sometimes she lost the fluidity.
Carrie Ann- 9, Derek- 9, Bruno- 8 = 26/30
Monica Aldama & Val – Jazz
Fun. Good, solid number. Enjoyed that choreography very much. I saw some moves I did not expect Monica to be able to pull off. It was so theatrical and perfect for the character. Nice jazz hands there Monica. Very good number and a lot of fun to watch.
Derek marvels at the musicality and transitions. He felt the character was lost a little in the middle. Bruno says he didn't get a fever- more like a mild chill. He feels the body needed more movement because of it is jazz. Carrie Ann agrees with Bruno. She felt the shapes were nice but needed more intention.
Carrie Ann- 7, Derek- 8, Bruno- 7 = 22/30
AJ McLean & Cheryl – Tango
OUCH. During rehearsal, Cheryl fell and hit her head. The medics arrived. But she is good to go. Not bad. But with some issues. For too much of that, Cheryl was leading AJ. I am not sure if he was tentative of the steps or if she just naturally took control but it looked like she was leading the dance. A couple of balance issues (surprising to see that from AJ). I did enjoy the classic tango steps though and AJ is funny as Norman Bates.
Carrie Ann says it was a really difficult routine. She loved the dramatic shifts of the dance. She wants him to work more on his posture. Derek loved the intro. He compliments the footwork but agrees about the posture at times. Bruno calls chilling and thrilling. Again, sort out the frame.
Carrie Ann- 9, Derek- 8, Bruno- 9 = 26/30
Nelly & Daniella – Argentine Tango
BTW, in case anyone cares, Tyra changed her costume. Yeah, didn't think anyone cared. LOL. Back to the show. Wow, Daniella did a whole lot of the heavy lifting in that. I wanted a bit more actual argentine tango to see if Nelly could handle it. But I understand her choreography- going more for the story and atmosphere. In that sense, success. An okay routine for sure.
Carrie Ann calls it his best dance. She loved everything. Derek loved how much of a partner Nelly was. He wanted a little more argentine tango footwork. Bruno says he killed the argentine tango.
Carrie Ann- 9, Derek- 9, Bruno- 9 = 27/30
Justina Machado & Sasha – Tango
Good dance. Lovely characterization. THOSE SCREAMS. Sasha was smart here with the choreography. It was a proper tango but it was over shadowed in a good way by the thematic elements and it was very exciting to watch. A little issue with Justina's posture in hold but that's okay. It was nothing terrible, just needs a little refinement.
Derek loved the dedication. He compliments her frame and how she travels across the floor. He wants her to watch her turns though. Bruno tells her to be careful of being hoppy or steppy in the tango. Don't shuffle. Carrie Ann agrees with Bruno. She compliments Justina's use of the space.
Carrie Ann- 9, Derek- 9, Bruno- 8 = 26/30
Nev Schulman & Jenna – Paso Doble
WOW. Gorgeous. Perfect choreography by Jenna. Some awesome paso steps coupled with really exciting thematic qualities. I especially enjoyed that both were so in-sync that it really brought home the point of the film and how it applies to the dance. Solid, solid dance and one of my favorites of the evening.
Bruno thought it was perfect. Carrie Ann agrees. She thanks Nev's dad for introducing him to ballet. Derek says that from beginning to end, it was gorgeous. He marvels at Nev's shaping.
Carrie Ann- 10, Derek- 10, Bruno- 10 = 30/30
Skai Jackson & Alan – Argentine Tango
Solid. No mistakes. Which for Skai, is a positive beyond measure. She also looks more sure of herself in this dance which is nice to see. A little awkward on coming out of the lifts but the argentine tango footwork was quite solid. It was a subdued song so you pay attention to all the details of the dance and Skai should be really pleased.
Carrie Ann is very proud. She tells Skai has had the roughest time this season. She loved the power exuded. Derek felt for her last week but this week, feels her. Derek says she killed the routine. Bruno enjoyed the extensions and shapes. It was her best placements Bruno notes.
Carrie Ann- 9, Derek- 9, Bruno- 9 = 27/30
Kaitlyn Bristowe & Artem – Paso Doble
Wonderfully classic paso doble. Len Goodman would love that. It had everything you want to see from a paso. Not a terribly exciting number considering all the cinematic pieces we have seen tonight but totally on point from a dancing stand point. Awesome hard hitting moves and some ideal footwork. Good good!
Derek says Kaitlyn is always so reliable with her dancing and content. Bruno agrees. He feels the intention was right but felt slightly rushed so the timing wasn't as crisp. Carrie Ann says Kaitlyn's lift didn't go well and her flexibility needs to work on. She felt like she gave up in parts. She labels it not another great dance like last week.
Carrie Ann- 7, Derek- 9, Bruno- 8 = 25/30
Judges Scores
Nev- 30
–
Johnny- 27
Nelly- 27
Skai- 27
–
Chrishell- 26
AJ- 26
Justina- 26
–
Jeannie- 25
Kaitlyn- 25
–
Monica- 23
Results Time!
The following couples are SAFE and will return next week to dance: Nev & Jenna, Johnny & Britt, Skai & Alan, Nelly & Daniella, Chrishell & Gleb, Justina & Sasha, AJ & Cheryl, and Kaitlyn & Artem.
The following couples are in the bottom two: Monica & Val and Jeannie & Brandon.
Bruno SAVES Jeannie & Brandon
Derek SAVES Monica & Val
Carrie Ann SAVES Jeannie & Brandon
Eliminated- Monica & Val
Two competitive dances for each couple next week and a double elimination. It's gonna be a tense and exciting show. Thanks for watching with me tonight and I'll see you all in a week's time.