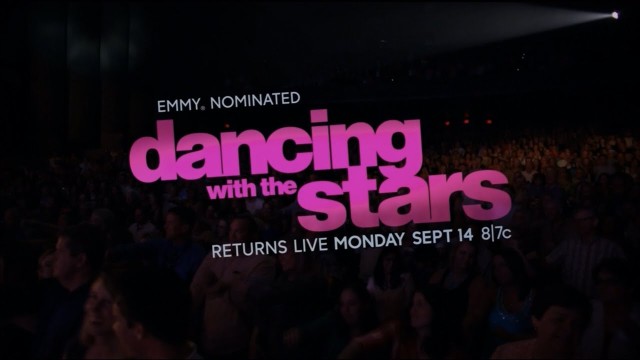 Hey All! :)
Welcome to the Season 21 official cast reveal for Dancing with the Stars! For those joining us for the first time, I'm Franky. I previously blogged the show for MJ a few seasons back and I am thrilled to return for this fall's edition. Thanks to MJ for having me again. And to those that have been here all along, welcome back and I hope everyone is having a safe, happy, and healthy summer.
As opposed to previous seasons where the cast was revealed in full on GMA, ABC opted to have the announcements trickle out over the last two weeks. By now, nearly all the celebrities have been confirmed, though no partnerships have been made official. This morning, we will finally get to see the entire cast as they get ready for the premiere in just twelve days.
Update #1
Five of the previously announced stars (Bindi Irwin, Hayes Grier, Victor Espinoza, Carlos Pena, and Alexa Vega) were just shown getting out of a plane earlier this morning and treating us to their version of the "Nae Nae" dance. That seems to be the promo dance of the season. Anyways, we have known about those and a few others for a while, so no surprises just yet.
Update #2
A quick shot of last night's episode of Jimmy Kimmel Live. As previously reported here at MJ's, Gary Busey made the announcement that he was part of the cast. He made this announcement by riding into the show on a horse. Not even kidding folks. Check out the site for video of that! It will probably be the least odd thing Gary does all season.
Update #3
About 27 minutes to go and we just saw a glimpse of some of the stars getting ready. A shot of Chaka Khan. That brings us up to seven that GMA has shown so far this morning before even doing the reveal. And all of them have been confirmed before.
Update #4
Outside the GMA studio in Time Square, we see just about all the previously confirmed stars, and with the mention of Nick Carter and Andy Grammer, we are down to just four unknowns. They show them behind a silhouette (3 more females and a male). Tom Bergeron mentioned something about an "American hero" being part of the cast. Hmm.
Update #5
Here we go!
Tom Bergeron is ready to announce. A few pros (Val, Keo, Louis, Tony, and Lindsay) join the already announced stars who are there live. I don't think Andy Grammer, Nick Carter, or Gary Busey are in attendance. A quick interview with the celebs. Bindi talking about being scared of the judges. Alexa and Carlos talking about being the first married couple on the show. Chaka Kahn is excited, as is Victor Espinoza to do something different.
Reality star Kim Zolciak is announced. Hayes is laughing about being unable to dance for more than seven seconds without needing a break. More to come including the final three contestants and the pairings.
Update #6
The pros are teaching the fans the "Nae Nae." Oy. We are going to hear that song and see the dance for a while.
Another reality television star announced… Tamar Braxton.
And how about chef Paula Deen. Yep. I guess she is really going to do some damage control this season.
Tamar hasn't told her sisters yet. I'm sure Toni is going to give her some tips. Paula is excited that her weight is allowing her to participate. GMA host George tries to bring up her past controversy but she doesn't really talk about that.
Val and Paula flirt. Lindsay thinks a lot of talent and personality are in this cast.
Update #7
Gary Busey via a video message telling us why he can't be there. This guy is a trip.
And now the final name… Oh wow. One of the American heroes who took down a terrorist on a train in Paris- Alek Skarlatos . He is really excited and hope he learns a lot. He seems extremely nervous. Good for him. I mean, he isn't really a celebrity but I have no issues with someone who did what he did for our country being on this show.
Nick Carter via satellite. He thinks his past experience can be a problem because he is expected to do well. He mentions his brother who was on the show giving him tips.
Tony loves the diversity in the cast.
The partnerships still to be announced as well as a surprise guest. Hmm.
Update #8
Andy Grammer sends a video message. He is on tour but excited for the show to start.
Now, partnerships…
Tamar Braxton is with Val Chmerkovskiy.
Nick Carter is with Sharna Burgess.
Chaka Khan is with Keo Motsepe.
Hayes Grier is with Emma Slater.
Alexa Vega is with Mark Ballas.
Carlos Pena Jr. is with Witney Carson.
Andy Grammer is with Allison Holker.
Kim Zolciak is with Tony Dovolani.
Gary Busey is with Anna Trebunskaya. (Good luck to her)
Victor Espinoza is with Karina Smirnoff.
Paula Deen is with Louis Van Amstel.
Alek Skarlatos is with Lindsay Arnold.
Bindi Irwin is with Derek Hough.
Good pairing here. Everyone is matched up pretty well.
Val wants to get started with Tamar. And Bindi says she may bring some wildlife to the dance floor.
And last season's winner Rumer Willis is out. She is in rehearsals for Chicago on Broadway and gives some tips to the new cast. She also talks about her debut on September 21st as she plays Roxie.
The pros give some words of encouragement. The entire cast raises their hand when asked who is nervous. And everyone is thanked for being there as the live reveal comes to a close.
————————–
So, what do you guys think? Are you shocked by anyone? Who are you most excited about? Which pairs do you think have a shot at going deep in the competition? Are you just on pins and needles waiting for September 14th? Sound off in the comments and I'll be back in a little bit with some initial thoughts on the season. Thanks for watching with me you guys. :D
A few initial thoughts…
* I really hope now that Val has his trophy, the producers ease up on the pimping with him. I was never a fan of it with Derek either but I still think Derek is a better choreographer than Val and I hated how so much of last season was obvious and predictable from the start. He could have another solid partner in Tamar though so we shall see.
* Bindi and Derek should be cute together. If she can dance well, they will go far. Ditto with Nick and Sharna.
* Former Big Time Rush star James Maslow did well on this show with Peta. Can his one time band mate Carlos do just as well? And what about his wife? I'm really intrigued by the situation there. Witney and Mark have solid partners this season.
* Andy and Allison could be really interesting together. Allison has stepped up compared to her first season and she was fabulous with Riker last season (I still think they should have won) but let's see how she does this go around.
* So, will the huge following Hayes has help him out? Not sure how many of his twitter/vine/IG followers are the voting type for a show like this but if he can move and they decide to vote, he has a good chance at staying on for quite a while.
* I don't expect much out of Paula, Chaka, or Gary in terms of going far. We have all seen this casting before. The older types with big personalities who either outlast better dancers or end up exiting early. But I'm sure they will bring the laughs.
* Awesome to have Karina back. Unsure how Victor will do but it will be nice to see her in the ballroom again.
* I know next to nothing about Kim (do not view any of the Bravo reality shows) but I guess I anticipate perhaps some drama? Maybe she will surprise me.
* And yeah, while this Alek dude is no celebrity, I give him a lot of credit for doing something clearly out of his comfort zone. Great to have Lindsay return as a pro, albeit under sad circumstances since Peta had to drop out due to injury.
* This is a solid mix. Probably one of the more "actual stars" casting the show has done in a while and I do like the mix of what could be very competitive dancers along with those who will really entertain us. Can September 14th get here already?
Check out the video below for anyone who missed seeing the reveal live…
https://www.youtube.com/watch?v=Nlyu42-yEe8&feature=youtu.be