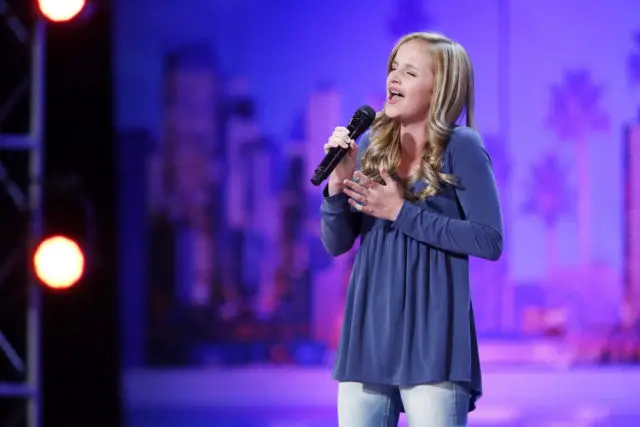 Sad news to report. The father of thirteen year old America's Got Talent contestant, Evie Clair died Thursday according to a post on the family's blog.
As fans of AGT know, Evie's father, Amos Abplanalp, has been battling stage 4 colon cancer for several years. His story has been prominently featured in the young singer's story as she has advanced from one round to the next. Her father was able to attend her audition and watch her perform off stage, but by the time she Evie sang in the live shows, he was too ill to make the strip to Los Angeles from Arizona, where the family lives.
This week, Evie's performance earned her a spot in the AGT finals in two weeks, after fans voted her through in a runoff vote during Wednesday's results show. According to KSL.com:
Amos was placed on life support on Tuesday, right before Evie performed. Evie made the decision with her mom to stay for the results show, but producers made arrangements to send them home immediately following the show rather than the next day as planned.

"We are so thankful to (the show's producers) for their kindness and understanding," Hillary wrote on her blog on Wednesday. "Simon isn't the only one who gets emotional about Evie Clair. Dozens of producers and staff are going through this challenge with us and we love them for that."
For the Quarterfinal Round, Evie performed a rendition of Birdy's "Wings." The pre-package video features Evie and her dad, and describes how the family coped with his illness. After her performance, Evie looks at the camera and wishes her parents a happy anniversary.
Here's Evie's most recent (semi final) performance, a rendition of Ella Henderson's "Yours." Judge Simon Cowell gets a little choked up.
Condolences to Evie and the rest of the Abplanalp family.
I will forever miss my sweet Daddy and cherish the last few moments I had with him, holding his hand, before the end. Love you lots!??

— Evie Clair (@evieclair) September 8, 2017