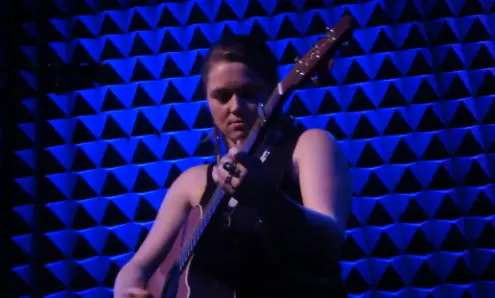 Crystal Bowersox is set to drop her sophomore release through Sanachie Entertainment on March 26. Do want to hear most of the album now? The American Idol Season 9 winner is playing the bulk of the album on the road on her current tour.
Added to the mix are "Crazy" by Patsy Cline (Crystal will be singing the country legend's songs on Broadway later this year.) and an exquisite cover of Leonard Cohen's "Hallelujah".
The new songs are Crystal's best yet. Her intimate, emotional vocal style is a perfect compliment to her deft storytelling.  In short, these songs are TERRIFIC. I wish her appearance in Boston didn't coincide with American Idol hell week. Damn. But we can enjoy these wonderful songs though the lens of concert goers!
Click for the full playlist of songs from the second show at Joe's Pub in New York City on March 6.
"All That For This"
The title track to Crystal's album
http://youtu.be/YuZSzAKJnf8
"Crazy"
Crystal will be hitting Broadway later this year to play in a Patsy Cline musical revue. Check out her cover of Cline's "Crazy."
http://youtu.be/y7lH3TwjJuw
"Shine"
Super-gorgeous ballad, "Shine"
http://youtu.be/q54pz7af5lw
"Get Me Out"
…and another
http://www.youtube.com/watch?v=WkDkaA-4HPY&feature=share&list=PL_Ps3kahidl72R3M0Qw1jLnx0kUnNx_v4
"Movin On"
Crystal puts down her guitar. All the better to wail the blues.
http://youtu.be/P9pDLF1rx0E
Till the Whiskey's Gone
An upbeat ode to hanging on until the last drink.
http://youtu.be/brj_APmhe6A
"Amen For My Friends"
This sounds like a single to me.
http://youtu.be/WmUhazsHzyI
"Hallelujah"
Yes…a cover of Leonard Cohen's "Hallelujah
http://youtu.be/mjWuvxwF8vc