NOTE: For a follow-up on the research in this post, see this post with research commissioned by a group of Music Row leaders.
The latest installment in our data-based explorations of country radio's female problem comes on the heels of a firestorm spawned by music consultant Keith Hill's comments in the 5/26/2015 edition of Country Aircheck Weekly:
Finally, Hill cautions against playing too many females. And playing them back to back, he says, is a no-no. "If you want to make ratings in Country radio, take females out," he asserts. "The reason is mainstream Country radio generates more quarter hours from female listeners at the rate of 70 to 75%, and women like male artists. I'm basing that not only on music tests from over the years, but more than 300 client radio stations. The expectation is we're principally a male format with a smaller female component. I've got about 40 music databases in front of me and the percentage of females in the one with the most is 19%. Trust me, I play great female records and we've got some right now; they're just not the lettuce in our salad. The lettuce is Luke Bryan and Blake Shelton, Keith Urban and artists like that. The tomatoes of our salad are the females."
Here is a music consultant saying out loud that the systemic bias against women on country radio, something that has been the topic of much discussion among industry people and artists alike is not a problem that needs to be addressed, but something that should be reinforced for the sake of ratings. And lest we think this is an isolated comment, this is actually a repeat of remarks Hill made at a 2015 CRS panel on music scheduling, as reported by Aircheck:
"The first thing is to cut females from the 20s to the teens," Hill said unapologetically, recommending a 13% target. "Women want to hear males."
It's easy to understand the resulting disbelief and outrage – Hill's advocacy for a rigged game that limits women to a low ceiling of 1/8 of station playlists, regardless of song, offends the basic principle of equal opportunity. We were already well aware of the gender imbalance at country radio, but as noted here & elsewhere, the conscious and deliberate imposition of systemic barriers to female airplay adds an unconscionable level of artifice and engineering to the game. That the recommendation for those barriers comes in a time when women have been making much of the most acclaimed and defining music in the genre while country radio's most dominant male acts have come under criticism for the formulaic sameness of their music, and in a time when several women are outperforming male counterparts with more radio exposure, only makes Hill's recommendation more tone deaf and strange.
But for the sake of discussion, let's accept the idea that radio is not in the fairness business or in the business of supporting quality music and artists, and let's indulge Hill's belief that this means radio shouldn't even try. Let's also go along with the idea that country radio must be self-interested in its quest for advertising dollars. Two cornerstones of Hill's argument are that country radio should accept and cater to the "expectation" that it is "principally a male format with a smaller female component" and that "women like male artists." Upon closer evaluation, the data associated with each point does not support his recommendation for a 13% limit on females on country radio.
The Weight Of Expectations
When Hill asserts that the "expectation that [country radio is] principally a male format with a smaller female component," it's with the implicit acceptance that this needs to be reinforced at its current (dis)proportions, at the risk of losing listeners. It's certainly true that country radio playlists have featured a higher percentage of male acts than female acts, but current female representation in the t25 of the country airplay charts is unusually low compared to previous years. Here is a comparative look at the composition of the t25 Billboard Country Airplay songs over the past 20 years: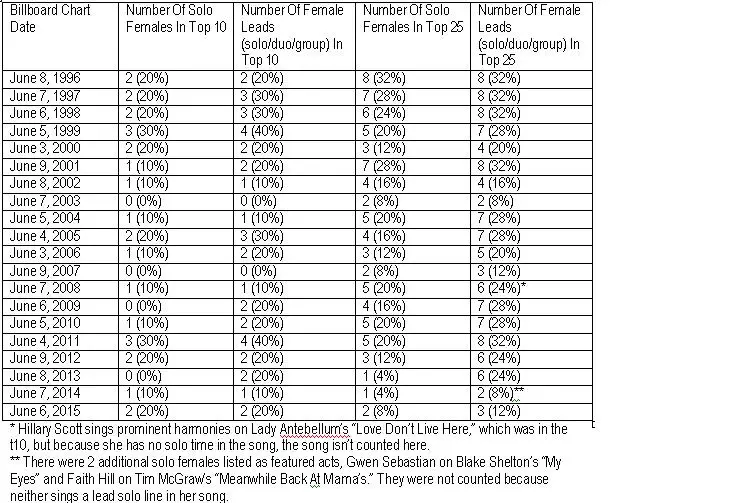 The table above suggests that while current female representation in the t10 is within historical range, female representation in the t25 has dipped in the past 2 years. We also see that the lull is not unprecedented – for example, the early June 2003 chart reflected a similar result, perhaps the by-product of country radio's removal of the Dixie Chicks from its playlists after "The Incident" (in March 2003). On the other hand, there have been better times for females. The 9/25/1999 chart featured a t10 with 5 solo female acts and an all-female group (60%) and a t25 with 6 solo female acts and 2 all-female groups (32%).
There seems to be an outer limit where females are not likely to comprise more than 1/3 of the t25 of the airplay chart (33% female representation on the country charts would put the country format in line with the CHR/Top-40 and AC formats according to Aircheck's Women In Country issue). But the above table suggests that periods on country radio where there is 1 female voice represented for every 7-9 males, as is the case on the current chart, are atypical. Averaging female representation in the t25 for these 20 charts, it would appear the historical "expectation" for female representation would be closer to 1 female act for every 3-4 male acts played (20-25% representation). This result mirrors the findings of Country Aircheck's study of the percentage of female voiced singles in the annual Top 100 Songs Of The Year since 1989. Balanced? No. But better than what Hill recommends. Further, the fact that country radio has sustained charts with even higher female representation suggest that there is nothing fundamental about the country radio audience's taste that would make it unwilling to support female voices in greater proportion than country radio currently offers it. And a deeper dive into the issue of taste shows that Hill's assessment of the gender dynamic is off-base.
Females Against Females?
On the subject of audience taste, Hill claimed that "women like male artists." He is not the 1st to think that female listeners would rather hear male acts than females. Canadian country music consultant Mark Patric & 93.7JrFM DJ Terra Lindsay made the same point in late September 2013, CMT Senior Vice President of Music Strategy Leslie Fram recently responded to the "conventional wisdom" that "women don't want to hear other women," and in yesterday's Tennessean roundup, Lon Helton said this about female listeners:
When they vote about the music they want to hear on the radio, when asked when they hear the hooks, they seem to prefer the music from male artists. It is a fine difference to say whether they prefer men or women, but overwhelming they vote for songs by men.
On the other hand, both Leslie Fram and Broken Bow Music Group Executive Vice President Jon Loba (in Country Aircheck's Women In Country issue) noted that female listeners are quite supportive of female acts at pop and there's no reason to think the same wouldn't be true of female country listeners. Revered music consultant Jaye Albright went even further in a Facebook comment via the Tennessean, saying:

You could make a case that males sometimes don't relate to specific songs put out by women and that does cause more releases by men to do better on average what the typical female hit does but I have never seen any evidence that women do not like songs by females!"
The current terms of the debate imply that the feedback radio gets is binary, an up-down vote on female acts versus male acts. But it is not, and that is what accounts for the differing assessments on the response of radio listeners to the music on radio. Playlist rotation decisions generally rely on "research" or callout designed to assess listener response to current singles. Most song research involves playing hooks of 15-45 seconds in length for either a self-selected or randomly sampled group of listeners who then indicate whether they are familiar with a song, rate the song on a scale of 1 to 5, and then say whether or not they are tired of the song. Results get aggregated for radio, and programmers can break down the resulting data by demographic and see trends. Respondents typically self-identify as committed radio listeners, which means an inherent familiarity with, and therefore bias towards, the status quo. Familiarity impacts individual songs, too, as songs typically research better as they become more familiar for the audience.
With all that in mind, using the generally positive callout from female listeners for current hit songs as an endorsement of country radio's gender imbalance as Helton does is a leap. Listeners can only rate what is tested, it is typically only songs in or approaching the t30 or t40 that get tested, and the familiarity advantage favors established hitmakers and songs that sound similar to past hits. With female voices a rarity on radio playlists, they are inherently less familiar and thus more likely to score high negatives. That creates a chicken-egg problem for new female acts looking to break out: it is harder to test well early, and if they don't test well early, stations are less likely to move them up into significant rotation.
So even if female listeners are satisfied enough with the current mix of hits on country radio, it doesn't follow that they wouldn't support greater gender balance. In fact, current callout suggests that females do support greater gender balance than their male counterparts, and directly refutes assertions that female country listeners don't want to hear female acts.
Listener Response By Gender – The Data
Here, we take at a look at current callout data in two ways. First, we look at the t10 ranked songs by gender, based on a few different representations of favorable response, and then we look specifically at the female songs being tested to see how female listeners rated them compared to male listeners, using both favorable and unfavorable responses. The callout data comes from 2 national services that use panels of randomly sampled listeners: Critical Mass Media and Callout America.
Here is the composition of the t10 songs ranked by "pop score" and by the percentage of people who consider the song a favorite, for men & women in the current Critical Mass Media callout survey for current singles at country radio. 7 of the 38 singles that appear in the survey have lead female voices. All respondents were between the ages of 25 and 44.
Out of the 7 songs female-led singles tested, females surveyed rank 3 in their t10 by Pop Score, and 3 in their t10 by Favorite (30%). That's nearly 43% of the female-led songs tested in the t10 of female listeners, despite the fact that female-led songs comprise only 18% of the sample. Notably, 1 of the female-led singles scoring the highest Favorite mark among female listeners (Kacey Musgraves's "Biscuits") hasn't even made the t40 at country radio. Males surveyed, on the other hand, ranked none in their t10 by Pop Score (the highest ranked female-led single is at #18), and 1 in their t10 by Favorite.
Now, a similar look at the current Callout America results, with the t10 songs for each gender ranked by Total Positive response (the percentage of people giving the song a favorable score), Positive Index (the average rating for the song), and Favorite (the percentage of people giving the song the highest possible score). There are 6 female-led songs in the sample. All respondents were between the age of 18 and 54.
Here, females show particularly high support for 2 out of the 6 female-led songs (33%), 1 of which is a t5 hit but 1 which has yet to make the t25 on the airplay charts. By the "Favorite" metric, females add a 3rd female-led song to their t10. Female-led songs represent 17% of the songs tested, but 20% of the female listener t10 by Positive Index and Total Positive and 30% of the female listener t10 by Favorite. Meanwhile, none of the 6 female-led songs factors into the male listener t10s by any metric.
The above shows stronger female listener support for more female-led songs in the current t10 than radio currently supports, and suggests that, as Jaye Albright asserted, male listeners aren't as supportive of female-led tracks. This is affirmed by comparing how female-led singles tested are rated by female listeners versus male listeners:
First, let's look at how male listeners sampled by Critical Mass Media rated the 7 female-led singles in the current country survey: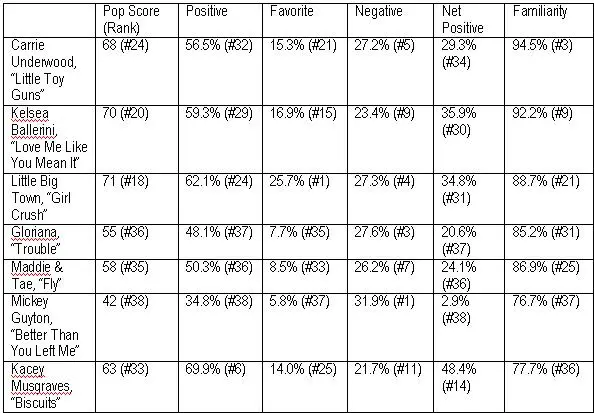 What immediately jumps out here is that the 7 female-led songs are all among the 11 most negatively-rated songs by male listeners surveyed. There are a couple of rays of hope for the female singles surveyed – Kacey Musgraves's "Biscuits" garners the 6th highest positive response among current singles from male listeners, and Little Big Town's "Girl Crush" is the #1 favorite. Now, let's look at the results from female listeners:
Some female-led singles do score relatively high negatives among female listeners too, though the singles from Kelsea Ballerini, Maddie & Tae, and Mickey Guyton run middle of the pack on that metric and the percentage of female listeners who rate the female-led singles negatively is lower than that of male listeners. Female listeners also offset that with high favorite rankings for 4 out of the 7 female-led singles, something we don't see among male listeners.
Now, let's do a similar comparison via Callout America's current survey. First, the results for male listeners:
As is the case with male listeners surveyed by Critical Mass Media, all 6 female-led singles are among the songs garnering the highest percentage of unfavorable responses, and there are no offsets in the positive response categories. It is potentially interesting (and perhaps indicative of why she's been able to succeed with her current single as a new female act on an indie label) that Kelsea Ballerini's callout tracks pretty closely among male and female listeners, which results in a relatively high ranking for her single among male listeners (compared to other female-led singles) but a relatively low ranking among female listeners (especially in light of her current t10 airplay chart position).
Now, let's look at the responses of females surveyed by Callout America:
Here again, we see female listeners rate every female-led single other than Kelsea Ballerini's higher in every favorable category than male listeners, with lower negatives for most of the female-led singles, as well, with a distribution of response that for the most part reflects each single's airplay rankings. Maddie & Tae's "Fly" is the major outlier among females, testing well ahead of its current airplay ranking, though that is offset in the overall survey by especially negative ratings by male listeners.
The above tables both illustrate the willingness of female listeners to sustain a higher representation of female-led songs in high rotation than the current airplay charts reflect and point to the likely hindrance, to the extent that radio programmers rely on listener feedback. And while the tables may only illustrate the response to current singles, the results are typical. Our data-based look into what was holding Little Big Town's "Girl Crush" back at country radio a couple months ago showed female listeners out in front on that song. Over the past few years, Critical Mass Media surveys have shown stronger, sometimes much stronger, ratings for Miranda Lambert's "Little Red Wagon," Carrie Underwood's "Something In The Water," RaeLynn's "God Made Girls," Miranda Lambert & Carrie Underwood's "Somethin' Bad," Jana Kramer's "Love," Miranda Lambert's "Automatic," Sara Evans's "Slow Me Down," Danielle Bradbery's "The Heart Of Dixie," Cassadee Pope's "Wasting All These Tears," and Kacey Musgraves's "Merry Go Round" (among other female-led singles) among female listeners responding than male listeners.
Ditto Callout America, where the pool of male 18-34 respondents in particular has shown an especial liking for "bro country" releases over the past few years. Consider the demographic's t10 rated songs by favorable response as of 10/28/2013: Lee Brice's "Parking Lot Party," Florida Georgia Line's "Round Here," Justin Moore's "Point At You," Kenny Chesney's "When I See This Bar," Jason Aldean's "Night Train," Thomas Rhett's "It Goes Like This," "Don't Ya" by Brett Eldredge, "Redneck Crazy" by Tyler Farr, "Runnin Outta Moonlight" by Randy Houser, and "Aw Naw" by Chris Young. A similar uniformity was reflected in the male 18-34 demographic's t10 rated songs by favorable response as of 3/5/2014: Florida Georgia Line & Luke Bryan's "This Is How We Roll", Eric Church's "Give Me Back My Hometown," Justin Moore's "Lettin' The Night Roll," Josh Thompson's "Cold Beer With Your Name On It," Blake Shelton's "Boys Round Here," Jerrod Niemann's "Drink To That All Night," Cadillac Three's "The South," Randy Houser's "Runnin' Outta Moonlight," Frankie Ballard's "Helluva Life," and Brantley Gilbert's "Bottoms Up." In those same surveys, female listeners threw t10 level support at songs like Sara Evans's "Slow Me Down" and Danielle Bradbery's "The Heart Of Dixie."
It appears, as Jaye Albright noted, that male listeners consistently score female-led singles lower than female listeners, perhaps due to an inability/unwillingness to relate to the female points of view expressed. Female listeners may more easily overcome the familiarity gap because they relate to the perspective of the songs.
Females & The Future
The current representation of females in the t25 of the Billboard Country Airplay charts puts the country format down around where the rock format is, according to Country Aircheck. As previously noted, the comparison is apt because of the degree to which country radio's ratings growth over the past few "bro country"-dominated years has been aimed at male former rock radio listeners. To return to the idea that country radio must act in its self-interest, rock radio and its ratings decline provide a potential cautionary tale. Not only did the last 6 months of 2014 show "record ratings" declines for country radio, but this graphic via Mike O'Malley's blog shows country radio continuing its ratings decline in the adults 25-54 demo through March 2015, contrary to the annual Q1 growth pattern of 2013 and 2014. While country radio is obviously still doing very well in an absolute sense, many radio personnel seem to agree that doubling down on the "bro"mogeneity and aggravated imbalance of the past few years is not the way of the future.
Callout shows the challenge of change, however. Country radio has spent the last few years catering narrowly to an audience with narrow taste. The familiarity factor is overwhelmingly tilted towards male acts at this time, so it's no wonder that a consultant like Hill would expect tuneout in the event of more female airplay. To the extent that country radio programs in fear of tuneout, i.e., songs with higher negatives, female acts are bound to continue to be underrepresented on the format. But Little Big Town's "Girl Crush" provides a valuable lesson. As a ballad with a suggestive lyric sung by a female, it was slow to develop at radio despite sales far ahead of its airplay, hence the eruption of controversy. But 9 weeks since the controversy, it sits just outside the t10 at country radio with 3 times more spins and 3 ½ times more audience impressions at country radio (according to the Billboard Country Airplay chart) than it had pre-controversy. Supported by strong passion and huge sales, both callout and airplay have improved, and the male demo in particular has come around on the song.
This points to a development path for female-led singles going forward. Due to the familiarity gap, female singles may be slower to research out of the gate, but sticking with ones that show strong early passion and/or favorables (as the current singles from Mickey Guyton, Maddie & Tae, and Kacey Musgraves do depending on the survey consulted) can yield hits for radio in the end.
As far as why country radio should bother to try to develop such hits when it has no obligation to be in the fairness business and no obligation to redress an imbalance that has had negative consequences for female songwriters trying to get publishing deals and female acts trying to get record deals, here are a couple of thoughts as country radio tries to solve its recent ratings decline. CMT President Brian Philips said to The Tennessean:
"Anytime you take an art form and draw narrow lines around it, you are always wrong. You never look smart in the long run by saying female artists don't test… Everybody needs to cool off and do their jobs. They will recognize talent when it walks through the door and there will be much celebration. These imaginary rules that have people laughing at us have got to stop.
He makes an important point about country radio's image, which has taken plenty of hits for being regressive and redundant during the bro-country era. That country radio has failed to "own" artists like Kacey Musgraves and Brandy Clark has sent the message that fans interested in their progressive, media- & industry-acclaimed music should look elsewhere. In a time of burgeoning alternatives to terrestrial radio, all of them gaining on radio as engines of new music discovery, is that the message country radio wants to send? Even Keith Hill acknowledged the adverse consequences of country radio's whiff on Kacey Musgraves's "Follow Your Arrow":
@WindmillsMusic that was a big mistake by radio. Country radio would have been much bigger if we had all played follow your arrow

— Keith Hill (@unconsult) May 27, 2015
That Kacey Musgraves is just 1 example among several of female acts who have outsold their male peers despite having less airplay exposure further points to country radio being somewhat out of touch with the overall music market.
Keith Hill believes it was "fear" that got in the way of programmers supporting "Follow Your Arrow," a song that went on to sell over 500K copies and win the CMA for Song Of The Year despite not cracking t40 at country radio. While he seems to restrict the scope of that "fear" to topics like homosexuality, it's actually the same kind of fear that is reflected in playlist decisions that overweight the negatives on female-led songs. Billy Dukes of Taste Of Country explained it as follows:
During difficult times — like a recession, when staff is getting trimmed nationwide — falling back on research is a safe choice. Doing so removes culpability if ratings take a nosedive…No, no one is consciously not playing Jana Kramer because they're afraid of getting fired, but the climate from 2008 to 2011 (and later, in some instances) made fear an engrained part of the culture. It was a bloodbath, especially within larger companies. It's easy to understand why programmers quit taking risks.
Country radio may not be in the business of maximizing record sales, but as Hill himself seems to concede when he brings up the desire of record labels to sell, the high passion levels in callout tend to correlate with strong fan investment and strong music sales, and those investment levels can also translate into listener loyalty to media that support the music they love. A lack of risk-taking may feel like the safest path, but as Hill himself concedes, it closes off potential growth paths for country radio. And that is why, as country radio looks for new audiences to offset recent declines, it would behoove programmers not to double down on artificial limits to female representation as Hill recommends, but to show more patience in developing female hits. As CMT's Brian Philips points out and as Kevin Coyne of Country Universe illustrates via sales data, doing so in the face of early high negatives can transform and drive growth for the genre in ways that benefit the very bottom line that country radio seeks to protect.