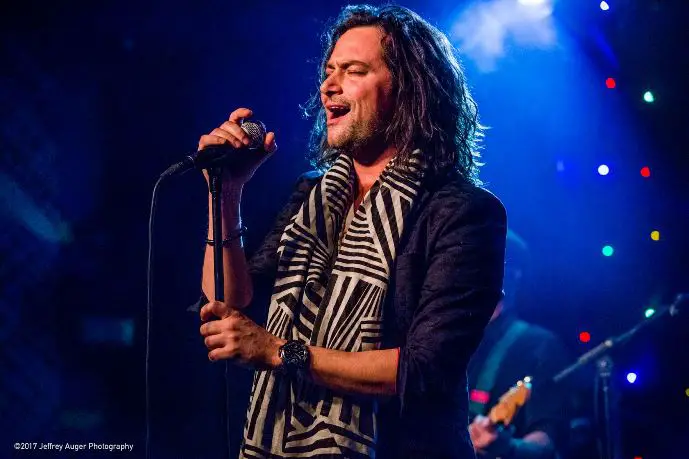 Constantine Maroulis competed on American Idol season 4, leaving the competition in 6th place. Since the 2004 season, he's been busy recording music and working in theater. Notably, he earned a Tony Award nomination for his role in the 80s jukebox musical, Rock of Ages.
Unfortunately. the COVID-19 pandemic closed theaters and music venues all over the world last year. Artists were out of work. It's a situation that could put an artist over the edge. But instead, Constantine spent the time making his life better. 
Constantine reveals "It could have been ugly"
"I've been actually clean and sober now over 20 months, no drinks, no flower, nothing and just kinda working on myself a lot," he told OK! Magazine in an interview from his New Jersey home.
The big change in his lifestyle was important, or the time spent in quarantine "could have been ugly."
"It started off like, I'm just gonna put this pen down, the vape, the drinks and just chill, and then it was a few months, and then it was six months, then it was a year, then it was now almost two years," the singer said. He is "so glad" that he recognized early on that he was slipping into not-so-healthy habits.
"It's not sexy in your 40s"
"People around me [were] like, 'You're not a big drinker,' and I said… 'I'm concerned because I'm not someone that normally does that.' And now at my age (Constantine is 45), [I'm] like, 'Why am I doing that?' I'm glad I caught that because if it were when my dear friend [Nick Cordero] was dying in a coma during the shutdown or when the sky was falling, it could have been [bad]," he said.
"Sitting around in my robe all day, hitting the vape or something like that — that's not sexy in your 40s." he added.
Constantine admitted that he had a "rough summer" before the pandemic hit in early 2020. After just missing getting hired for numerous projects, he told OK that for the first time, rejection was "having a really negative effect" on him.
Constantine hosts a classic rock show on WABC
But now that the country is opening back up again, Constantine finds himself pretty busy. He just landed a sweet gig hosting a new radio program, 77 WABC's Constantine Maroulis Show 'Cuz Saturday Night Rocks! The show airs on Saturday nights from 5-6 pm and features hits from the '70s, '80s and '90s and interviews with some of the most noteworthy musicians, artists, and influencers. 
Constantine will also deliver Entertainment Reports on Mondays and Fridays during Bernie & Sid in the Morning and on Fridays, Saturdays and Sundays, he will deliver a weekend-focused segment, "Pop Rocks 60."
"We opened up last week with some Poison, we [played] Joan Jett, we had a little Temptations," Constantine shared with OK. "We sent them home with Karaoke with Constantine, which is a fun moment that we end the show with where a caller can be a part of the show and trade verses with me."
The singer also released a full length album in 2020 titled, Until I'm Wanted.