Singer-songwriter Catie Turner has unveiled her eagerly awaited Atlantic Records debut EP, Heartbroken and Milking It. A true labor of self-love, Heartbroken and Milking It features intimate and inventive pop tracks "Love On The Moon" and "Play God" as well as the boldly confessional bop, "Therapy." (Watch the music video HERE)
"When I got my heart broken," Catie shared, "my mom told me to 'not give them any of your energy – they're not worth it!' so I wrote a whole EP about the situation, because I was creative with the ways I ignored my loved ones advice. After lots of crying, trying to manifest a better boyfriend, and a whole lot of mental energy later, Heartbroken and Milking it was born! I hope u enjoy my sad lil baby"
The heartbreak IS real. Catie chronicled her ugly split with former boyfriend, season 19 crooner Zach D'Onofrio, and it's BRUTAL. Catie met Zach on her season of American Idol in 2018. Three years later she accompanied him as he auditioned again. He made it further, but was cut. Again.
Her Tik Tok (kinda sorta) explains it all. 
But no doubt, so do the songs on this EP. Listen to a heartbreaking snippet of "Push You Away" HERE. Grab the tissues, y'all. Even current winner Chayce Beckham was blown away in comments. "Catie, this is amazing," he wrote.
 Check out the playlist of all six songs, including the fireside acoustic video of "Love on the Moon" and an acoustic performance of "Play God."
Listen to Catie Turner's "Heartbroken and Milking It" below
Catie first began writing songs and playing guitar in her hometown of Langhorne, PA, providing her a means to cope with the pressures placed upon young women. The 20-year-old artist captured national attention in 2018 as one of American Idol 's stand out contestants. She kicked off the season with a clever audition performance of a self-penned original song  "21st Century Machine," immediately winning over judges Lionel Richie, Luke Bryan, and Katy Perry. In 2019 Catie dropped her solo debut EP, The Sad Vegan, featuring the moving pop anthem, "Prom Queen." 
Catie  also recently launched Friends Without Benefits, a new podcast covering the latest in entertainment, celebrity news, and what it's like living in a dysfunctional household with her co-hosts Ryan Temple and Elizabeth Lerch. Friends Without Benefits is available now across all podcast providers HERE.
Heartbroken and Milking It Track List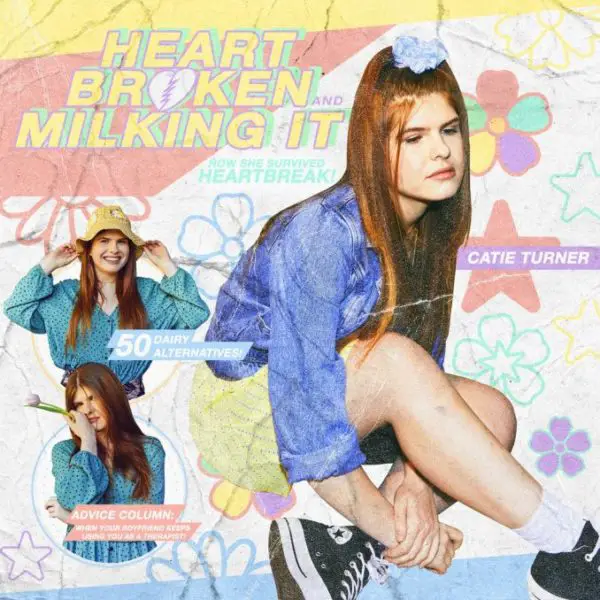 1. Play God
2. Therapy
3. Love on the Moon
4. Funeral
5. Push You Away
6. (Wish I Didn't Have to) Lie