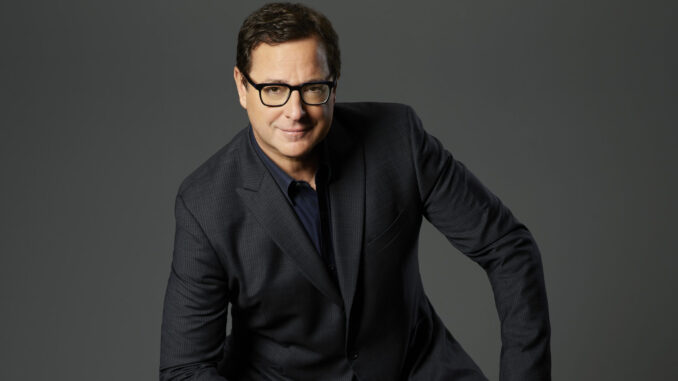 Beloved comedian Bob Saget is dead at aged 65.
The Full House actor and America's Funniest Home Videos host passed away at the Ritz-Carlton hotel in Orlando, Florida on Sunday (Jan 9). 
According to TMZ, The Sheriff's Department and the fire department responded to the hotel around 4 PM ET after hotel security had found the comedian in his room. TMZ reports authorities pronounced him dead on the scene, but the circumstances of his death are still unclear.
At the time of his death, the comedian was in the middle of a massive tour, scheduled to end in May. On Saturday night he was in Jacksonville doing a show at the Ponte Vedra Concert Hall, which he tweeted about early Sunday morning, just hours before his untimely death.
Loved tonight's show @PV_ConcertHall in Jacksonville. Appreciative audience. Thanks again to @RealTimWilkins for opening. I had no idea I did a 2 hr set tonight. I'm happily addicted again to this shit. Check https://t.co/nqJyTiiezU for my dates in 2022. pic.twitter.com/pEgFuXxLd3

— bob saget (@bobsaget) January 9, 2022
Bob Saget competed as Squiggly Monster on The Masked Singer
Among his many TV appearances, he competed on The Masked Singer season 4 in 2020 as the Squiggly Monster, leaving the competition in Week 6 after two appearances. sidenote: thank you TMZ for imbedding one of our videos.
Bob's other notable acting credits include a recurring role on Entourage,' playing more or less himself, the narrator's voice on the sitcom How I Met Your Mother, one of the penguins in Farce of the Penguins, the lead in Surviving Suburbia, and a cameo in Half Baked as a recovering crackhead.
Bob worked in the business for decades and was beloved by his peers. The kiddos who watched Full House, the family sitcom starring John Stamos, Dave Coulier, Candace Cameron Bure, Jodie Sweetin and Mary-Kate and Ashley Olsen only saw the squeaky clean sitcom dad. But on the other hand, his standup routines were R rated and quite raunchy.
Condolences pour in
Condolences have been pouring out from fellow actors and comedians.
John Stamos tweets that his "broken…gutted."
I am broken. I am gutted.  I am in complete and utter shock.  I will never ever have another friend like him.  I love you so much Bobby.

— John Stamos (@JohnStamos) January 10, 2022
Former Dancing with the Stars and America's Funniest Home Videos host Tom Bergeron tweeted out a couple of clips. In one, Bob helped send off Tom on his last day hosting AFV.
For my very last @AFVofficial, I asked my friend for a special favor. He said yes. I'm forever grateful https://t.co/yC4cz8vEIr

— Tom Bergeron (@Tom_Bergeron) January 10, 2022
And only last September, Tom sat for a very enlightening interview on Bob Saget's podcast, Bob Saget's Here for You.
Just heard the news. Devastated. I'm going to miss you, my friend. https://t.co/Wo5JPwKc9T

— Tom Bergeron (@Tom_Bergeron) January 10, 2022
The Masked Singer judge Ken Jeong initially tweeted, "I am in shock. I am so numb right now."
I am in shock. I am so numb right now.

— Ken Jeong (@kenjeong) January 10, 2022
Followed by a Tweet describing why Bob was so beloved among fellow comics.
Everyone loved him in the community. EVERYONE. Really good guy like everyone says & if you did even a small favor for him he would be so grateful and appreciative even it wasn't much. In tears typing this, he was that genuine and the world should know that. Love you @bobsaget ??

— Ken Jeong (@kenjeong) January 10, 2022
The Kelly Clarkson Show social media accounts wrote that Bob was "a wonderful friend to the show…Bob you will be missed by so many, including our Kelly Clarkson Show family."
We're devastated to hear of the passing of Bob Saget – he was a wonderful friend to our show and always brought smiles and laughter to the set. Bob, you will be missed by so many, including our Kelly Clarkson Show family. pic.twitter.com/oJWFlMSZzX

— The Kelly Clarkson Show (@KellyClarksonTV) January 10, 2022
Fellow comic and America's Got Talent judge Howie Mandel tweeted "Comedy and tragedy are so close together and today they collided. I love you @bobsaget."
Comedy and tragedy are so close together and today they collided. I love you @bobsaget pic.twitter.com/Mc6PzkXIUb

— Howie Mandel (@howiemandel) January 10, 2022