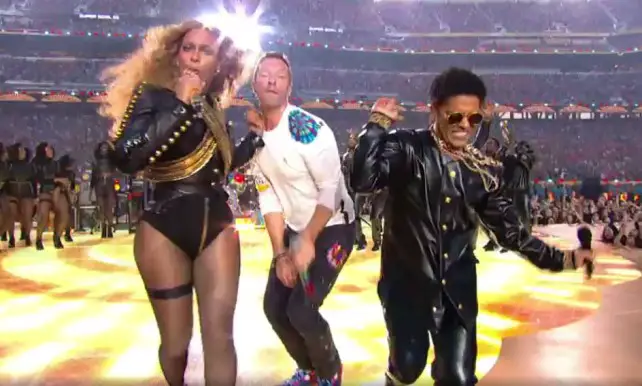 Beyonce and Bruno Mars joined Coldplay for a colorful and nostalgic Super Bowl 50 halftime performance.
Coldplay lead singer, Chris Martin, kneeled on the turf and sang "Yellow" as a crew of young sway-bots ran out onto the field behind him. The band's first big hit served as an intro to the majestic "Viva La Vida." The set was a swirl of bright colors (red, blue and white being dominant, the colors of official sponsor, Pepsi. Natch). A horn section and strings joined the band on stage. And of course there was time for a few selfies (oy).
After singing "Paradise," and "I Feel My Heart Beating," Chris threw the mic to Bruno Mars. The energy on the field kicked up a notch with an effusive performance of "Uptown Funk." Hello Mark Ronson DJing on the sidelines. As expected, Beyonce performed a fierce and formidable rendition of "Formation," the song she dropped yesterday. Fire, dancers and lady drummers. Pretty much all you need right there. Bruno joined the singer on the field for a musical face-off. Everybody wins.
By the time Chris joined them, on a reprise of "Uptown Funk," he seemed like a third wheel. Can you say superfluous? Nevertheless, he carried on for the nostalgia portion, which was admittedly, moving, with clips of past Super bowl performers like Bruce Springsteen, U2, Prince and Katy Perry. Watching clips of the singers no longer with us, like James Brown, Michael Jackson and Whitney Houston put a little lump in the throat. Beyonce and Bruno were bacl pm stage for the big finish–a stirring performance of Coldplay's "Fix You. And that's the Super Bowl 50 halftime show. See you next year, when the NFL reverts back to Roman Numerals.
Watch the full set right here.