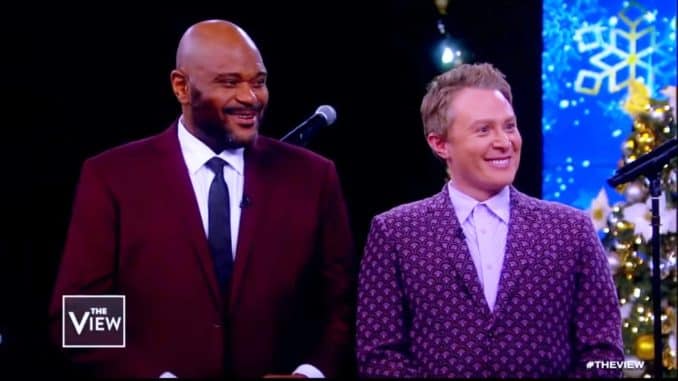 Clay Aiken and Ruben Studdard have become a part of the ABC talk show, The View's holiday tradition, thanks in large part to Clay's friendship with the show's co-host Meghan McCain. The two are such good friends, that Clay sang at her 2017 wedding. And on Wednesday's (Dec 11) appearance, Clay was sporting socks festooned with Meghen's face. Yes. There is such a thing as Meghan McCain socks.
In fact, Meghan was so excited by the duo's appearance she exclaimed, "You are some of the greatest singers in all of American history period!" Has she been getting talking points from Sean Spicer? Ha.
Last Christmas, the American Idol season 2 alums performed in their very own Broadway show. Unfortunately, the singers schedules kept them off the Great White Way this year, but the two promise that NEXT year, they will be taking the show out on the road.
The year, Clay and Ruben joined forces for a rendition of the Christmas classic "O Holy Night." Watch the video below.